Roger Nielsen, president and CEO of DTNA, ceremonially handed over the eM2 key to Brian Hard, president and CEO of Penske Truck Leasing, during an event in Carson, California. In the above image, Nielsen is on the left and Hard is on the right.
This delivery marks a key milestone in the real-world application of battery-electric commercial vehicles, as well as an important step toward emissions-free mobility.
"With increased hauling demands and regulatory pressures, combined with ongoing concerns over energy resource depletion, it is more important than ever that DTNA continues to rigorously test and research electric vehicle solutions together with our customers," said Nielsen. "Electric commercial vehicles present a real opportunity to advance the ideal of emissions-free mobility while improving our customers' real cost of ownership (RCO)."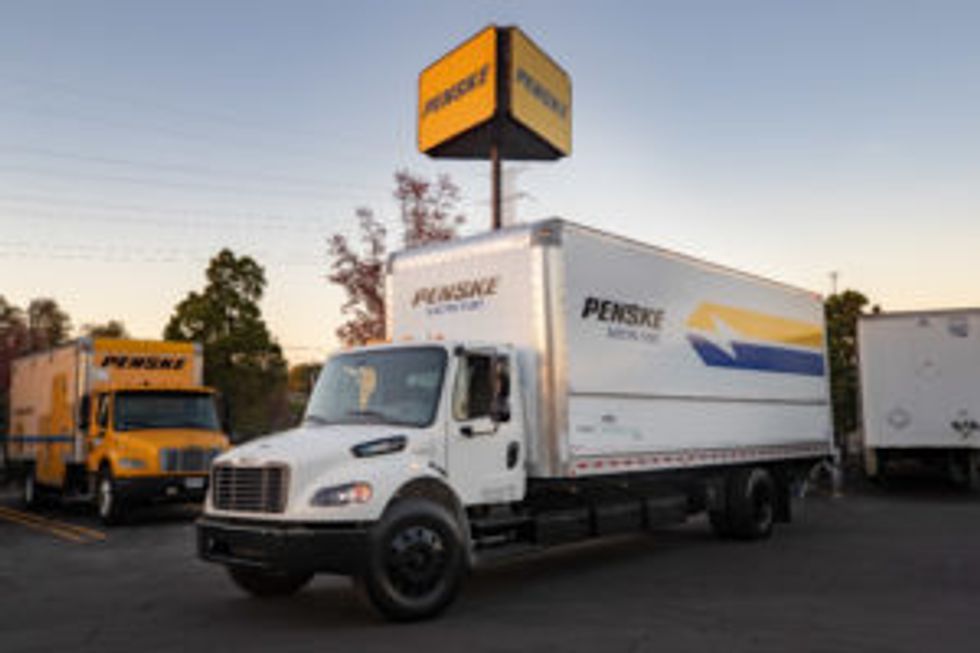 The introduction of the eM2 into Penske's fleet is also a first in DTNA's co-creation approach with customers as it co-develops technology to shape the future of transportation.
"Penske is honored to be the first company to put this new medium-duty electric truck into service," said Hard. "I commend and thank Roger Nielsen and his team at Daimler Trucks North America for their outstanding collaboration and spirit of co-creation with us over the last nine months to bring this innovative technology to market. Penske is committed to providing the most effective vehicle technologies to our customers and driving innovation and sustainability when it comes to mobility."
As the first step in its infrastructure deployment, Penske Truck Leasing will install 20 high-power charging stations across five of its California locations starting this month.
Next year, Penske will put an additional nine medium-duty electric eM2 trucks and 10 heavy-duty eCascadia electric trucks into targeted service in California and the Pacific Northwest. Penske will place the electric vehicles into service within its logistics, truck leasing and truck rental fleets.
Also participating in the ceremony was a representative from the South Coast Air Quality Management District (SCAMQD), which focuses on improving air quality in the South Coast Basin.
The Freightliner Electric Innovation Fleet is partially funded with a nearly $16 million grant from SCAMQD. The U.S. Environmental Protection Agency and the ports of Los Angeles and Long Beach also contributed to the grant.
Following the handover ceremony, the keys to the eM2 were turned over to Santa Claus to make its first holiday delivery of native plant seedlings to help restore communities that continue to suffer from devastating wildfire damage.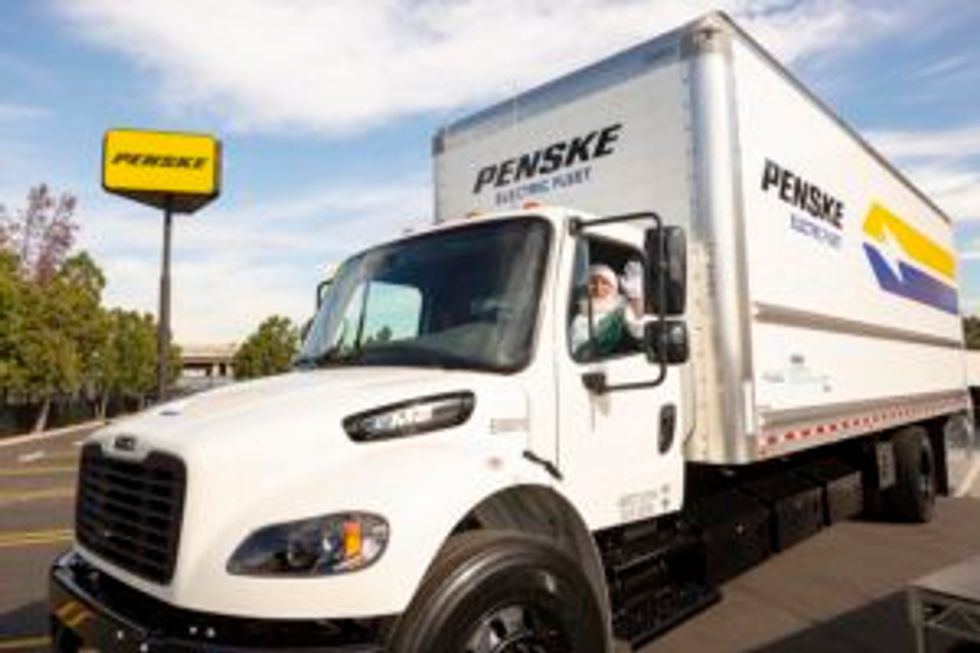 Along with the seedling delivery, DTNA and Penske Truck Leasing made a joint $50,000 donation to TreePeople, a local non-profit organization that plants and cares for trees throughout Los Angeles County and nearby mountain forests. This holiday delivery brings much needed resources for cleaning the air, creating green spaces, and cooling the city.
"Trees truly make Los Angeles livable," said Cindy Montañez, CEO of TreePeople. "Through the generosity of Daimler Trucks North America and Penske Truck Leasing, we can create climate-resilient neighborhoods lined with trees, which produce healthy, clean air."
Earlier this year, DTNA formed the Freightliner Electric Vehicle Council composed of 30 customers with strong use-cases for electric trucks, including Penske Truck Leasing, to further drive its sustainable transportation program.
The company is working with the council members to ensure a holistic approach to launching electric trucks. Members of the customer council benefit from co-development of deployment strategies for battery electric vehicles including applicable use cases, current legislation and requirements for facilities, charging infrastructure and service support.
The Freightliner eM2 truck is an electrified solution for local distribution, pickup and delivery, food and beverage delivery, and last-mile logistics applications. The Freightliner eCascadia is a Class 8 tractor designed for local and regional distribution and drayage. Both trucks enter series production in 2021.
By "Move Ahead" Staff