Penske Truck Leasing has, for the fifth straight year, been given the SmartWay Affiliate Challenge Award by the U.S. Environmental Protection Agency (EPA). Penske is one of nine organizations to receive this honor.
Penske Truck Leasing is ringing in Earth Day 2016 with its fourth consecutive SmartWay Affiliate Challenge Award. The company is one of seven organizations, and the only transportation corporation, being accorded with this designation by the U.S. Environmental Protection Agency (EPA). The American Trucking Associations (ATA) is also an honoree.
This summer the Environmental Protection Agency (EPA) and the Department of Transportation's (DOT) National Highway Traffic Safety Administration (NHTSA) announced thePhase 2 federal greenhouse-gas (GHG) and fuel-economy regulations that will apply to model-year 2018 trailers, marking the first time the DOT and EPA have proposed efficiency and GHG standards for trailers.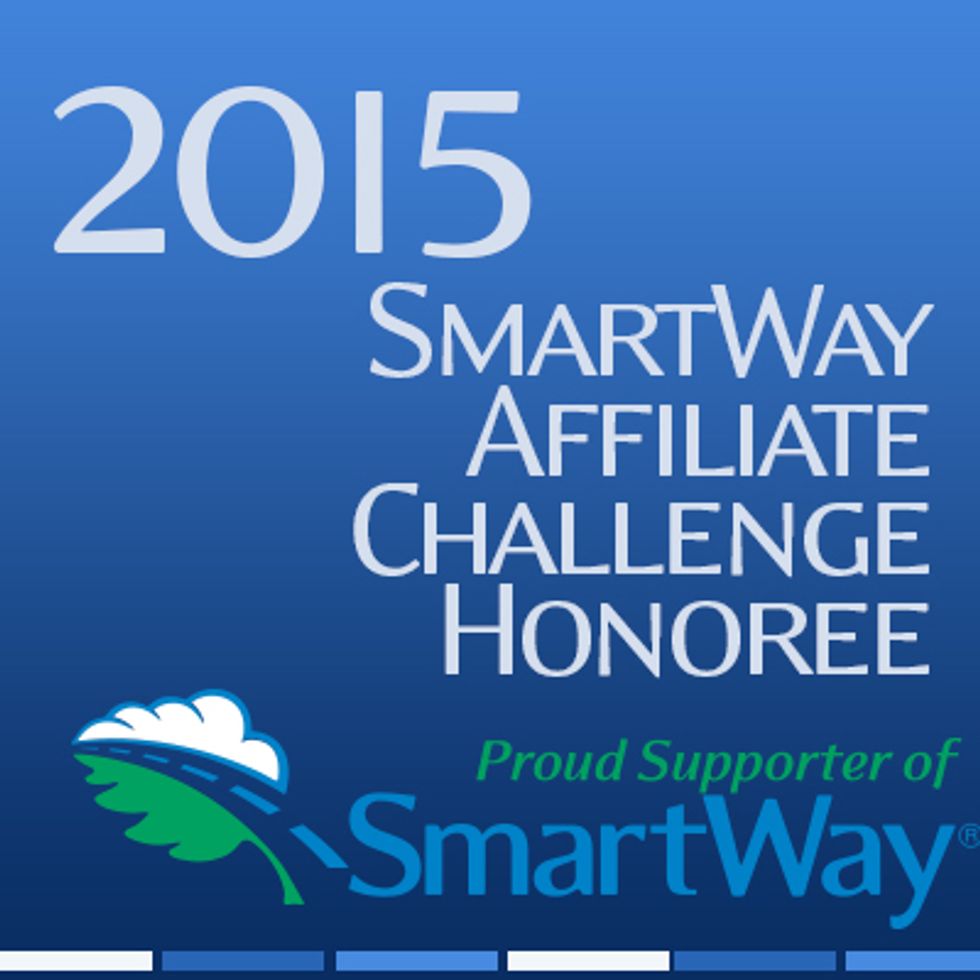 For the third straight year Penske Truck Leasing has been honored by the U.S. Environmental Protection Agency (EPA) as a SmartWay Affiliate Challenge Award winner. Penske is one of seven organizations across the United States to be given the award today at the Transportation Intermediaries Association (TIA) Capital Ideas and Exhibition Conference in Orlando, Florida.
"It is a tremendous accomplishment for our company to be recognized in this fashion," said Drew Cullen, Penske senior vice president of fuels and facility services. "The Penske team is committed to partnering with our customers and the EPA to develop and implement strategies that improve fuel efficiency, reduce fuel consumption and emissions, and in turn, reduce costs."
Penske Truck Leasing is the newest affiliate in the Canada SmartWay Transport Partnership. The SmartWay Transport Partnership is a joint U.S.-Canada network connecting over 3,000 companies with a shared goal of saving fuel and reducing emissions from their freight supply chain. With SmartWay, companies have access to free, standardized tools to help them benchmark their freight operations and find areas to improve their productivity and competitiveness.
Earlier today, Penske vice presidents Drew Cullen and Tom Scollard conducted a webinar with the editor ofFood Logistics magazine titled "The Greening of Food Fleets: Becoming Better Environmental Stewards."
Penske Logistics Europe has joinedGreen Freight Europe, a program aiming to reduce emissions of CO2 caused by European road transport. Together with shippers and carriers, Penske Logistics will be closely involved in the development of a European standard for monitoring and reporting carbon emissions in logistics.
Penske Truck Leasing's environmental stewardship efforts have been recognized by the United States government by being named a 2013 Environmental Protection Agency (EPA) SmartWay Affiliate Challenge Award winner.
The recent run-up in fuel prices for gasoline and diesel has commercial truck fleet managers and operators once again re-evaluating their fuel strategies and options. Last week, the Department of Energy reported diesel rose 5.3 cents to $4.157 a gallon -- its fifth straight increase. This is highest price for diesel in about four-and-a-half years. Gasoline also rose significantly with nine consecutive increases and it has reached a high unseen since last October at $3.747. In periods like this it's a good idea to focus on fundamentals when you are operating a fleet of trucks or even just one truck.
While their products, services and consumers vary, businesses at the Alternative Fuels Renewable Energies Council (AFREC) Sustainability Summit May 31 in Hershey, Pa., all share one common goal: to be better environmental stewards.
Penske Truck Leasing is among the major sponsors of the upcoming Alternative Fuels Renewable Energies Council Sustainability Summit. The event includes executives from leading private and Fortune 500 companies, where sustainability improvement efforts will be highlighted. Penske executives will also be present.
Penske Logistics was recently named to the 2011 Green 75 Supply Chain Partners list by Inbound Logistics magazine. The company was recognized for its commitment to helping customers reduce emissions and for itsEPA SmartWay Transport Partnership rating. Penske Logistics has achieved the program's highest possible rating of 1.25 for its own dedicated truck fleet as a carrier partner and also as a logistics partner in the program.
As Earth Day 2011 approaches, Penske Truck Leasing,Penske Truck Rental and Penske Logistics encourage everyone in the transportation and logistics sectors to consider joining the EPA's SmartWay Transport Partnership to help further reduce fuel consumption needs and emissions.
Penske Truck Leasing today hosted a Discovery Forum 2010 event in the L.A. suburb of La Mirada that was well attended and chock full of information.
The second-to-last Penske Truck LeasingDiscovery Forum 2010 event will take place on Dec. 7 in Phoenix.
There is still time to register for Discovery Forum 2010, a series of educational open houses for commercial fleet owners and fleet managers thatPenske Truck Leasing is hosting. Here are the remaining dates:
Supply and Demand Chain Executive magazine has given Penske Logistics its 2010 Green Supply Chain award. The magazine noted they "recognized companies that are making green sustainability a core part of their supply chain strategy."
Loading posts...