Great pay, solid benefits and a flexible schedule are just some of the things Penske technicians enjoy when working for the industry leader.
However, one thing that carries just as much significance is the continuous training opportunities – a benefit that Megan Kitto, a Penske technician in Ontario, Canada, says was a determining factor in her choosing a career at Penske.
"The training we receive is important to me," she said. "If you don't get training, you won't be able to increase your knowledge and take your career to new heights."
An Itch for Learning
After buying her first vehicle, a '93 pickup truck, Kitto (pictured below) knew there would come a time when she would have to make a few repairs and conduct routine maintenance on it, but there was one problem: she didn't know how. Kitto looks to her uncle, an automotive service manager, as the person who encouraged her to pursue a technical career.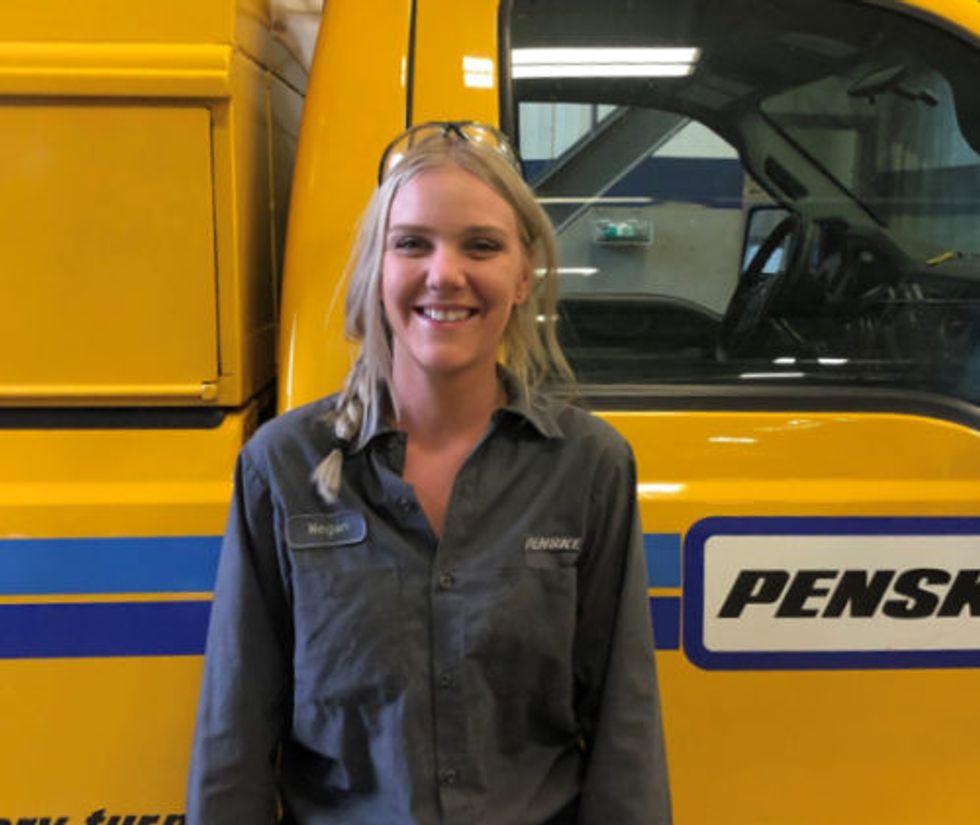 "I knew I needed to learn, and he helped me get started," Kitto said.
When she joined Penske, Kitto came with two years of work experience. When asked what led her to where she is today, she says that at her last job, Penske was viewed as the next step in your career progression among many technicians.
"Everybody from my first shop makes Penske their next stop," she said. "The top-notch training at Penske is what all of my co-workers would talk about. Before I came here, my friend told me the company offers so much training."
The technology and training are what Kitto says have a huge impact on helping her have a rewarding career and leaving her proud of what she does. It's no surprise this technician feels like she's at the right place.
"The pride in knowing that you took something that was broken and needed repaired, you fixed it, and now it's driving down the road; that's what's rewarding about what I do," Kitto said. "My job would be more frustrating if I didn't know what I was doing. The training at Penske prepares you to take on anything that may come your way."
Connecting and Supporting Others
Kitto admires the inclusive and supportive work culture Penske offers to its employees. And in an effort to support others in the field, a few years ago, she created a personal social media group as a forum for female technicians to interact and share each other's experiences. Currently, the group has more than 500 followers from all over the world (e.g., North America, Europe, Africa and Australia).
"The platform serves as a great place to ask questions and discuss different things we encounter while on the job," said Kitto. "Everyone is supportive of each other and is always happy to offer career advice."
Move Your Career Forward
Penske is always looking for qualified technicians to join the team. For information on career opportunities at Penske, click here.
By Chris Abruzzo