Penske Truck Leasing recently celebrated the official opening of its new facility in Cuautitlán, Mexico. This addition highlights Penske's commitment to enhancing transportation solutions in the region.
Spanning 63,000-plus square feet, the location offers full-service truck leasing, contract truck fleet maintenance and pre-owned truck sales. It is also outfitted with the company's proprietary fully digital and voice-directed preventive maintenance process and Penske digital experience solutions, which help customers leverage Penske technology as well as options related to onboard technology systems (ELDs, telematics, onboard cameras, etc.) – first of its kind in the region. With diagnostic equipment and service software at its core, Penske Cuautitlán focuses on efficient, reliable, and technologically advanced services.
Located in the Xhala Industrial Subdivision, this facility features ten service bays, a wash bay, and administrative offices. Its functional design caters to diverse operational needs, providing a comprehensive solution hub for Penske's customers.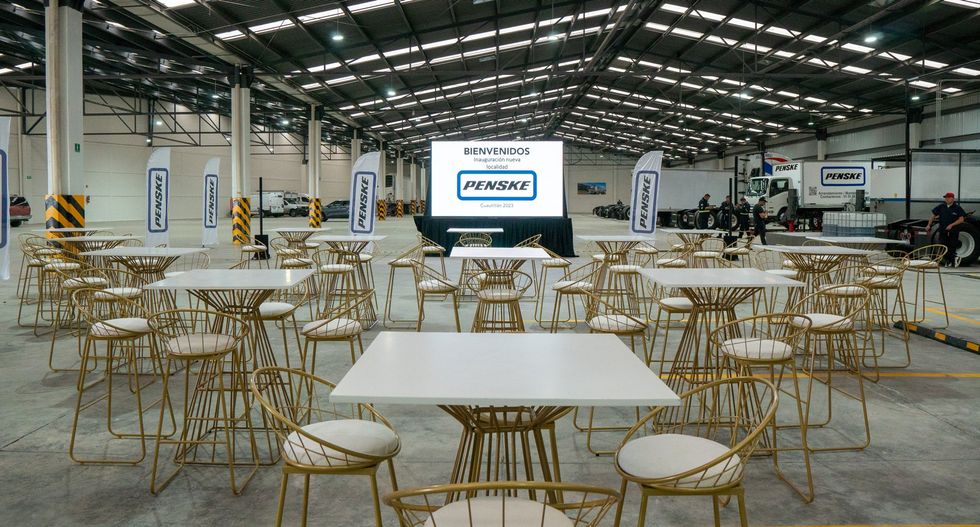 Ed Mendoza, senior vice president – Western region at Penske Truck Leasing, emphasized the significance of this expansion, stating, "This marks a significant step in our commitment to providing cutting-edge solutions to our customers in Mexico. We envision Penske setting the benchmark for operational excellence and technology, aligning with our mission to be an industry leader."
The ribbon-cutting ceremony symbolized the facility's official commencement of operations. It showcased Penske's strategic position in shaping the future of transportation in Mexico.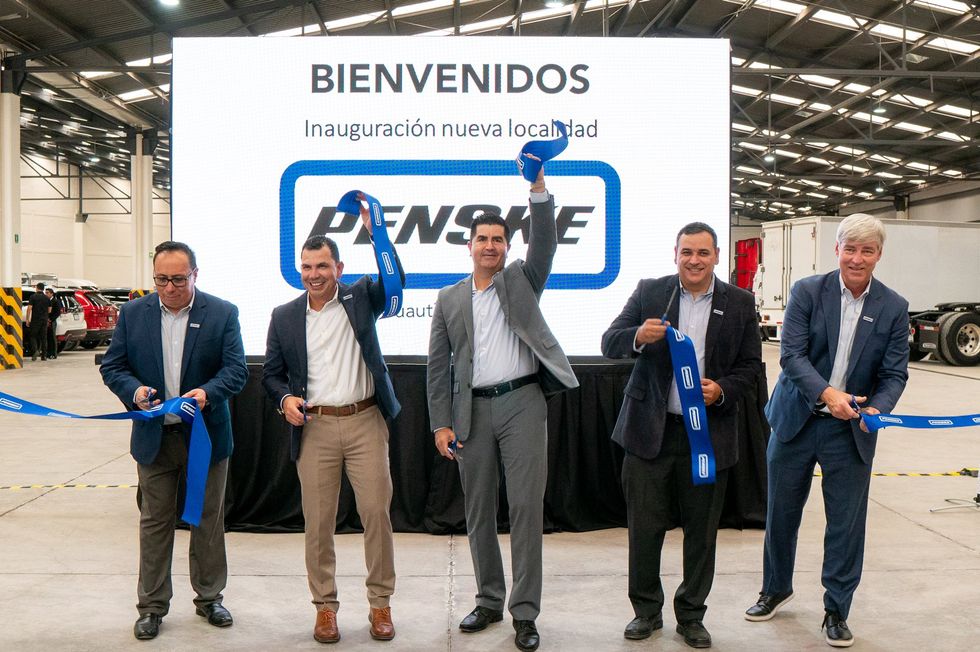 Ribbon cutting photo cutline: The ribbon-cutting ceremony was led by Gerardo Juárez, general manager of the Mexico-area for Penske Truck Leasing. (Left to Right) Victor Espinosa, district finance manager – PTL; Edwin Mendoza, senior vice president of operations – PTL; Gerardo Juarez, general manager – PTL; Luis Mendez, district service manager – PTL; and Jim Lager, executive vice president of sales and rental – PTL.
Penske's expansion in Mexico comes as a response to the growing demands in the area, and Penske aims to deliver advanced solutions, ensuring operational efficiency for its customers and technological leadership throughout region.
Mendoza continued, "As Penske continues to drive innovation, this expansion positions Penske as a key player in redefining fleet standards in Mexico."
Penske Truck Leasing expande operaciones en México
Penske Truck Leasing celebró la inauguración oficial de sus nuevas instalaciones en Cuautitlán, México, el 27 de octubre. Esta nueva ubicación destaca el compromiso de Penske de mejorar sus soluciones de transporte en la región.
Sobre un terreno de 5,700 metros cuadrados, las instalaciones ofrecen arrendamiento puro con servicio completo, servicios de mantenimiento por contrato para flotas y venta de camiones usados. Asimismo, están equipadas con el proceso de mantenimiento preventivo completamente digital y operado por voz de la compañía y con las soluciones de experiencia digital de Penske, que ayudan a los clientes a utilizar la tecnología de Penske y les brindan opciones relacionadas con los sistemas tecnológicos a bordo (ELD, telemática, cámaras a bordo, etc.) —los primeros en su tipo en la región—. Con equipo de diagnóstico y software de servicio, Penske Cuautitlán ofrece servicios eficientes, confiables y tecnológicamente avanzados.
Ubicadas en el Fraccionamiento Industrial Xhala, las instalaciones cuentan con 10 bahías de servicio, una bahía de lavado y oficinas administrativas. Su diseño funcional atiende diversas necesidades operativas, a fin de brindar un centro de soluciones integral a los clientes de Penske.
Ed Mendoza, vicepresidente ejecutivo para la Región Occidental en Penske Truck Leasing, enfatizó la relevancia de esta expansión: "Esto representa un paso importante en nuestro compromiso de ofrecer soluciones innovadoras a nuestros clientes en México. Penske está estableciendo el estándar en excelencia operativa y tecnológica, lo que se alinea con nuestra misión de ser un líder en la industria".
La ceremonia de corte de listón simboliza el inicio oficial de las operaciones de las instalaciones y demuestra la posición estratégica de Penske para definir el futuro del transporte en México.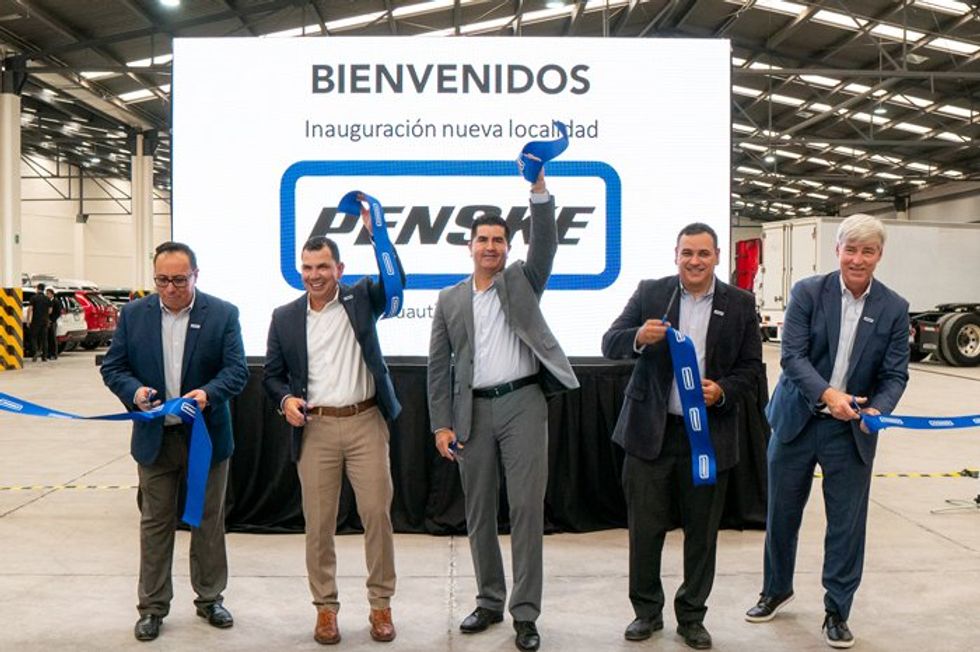 Pie de foto del corte de listón: La ceremonia de corte de listón estuvo presidida por Gerardo Juárez, gerente general de la zona México en Penske Truck Leasing. (Izq. a der.) Víctor Espinosa, gerente de finanzas de distrito, PTL; Edwin Mendoza, vicepresidente ejecutivo de operaciones, PTL; Gerardo Juárez, gerente general, PTL; Luis Méndez, gerente de servicios de distrito, PTL; y Jim Lager, vicepresidente ejecutivo de ventas y arrendamiento, PTL.
La expansión de Penske en México responde a las crecientes demandas en la zona. La compañía busca ofrecer soluciones avanzadas que proporcionen eficiencia operativa a sus clientes y liderazgo tecnológico en toda la región.
Mendoza agregó: "A medida que Penske continúa impulsando la innovación, esta expansión lo posiciona como un participante clave para redefinir los estándares de las flotas en México".