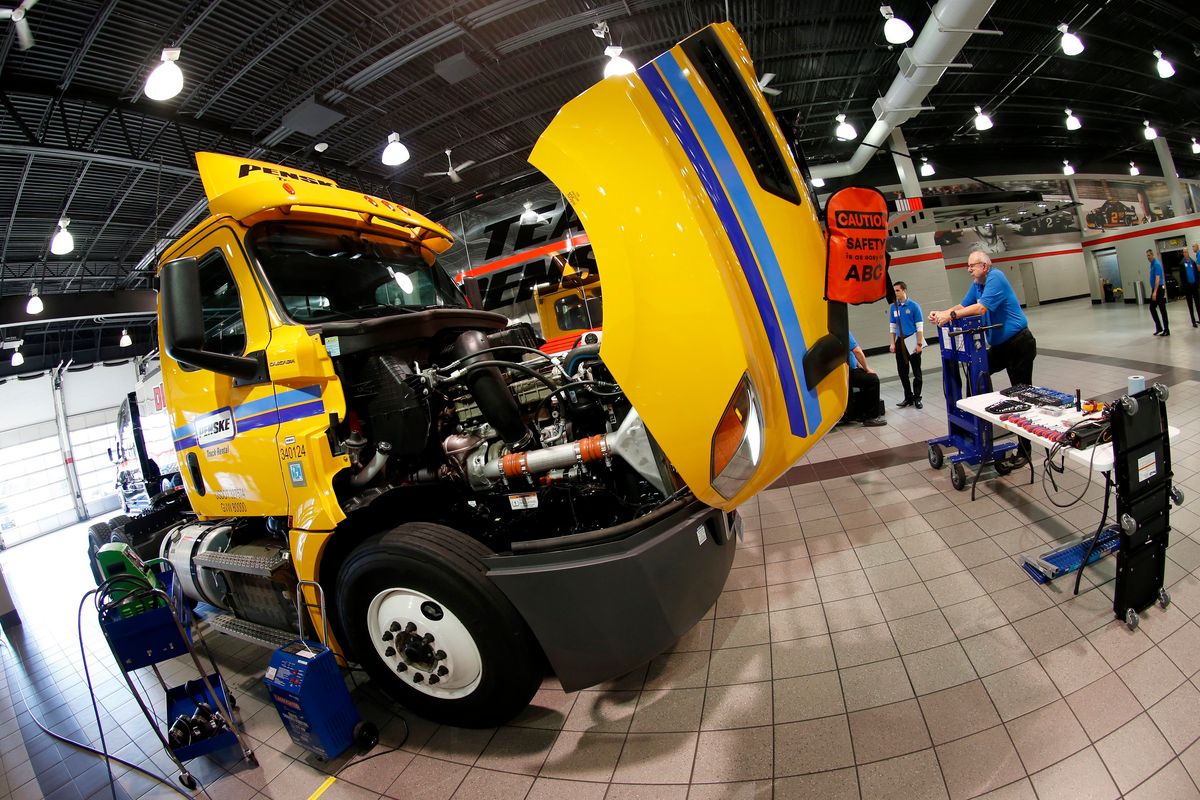 Penske Maintenance Technician David Sledziewski Winner of Tech Showdown Competition
David Sledziewski, a Wilkes-Barre, Pennsylvania, truck maintenance technician, was named the champion of the inaugural Penske Truck Leasing 2019 Tech Showdown competition.
---
The internal companywide event was designed to test, sharpen and evaluate Penske maintenance staff on the mastery of skills required to maintain today's increasingly complex commercial trucks. Competitors were challenged via timed, hands-on and written assessments.
"I'm very proud of our top Tech Showdown finishers," stated Mike Hasinec, Penske Truck Leasing vice president of maintenance. "Through the spirit of competition, we were hoping to remind our workforce of the value of a back-to-basics approach to proper exhaust stream management maintenance."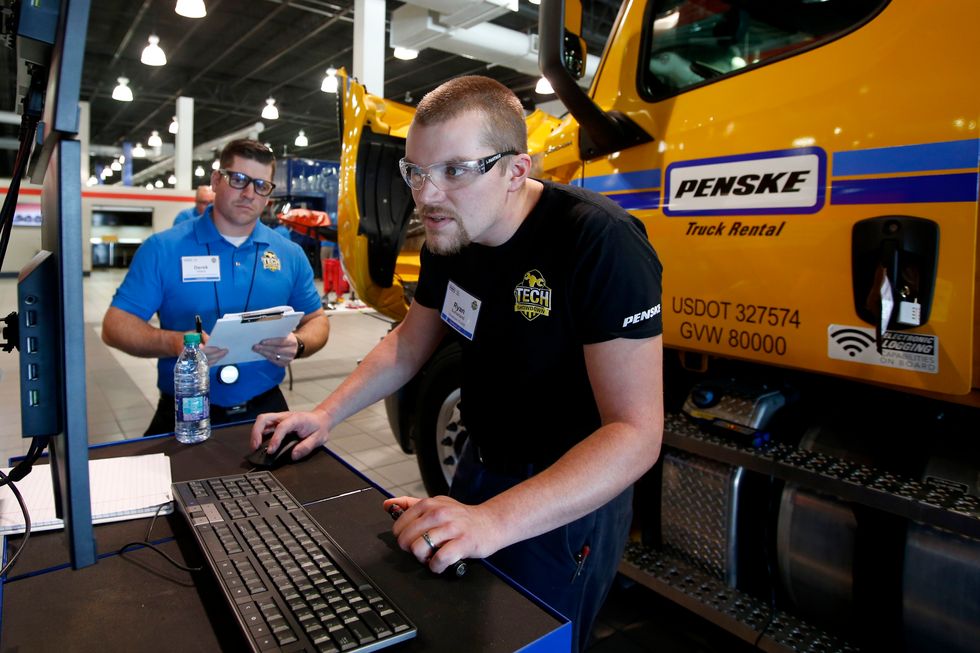 Ryan Sutherland, a Penske technician 1 from Madison, Wisconsin, competes in the 2019 Penske Tech Showdown finals.
Approximately 1,300 Penske technicians and customer service representatives competed in the two-tiered event.

A preventive maintenance contest was held only at the district level; there were 532 Penske PM competitors companywide.
The larger ESM Tech Showdown featured 767 Penske associates, with the top 16 having received invites to the finals on December 18, 2019, at Team Penske's racing headquarters in Mooresville, North Carolina.
Gregg Mangione, Penske senior vice president of maintenance: "The amount of time that our technicians and customer service reps took to participate in this event was around 7,200 hours."
Mangione explained that there were 1,500 total exams administered, which proved valuable in helping provide training to Penske techs. He pointed out that the training staff visited 108 cities in total as part of the Tech Showdown.

Penske Truck Leasing President Art Vallely stated during the awards banquet: "This is the most special day I've had this year at Penske." Speaking to maintenance associates: "Collectively you deliver for our customers."
To the finalists Vallely stated: "The 16 here tonight are the best of the best. You are not here by accident. I couldn't be prouder."
Tech Showdown Top 5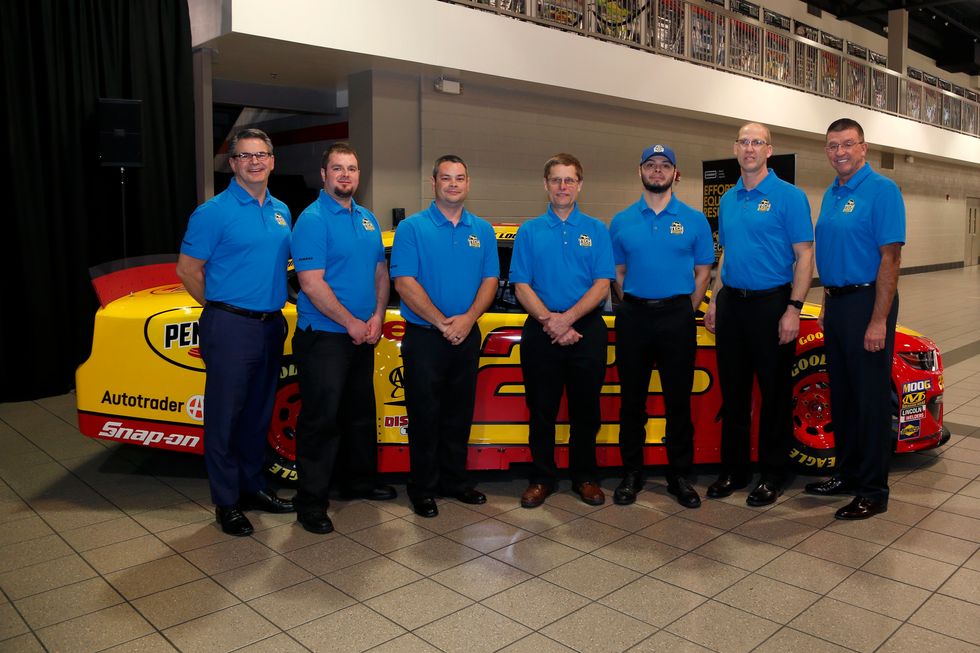 From left: Gregg Mangione, senior vice president of maintenance; Brenden Waggy, third place; Stanley Lindler, second place; David Sledziewski, first place; Dan Ferrer, fourth place; Mark Parisotto, fifth place; Art Vallely, president
Sledziewski, a technician 1, on finishing first: "I was amazed, I was shocked. I knew it was going to be difficult – it's the nationals."

He continued: "I like working for a solid company that values its employees. Training is always available for the ever-changing technology. I especially enjoy the challenge of troubleshooting and solving electrical and module communication issues on newer vehicles."
Sledziewski (age 58), a Penske employee for 38 years, is the longest-tenured top five finisher.
A look at the top Tech Showdown competitors:
Stanley Lindler, runner-up: The 36-year-old lead technician 1 works out of the company's West Columbia, South Carolina, location. He has been a tech for 17 years, all of those in a Penske uniform.
Brenden Waggy, third place: Representing Dayton, Ohio, Waggy has been a Penske tech for 11 years, and has 15 total years of maintenance experience. At 32 and a technician 1, he is the second-youngest top finisher.
Dan Ferrer, fourth place: A four year Penske associate, Ferrer is the youngest top finisher, at age 26. The lead technician 1 is employed in North Liberty, Iowa.
Mark Parisotto, fifth place: He is a lead technician 1, in Burnaby, British Columbia, Canada. Parisotto, 50, has three decades of experience, 23 for Penske.
Finalist Christopher Pruett, a technician 1 in Boaz, Alabama, served in the military. Before joining the company last year, he was enlisted in the U.S. Marine Corps, where he was deployed abroad. While in the Air National Guard, he served in maintenance and operations roles.
By Alen Beljin