In 2014, the supply chain industry experienced one of its strongest years in recent history. The transportation sector grew by 3.6 percent due to stronger shipment volumes and consumers, which had been the element missing from the country's financial recovery, began to drive the economy once again as confidence increased.
"It was the best, strongest year freight has had since the recession and it happened despite the fact that the economy wasn't that strong around it," said Rosalyn Wilson, a transportation consultant and the author of the Council of Supply Chain Management Professionals (CSCMP) 26th Annual State of Logistics Report, which is presented by Penske Logistics.
"Today's market-leading companies use their supply chains to drive innovation and competitive advantage," stated Marc Althen, president of Penske Logistics.
Wilson shared her findings at this week's press conference at the National Press Club in Washington, D.C. Executives from Penske Logistics, Boeing, BNSF Railway, Domino's, Yusen Logistics and Sustainable Supply Chain Consulting spoke in a panel discussion following the report's release.
Throughout 2014, the job market improved, real net income and household net worth increased and interest rates dropped, and Wilson remains optimistic for 2015 as well. "While the economy is still wobbly, the underpinnings for freight are still looking really good," Wilson said.
Within the third-party logistics sector, revenues rose 7.4 percent in 2014. "3PLs have been responding to changes in the supply chain and fulfillment strategies, such as the rise of omni-channel retailing, to grow their markets," Wilson said.
The fastest growing segment of the 3PL industry for the last several years has been domestic transportation, and 2014 saw an increase of 20.5 percent.
Wilson said the growth can be attributed to a growing base of customers using 3PL services as well as an increase in the types and levels of services being offered.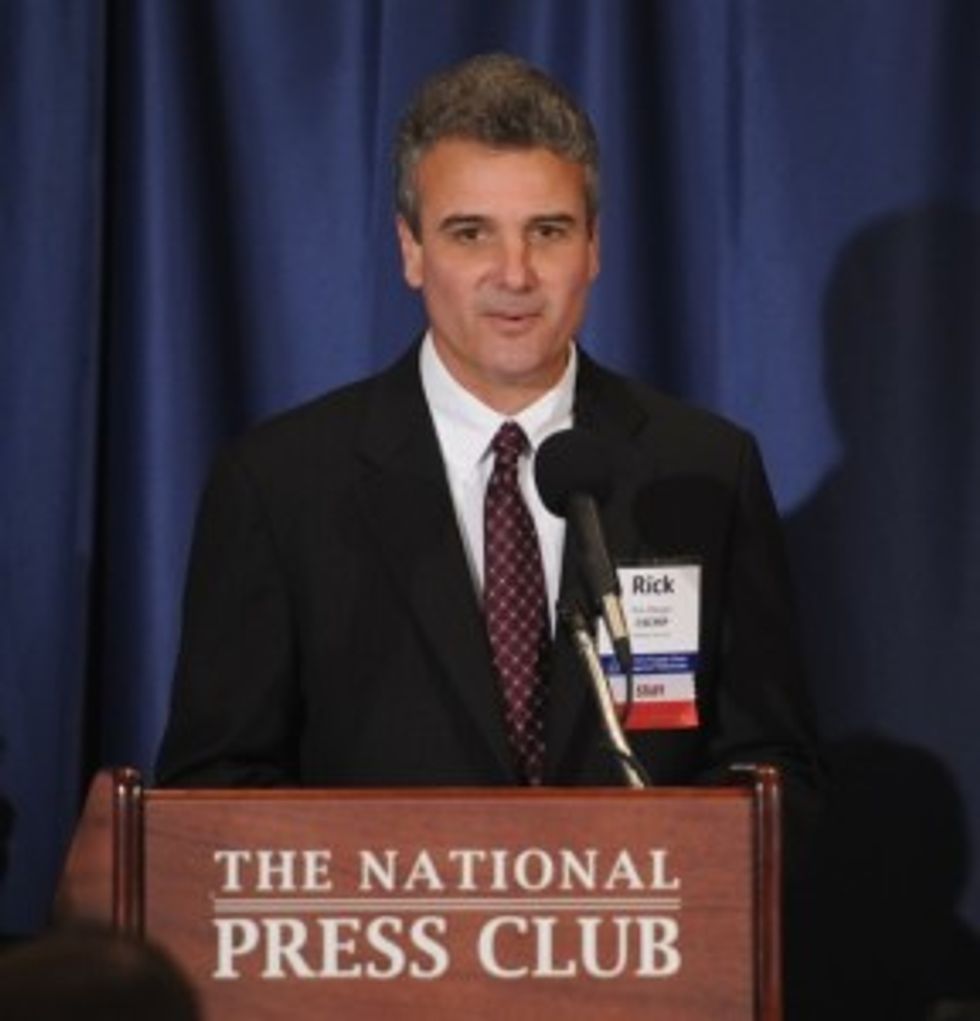 CSCMP's Rick Blasgen at State of Logistics Report
Overall, total U.S. business logistics costs rose to $1.45 trillion in 2014, a 3.1 percent increase from the previous year. Transportation costs rose 3.6 percent in 2014. Trucking, the largest component of transportation costs, rose 3.0 percent in 2014; the inter-city truck segment rose 2.7 percent and the local delivery segment was up 3.7 percent.
Wilson said the number of truck shipments declined, but truck tonnage increased 3.5 percent in 2014. "This supports the anecdotal evidence collected that suggests loads are heavier and more trucks are moving at or near full capacity," she explained.
Within the railroad sector, costs grew 6.5 percent as rail traffic reached its highest annual total on record. Costs for the water sector rose 8.9 percent, the second highest growth sector in 2014, and freight forwarder costs rose 5.4 percent. Air cargo sector costs declined 1.2 percent as competition from other modes kept rates down.
Wilson said total freight payments rose less than the increase in the number of shipments, indicating that rates were flat and competitive overall.
She said, "Once again in 2014, truck freight rates did not rise as a traditional supply and demand model would have indicated. However, on a cost per ton-mile basis, there was a 2.5 percent uptick, but on an average cost-per- mile basis, there was a 2.1 percent drop in 2014."
The transportation industry continued to experience capacity concerns throughout the year, which Wilson attributed, in part, to Department of Transportation safety regulations that have altered fleets' productivity and increased costs.
Close to 400 small companies went bankrupt in early 2014.
While those carriers all had 30 trucks or less, the loss has affected capacity. Wilson expects the capacity problems that emerged in 2014 to continue to worsen for at least the next two years before they begin to improve.
Inventory carrying costs rose 2.1 percent in 2014 as did total business inventory levels, pushing up related expenses, such as taxes, depreciation, obsolescence and insurance.
"Inventories are at the highest point they have ever been in the 70 years they've been recorded," Wilson said. "That will put a lot of pressure on the retailers and wholesalers holding that inventory."
The cost of warehousing rose 4.4 percent because of shrinking capacity, which lowered the national vacancy rate to 7 percent. In addition, warehousing costs are on the rise as companies respond to the shortage of workers by offering better pay and benefits.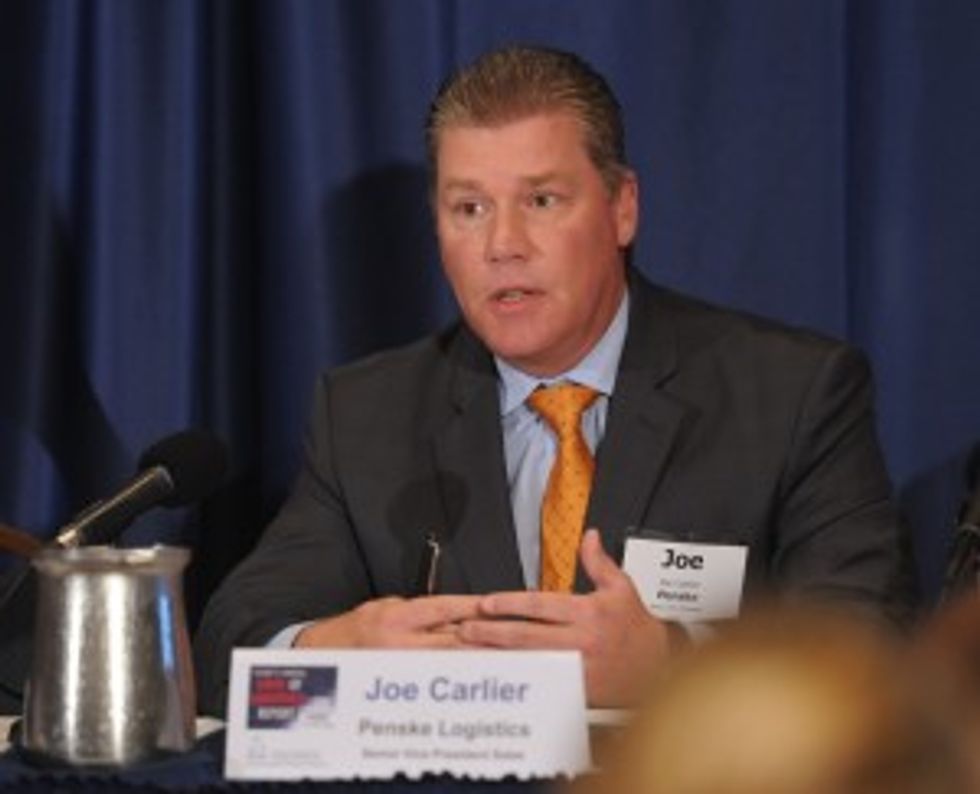 Penske's Joe Carlier 2015 CSCMP State of Logistics Report
The trucking industry also faces a shortage of workers, and the driver shortage remains a key concern.
The American Trucking Associations estimates the current shortage ranges from 35,000 to 40,000 drivers. A key indicator of this was a driver turnover rate, which was more than 95 percent on an annualized basis.
Several CSCMP press conference panelists noted challenges with a growing supply chain talent shortage in the industry beyond truck drivers and also extending to warehouse workers as well as logistics engineers, IT and other professionals.
Joe Carlier, Penske Logistics senior vice president of sales (bottom photo), and a panelist stated: "today, human capital is a major issue...our hiring needs include skilled logisticians as well as truck drivers."
Penske Logistics has over 13,000 global employees including 4,000 truck drivers. The company's truck driver retention rate is high for the industry – in excess of 80 percent.
Motor carriers are interested in maximizing driver pay and satisfaction, and carriers are likely to be more selective in who they do business with if they see the sustained growth in freight volume Wilson expects.
"Shippers who hold drivers for long periods of time waiting to load or unload, or who do not treat their drivers well, will fall to the bottom," Wilson said. "Maximum equipment utilization, quicker turns and fewer empties go right to the bottom line. Shippers willing to work with carriers to accomplish this will fare better than those who neglect these issues."
CSCMP's State of Logistics Report has tracked and measured all costs associated with moving goods through the U.S. supply chain dating back to 1988.
"This highly anticipated report contains the statistics and industry insights that will not only help our members do their jobs better, but also better prepare them for the business demands ahead," said Rick Blasgen, president and chief executive officer of CSCMP (middle photo). "We are grateful for the support from Penske Logistics in issuing this critical industry intelligence."
By "Move Ahead" Staff