Editor's note: This story is part of our "50 Stories of People Helping People" series. As we celebrate Penske's 50th anniversary in 2019, we are spotlighting associates every Friday who are making a difference in their communities.
The blush of a new school year filled with hope and promise can soften for families struggling to equip students with basic school supplies.
Recognizing the need, a group of Penske associates recently joined with the DoubleTree by Hilton Hotel Reading (DT) to provide 550 new backpacks filled with school supplies for students in Reading, Pennsylvania.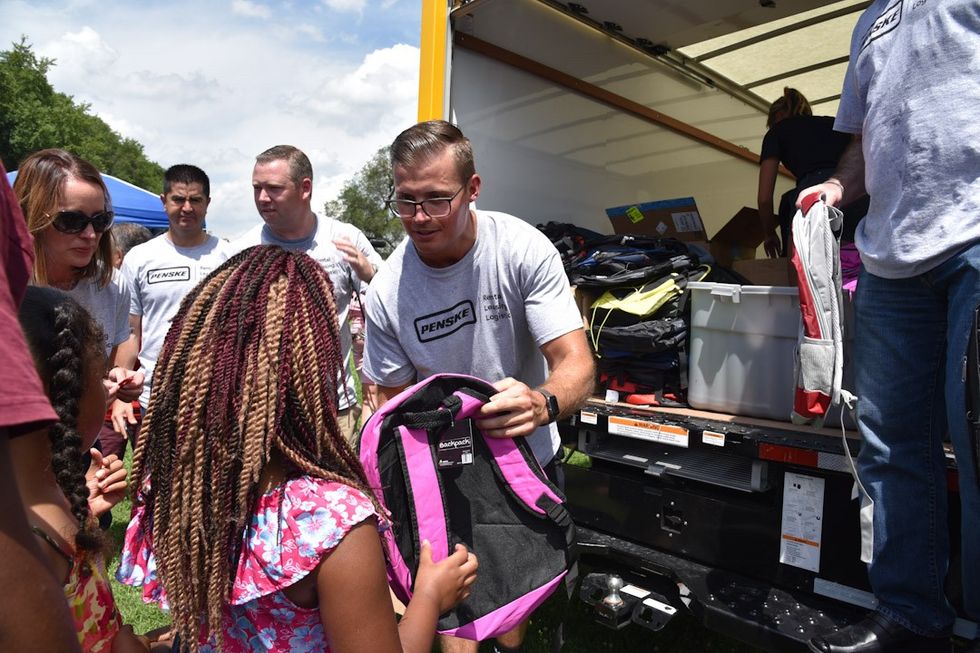 On a recent sun-kissed summer day, the backpacks were distributed from a yellow Penske truck to the arms of boys and girls who gathered with their families for the DT's second annual Back to School and Community Resource event.
"If a child has all the materials they need to succeed in school then that is a hurdle they don't have to jump to get excited about learning, and that's what this is all about," said Cassandra Brennand, senior manager of leadership and organizational development.
Among the countless smiles were those from Penske associates who embraced the backpack giveaway as part community service and part team-building effort.
"It was a great networking event for our associates to get together to have some fun and do great work for the community," Brennand said.
People Helping People
This was the second year for the DT's community-wide back-to-school event. In addition to the backpacks and school supplies, the event featured vendors and a cookout.
Last year, the hotel collected 200 backpacks, only to see them be out-paced by the need.
"Within 20 minutes they were gone. The hardest part for me was seeing people walking away without having a backpack or supplies," said Alneasa Jordan, DT's culture manager and director of human resources.
"We turned away a lot of people last year so that is why I wanted to partner with Penske," Jordan said. "I knew you would make a dent in what we were trying to do."
Yet, Jordan said she did not attach a goal to this year's backpack drive.
"I was open to whatever we could get help with," Jordan said. "When I heard the number of backpacks Penske was going to donate, I almost fell out of my chair. Those backpacks are going to help so many people, and we are so very grateful."
Penske's involvement in the backpack initiative grew from another outreach effort. The DT manages a Care Closet to benefit its employees. Penske associates, who were part of the company's Accelerated Development Program for Emerging Leaders, partnered with the DT to add to their Care Closet as part of the group's leadership development curriculum and team-building activity.
It was after this outreach that Penske's Brennand said she learned about the backpack drive and last year's shortfall. "We were more than happy to help out," she said.
Joining with the DT in such an impactful community effort fits in with Penske's core values. This year the company will celebrate its 50th anniversary.
"I think over the past 50 years Penske has been quietly serving our communities, and it's just in our DNA," said Erica Manento, director of executive succession and development. "We care about each other and the communities where we live and work in, and our collaboration with DT really highlights that."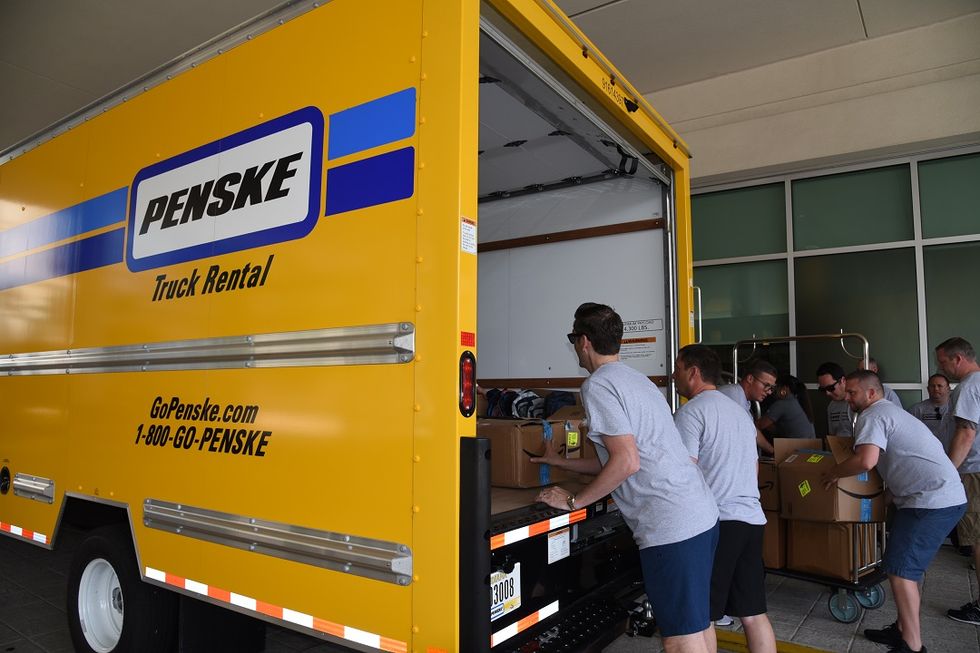 The company purchased new backpacks and supplies – notebooks, pencils, pens, calculators and pencil sharpeners for the children. Penske's Reading District also donated a rental truck as well as 50 backpacks filled with supplies.
"We like to get involved in different charitable events. We try to do one a quarter as a district, and this fit right in," said Michelle Gentile, Reading district manager.
Penske Strong
The night before the distribution, Penske's district managers, branch rental managers, maintenance supervisors and management trainees – some 100 strong, in Reading for training events – forged an alliance and an assembly line to fill each backpack with much-needed school supplies.
"This is what Penske looks like," said Jessica Stahl, manager of talent and organizational development. "We have all of our maintenance supervisors, branch rental managers, district managers and management trainees here supporting this event. This is one Penske, one cause, one everything."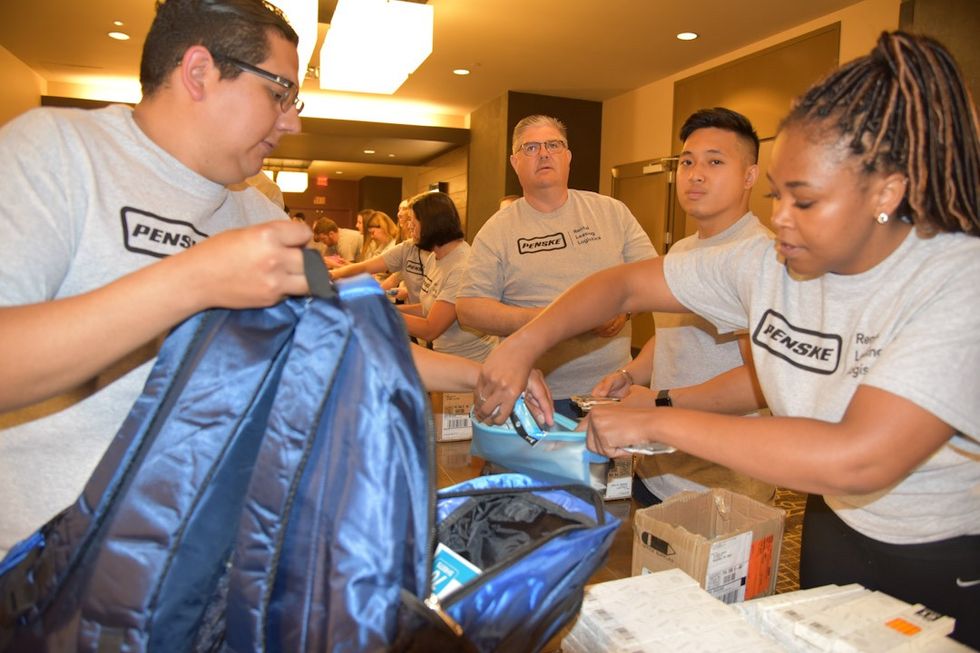 It was a feeling shared by many.
Karen Banfield, a district manager from Calgary, Alberta, Canada, said the backpack experience was motivational and inspirational. "It was interesting to see how everybody pitched in," Banfield said. "We all had a great time doing it. It was such a good feeling."
Desiree Clarabal, a district manager from Honolulu, Hawaii, said that feeling of giving back permeates all levels of the company. "Even at the district level it is something that we look forward to doing – giving back to the community and children or whatever the cause might be," she said.
When Matthew Chapa, a management trainee from Huntington, West Virginia, learned about the backpack initiative, he was excited to do his part. "It made me excited that we were doing something good for a good cause for the community," he said.
Branch rental managers Kristen Uzelac, Kevin Maloney and Nolan Bartiss may be separated geographically but all were united in their appreciation for the chance to bond with so many associates through the backpack donation.
"It is a great community outreach especially with so many levels of the company here whether it be new management trainees or new branch rental managers or district managers," said Bartiss from Aurora, Colorado. "It is a great way for all levels of the company to come together to reach out to the community."
Uzelac agreed.
"It is awesome because you have management trainees collaborating with levels of upper management, all working together for the same cause, for the same community, which is an incredible thing," said Uzelac from Phoenix, Arizona. "It shows what Penske is all about – everyone working together for something greater."
For many like Maloney, the backpack event was memorable.
"It was something that everyone involved felt committed to doing as soon as we found out about it, and it was a highlight of the week for many involved," said Maloney from Indianapolis, Indiana.
On the day of the backpack distribution, as she stood near the Penske truck taking in the impact of all the associates accomplished, Shalimar Davis, district manager in South Las Vegas, Nevada, said the effort to assist children in need was a "true blessing" for the associates involved.
"I think it is a true blessing for us to have the opportunity to serve the community. To see the community gather around like this is a great thing to see and a true blessing that we get to be a part of it and give back," she said. "We feel touched in a way that we want to give back more in our own communities."
"It is a testament to what I already knew that this is a great company to be a part of and being a part of our communities is something that is important from the top down," she said.
By Bernie Mixon