The transportation industry has a wonderful legacy of entrepreneurs and innovators. However, not every legendary tale is of someone whose new business start-up became one of the household names we all know today. There are many lesser-known success stories out there including freight brokers.
Penske is seeking qualified candidates for a variety of positions at college career fairs nationwide.
The year 2014 marks a milestone for Penske Truck Rental andAAA – 15 years of a successful collaboration. To celebrate, Penske Truck Rental is kicking off its new, Open Road Sweepstakes. Penske is giving away 15 truck rentals per month all year long in the United States.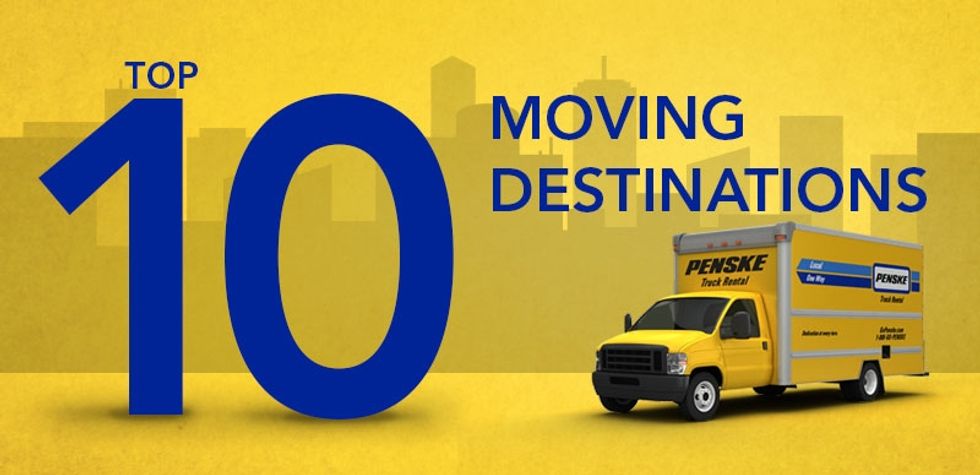 Over the last four years, Penske Truck Rental has produced an annual list of its top moving destinations in the United States. Once again, the Atlanta metro area remained No. 1 for the fourth consecutive year.
In the list below, last year's ranking is noted in parentheses. New to the 2013 list is Las Vegas, coming in at No. 10. Sarasota, Fla., No. 10 in 2012, was combined with the Tampa, Fla., metro area for this year's list.
During a move, your four-legged friends are just as precious as your belongings. That's whyPenske has teamed with Kurgo to keep dogs safely secured with a harness while traveling in a Penske rental truck.
The Supply Chain Networking Expo scheduled for Wednesday, Jan. 22, atNortheastern University, Boston, has been canceled because of the snow storm.
Members of Penske's maintenance and human resources teams will be available to speak to students and alumni Wednesday and Thursday, Jan. 22 and 23, atUTI-Houston, Houston.
Penske Logistics is seeking qualified candidates for its Supply Chain Leadership Program (SCLP) at theSupply Chain Management Career Fair from 2-6 p.m. Wednesday, Jan. 22, in the Breslin Student Events Center, Michigan State University, East Lansing, Mich.
Penske will participate in Veteran Recruiting Services' Virtual Career Fair from 1 – 4 p.m. EST. Tuesday, Jan. 21.
Penske is participating in career fairs at colleges nationwide throughout January for various employment opportunities.
The critical nature of supply chains in today's business environment is taxing the already lean logistics staffs of shippers. Beyond just running the business, logistics teams are spending more time on analytical projects, what-if scenarios and network designs. The list goes on and on.
U.S. consumers were expected to spend $602 billion during the holiday season and 2013 returns were expected to reach around 10 percent of overall sales. That means over $60 million of merchandise is heading back to stores.
Loading posts...