Sean Monahan, lead author from A.T. Kearney, presents the 2016 CSCMP State of Logistics Report at the National Press Club.
Logistics industry revenue and spending continued to grow in 2015, and the drivers of business logistics costs changed dramatically throughout the year. Vigorous growth in the business-to-consumer e-commerce market led to many of the changes that occurred in the past year, and the industry is likely to enter into a new era over the next decade as shippers and their supply chain partners collaborate to meet a new set of expectations.
"Historically the logistics infrastructure has been built on cost efficiency. The infrastructure today isn't built for the I-want-it-today- or I-want-it-tomorrow-centric emphasis that we are seeing," said Sean Monahan, a partner with the global strategic management consulting firm A.T. Kearney and lead author of the 27th Annual State of Logistics Report, which was introduced by the Council of Supply Chain Management Professionals (CSCMP) and presented by Penske Logistics on June 21.
"What does that do to logistics over time? We have to see how that plays out over the next five to 10 years," he added.
Marc Althen, president of Penske Logistics, said consumer expectations are changing. "They want their products delivered fast, and they don't want to pay a lot of money for delivery," he said. "Shippers are struggling to meet the challenges these expectations create, and many are turning to outside logistics companies for expertise and support."
Monahan discussed the report at a press conference at the National Press Club in Washington, D.C. Althen, as well as executives from The Hershey Co., Lowe's, Kansas City Southern and Yusen Logistics spoke in a panel discussion following the report's release.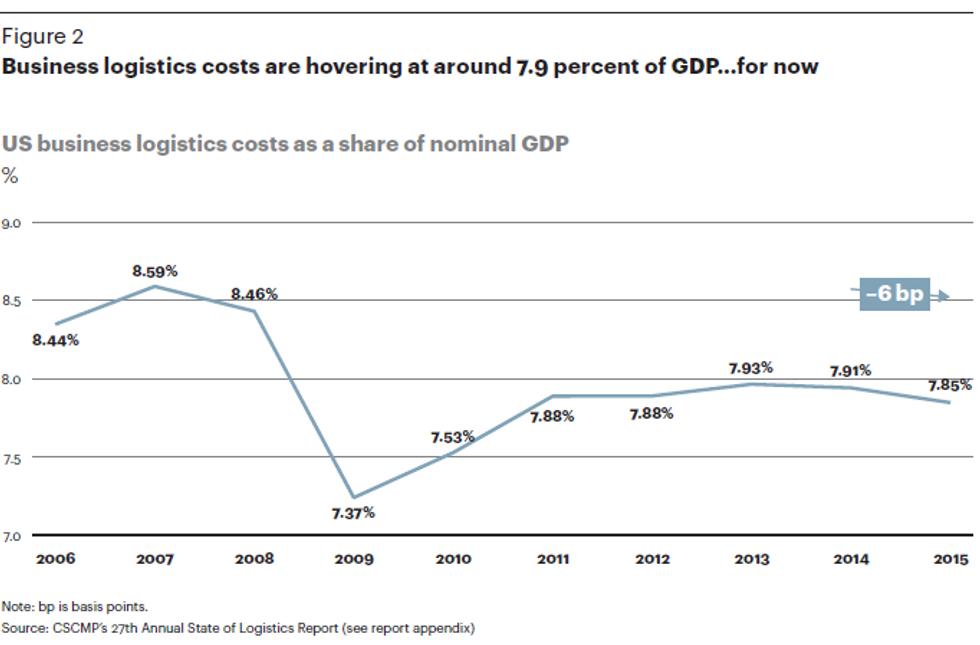 Total U.S. business logistics costs reached $1.408 trillion in 2015, a 2.6 percent increase. Between 2010 and 2014, U.S. business logistics costs grew by an average of 4.6 percent annually.
One reason for the slower growth in 2015 is that transportation costs—the largest single component of business logistics costs—grew by only 1.3 percent due to decreasing energy prices that lowered fuel surcharges and overcapacity in the full truckload market.
Monahan expects rates to increase in 2017 for a variety of reasons, including rising fuel costs and the right sizing of fleets. "All of the pressures are to the upside," he said.
Throughout 2015, rail revenues decreased 8.9 percent mainly due to a steep reduction in coal traffic, and Intermodal traffic, a steady source of growth for the rail segment in recent years, stalled.
Motor carriers continue to make up the largest transportation mode and had $583 billion in revenues in 2015. However, the industry experienced overcapacity issues that drove rates down after several years of rising prices. "Carriers largely responded to this deteriorating environment by improving operational efficiency and holding back on fleet orders," the report said.
Ultimately, trucking saw growth across several segments of the industry, including a 1 percent increase in dedicated. "On the trucking side we're seeing a growth in dedicated because of the reliability of the service and they tend to be shorter haul so the driver can be home at night," Monahan said.
Revenue growth within the truckload segment reached 3 percent, the less-than-truckload segment grew 7 percent, and the parcel and express segment of the logistics industry grew 8 percent. "E-commerce is increasingly becoming a big part of the economy that is driving parcel," Monahan said.
This is the first year the report, which has a new author and researcher, has broken out parcel shipments—an $82 billion industry in the United States.
"We restructured the modes that you look at," Monahan said, adding that the report follows the same pattern as in the past but uses slightly different data points. "The appendix includes a recalculated index for the past ten years. If someone looks at the old report and the new report, they'd see the numbers changed, but we've taken that into account."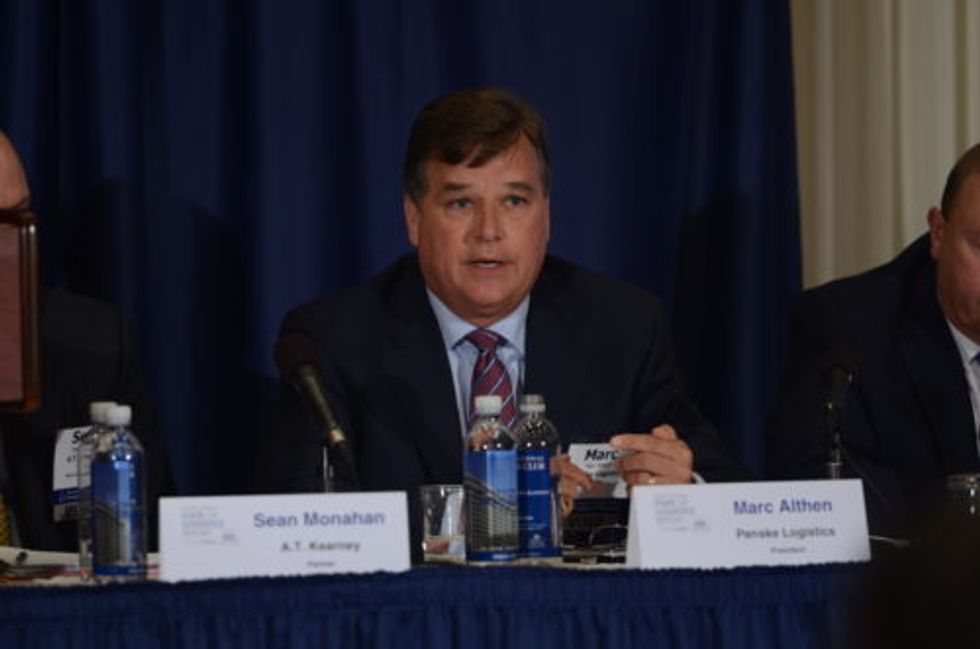 Penske Logistics President Marc Althen participates in a question-and-answer panel at the 2016 CSCMP State of Logistics Report.
E-commerce is likely to double in size by 2020, and the growth of business-to-consumer shipments will continue to alter the expectations, particularly related to visibility, of shippers across all industries.
"Supply chain transparency continues to grow in importance for shippers and third-party logistics providers," Althen of Penske said. "This is driving significant technological change for 3PLs and shippers alike as they collaborate and share more real-time information to enable data-driven business decisions and meet the growing needs of consumers."
E-commerce has also increased pressure on case picking or each picking, which is harder for some companies to manage. "In the past companies may have done their own, but now they're increasingly looking to a 3PL to do that," Monahan said.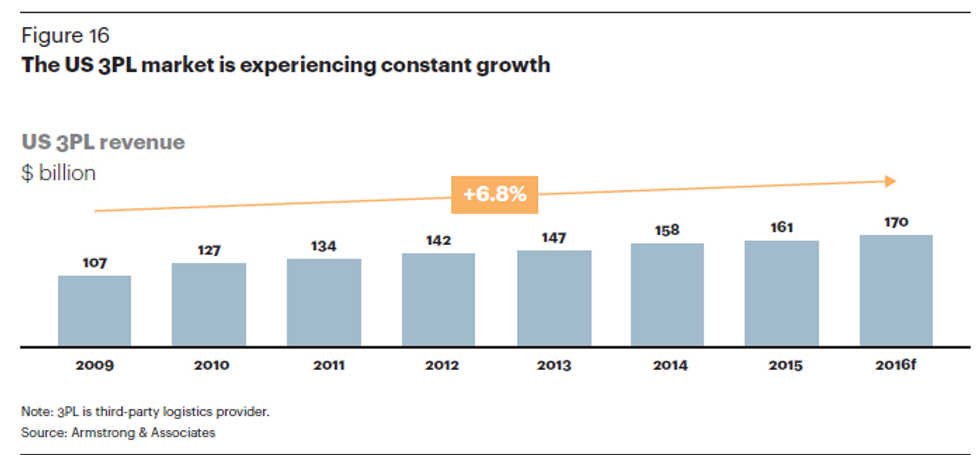 As the 3PL market grows, the competitive landscape is changing, and more and more customers are looking for 3PLs that can serve as a one-stop shop. "There is a need to be much more collaborative," Monahan the report lead author said, adding that 3PLs are experiencing increased pressure from clients that want 3PLs to come in as a partner, analyze the client's data and provide overall guidance of their transportation network.
The report predicts that over the next decade, the logistics industry will enter into a new era as technology, such as 3D printing and robotics, and operational constraints, including regulations and the driver shortage, evolve and possibly change the rules of the game. "During the interim, those companies that build the skills to adapt to these disruptions will likely come out ahead," the report said.
The State of Logistics Report has tracked and measured all costs associated with moving goods through the U.S. supply chain dating back to 1988.
The 27th edition reflects a change in the structure and content of the report. "Historically it has relied on publicly available reports and logistics industry data providers, government reports. We continued that but also spoke extensively with people in the industry and give a deeper, macro economic overlay in the findings," Monahan said.
By "Move Ahead" Staff