Penske employees during the grand opening, from left: Jason Schappert, district manager; Eric Clark, area vice president; and Tim Fogarty, area sales manager.
Penske Truck Leasing has debuted a full-service facility in Surrey, British Columbia, a Vancouver suburb. Located in the Port Kells Industrial Park, it has full-service truck leasing, local consumer and commercial truck rental and contract truck fleet maintenance services. The address is 9558 189th St., V4N 4W7.
The company has hired seven new associates to staff the location, which includes truck maintenance technicians, rental sales and office positions.
"We're very pleased to expand our service network with this new location in the metro Vancouver area," explained Eric Clark, Penske Truck Leasing area vice president for the northwest. "With the recent improvements to Vancouver's highway infrastructure this facility is conveniently located for all of our customers."
Facility highlights:
It is 8,400 square feet on one acre
There are four truck service bays
Wireless technology can connect technicians to truck diagnostic and analytic software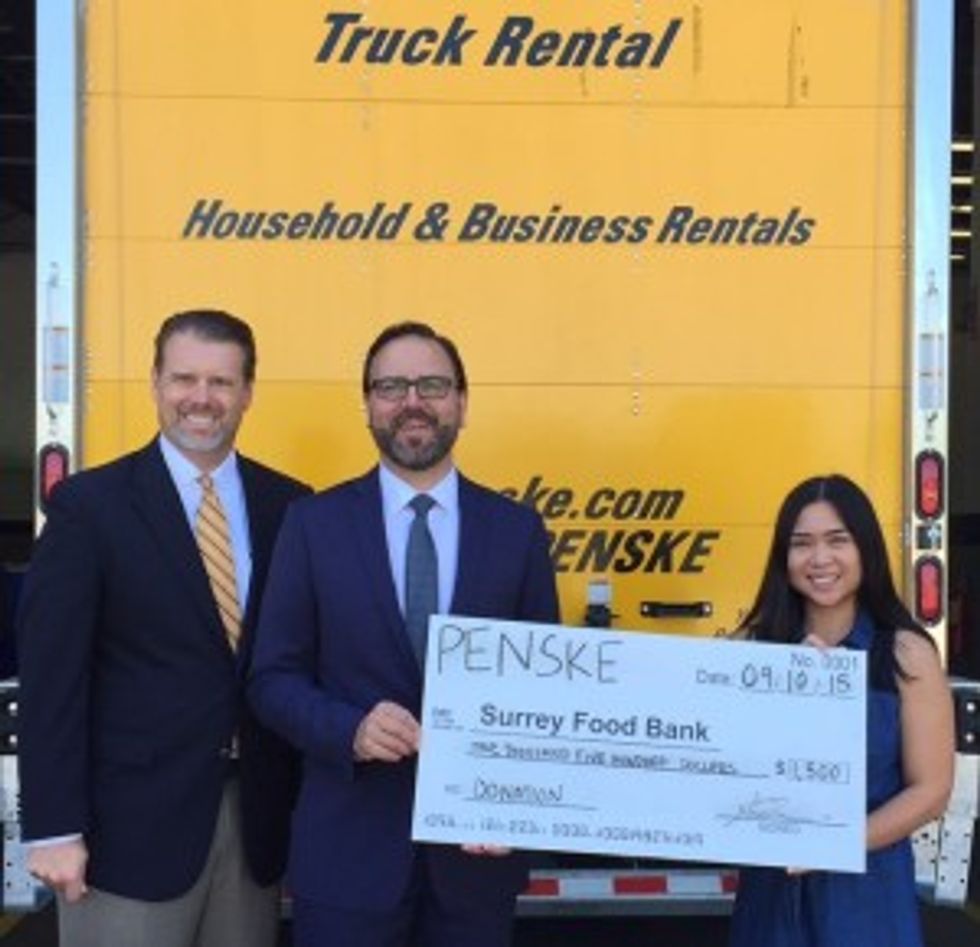 Katrina Albert of the Surrey Food Bank, right, accepts a donation from Clark, left and Schappert, center.
To contact the truck rental department, please call 604-882-8370. Rental department hours are Monday through Friday, 7 a.m. to 4 p.m. The service department phone number is 604-882-8305 and hours are 6:30 a.m. to 11:30 p.m., Monday through Friday; and from 6:30 a.m. to 5 p.m. on Saturday.
The local Penske district also made a $1,500 donation to the Surrey Food Bank, to help replace perishable foods lost to a recent power outage. According to district manager Jason Schappert, certain areas lost power for up to three days due to a severe wind storm.
By "Move Ahead" Staff