For the ninth consecutive year, Atlanta, Georgia, has topped the list of Penske Truck Rental's Top Moving Destinations. Since 2010, Atlanta has taken the number one spot on the company's annual list of cities seeing the most inbound truck rental.
For the eighth consecutive year, Atlanta, Georgia, has topped Penske Truck Rental's list of Top Moving Destinations. Cementing its spot at No. 1, Georgia's "The Big Peach" is the ninth-largest metropolitan statistical area in the country, and the region grew by 1.6 percent from 2015 to 2016, according to U.S. Census.
The seventh edition of the Penske Truck Rental Top Moving Destinations list contains a number of familiar markets across the United States, with Atlanta once again in the top position. Making an appearance in the top 10 for the first time since 2012 is Charlotte. Interestingly, only three states (Georgia, Florida and Texas) account for half of the placements.
During the six years that we've published the Penske Truck Rental Top Moving Destinations list, there have been two constants: our customers continue relocating en masse to the Sun Belt region of the United States and Atlanta winds up as the premier destination.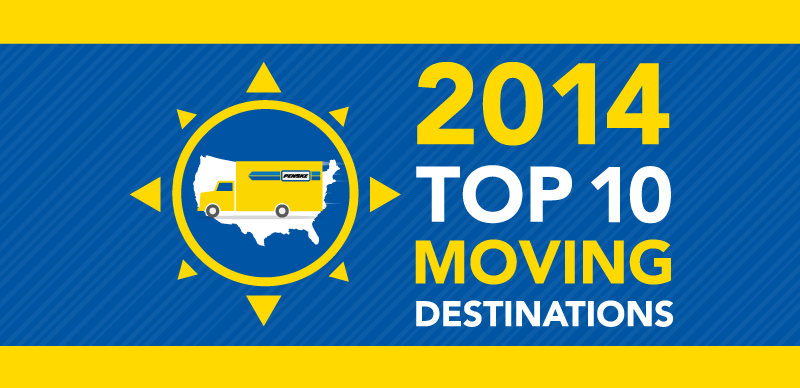 America is on the move, folks, and it may not be where you would expect. According to data compiled by Penske Truck Rental, do-it-yourself movers continue to migrate to the warm and sunny areas of the Southeast and Southwest. Over the last five years, Penske Truck Rental's Top 10 Moving Destinations list consistently finds Atlanta at the top. This year is no exception. Where is everyone else going? Read on to find out.
Penske Truck Rental 2014 Top Moving Destinations*
Penske Used Trucks has doubled its commercial truck dealership footprint in North America, introducing centers in Dallas, metro Atlanta and in Canada. The company now has six locations including Phoenix; Torrance, California; and Charlotte, North Carolina.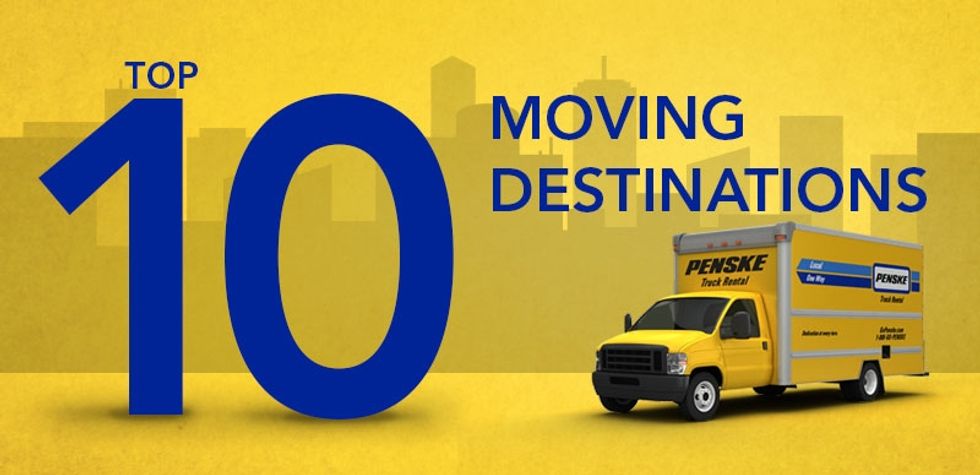 Over the last four years, Penske Truck Rental has produced an annual list of its top moving destinations in the United States. Once again, the Atlanta metro area remained No. 1 for the fourth consecutive year.
In the list below, last year's ranking is noted in parentheses. New to the 2013 list is Las Vegas, coming in at No. 10. Sarasota, Fla., No. 10 in 2012, was combined with the Tampa, Fla., metro area for this year's list.
It is time once again forPenske Truck Rental's yearly list of top moving destinations within the United States. This is the third straight year the Reading, Pa.,-based company has released the list.
For the second straight year "Move Ahead" is presenting Penske Truck Rental's list of top moving destinations. Just like in 2010, the 2011 edition has plenty of sunny locales. Here is the list:
Loading posts...