As project manager for her "older brother's" household move, Greta Ryan knows the keys to a successful move: a firm paw and gently barking a few orders to make sure everything goes smoothly.
Little Greta, a 12-year-old black and tan Dachshund from suburban Cincinnati, Ohio, supervises moves from her perch in the back of a Penske rental truck.
"Our dog adores my son, Casey, and she goes over to his house a lot," said Mary Ann Ryan, Greta's fur mom. "She has quite the personality, is good with people and adapts well."
Whether your trip takes you across the country or across town, Penske Truck Rental has some helpful moving tips to help you keep your four-legged family members happy and healthy.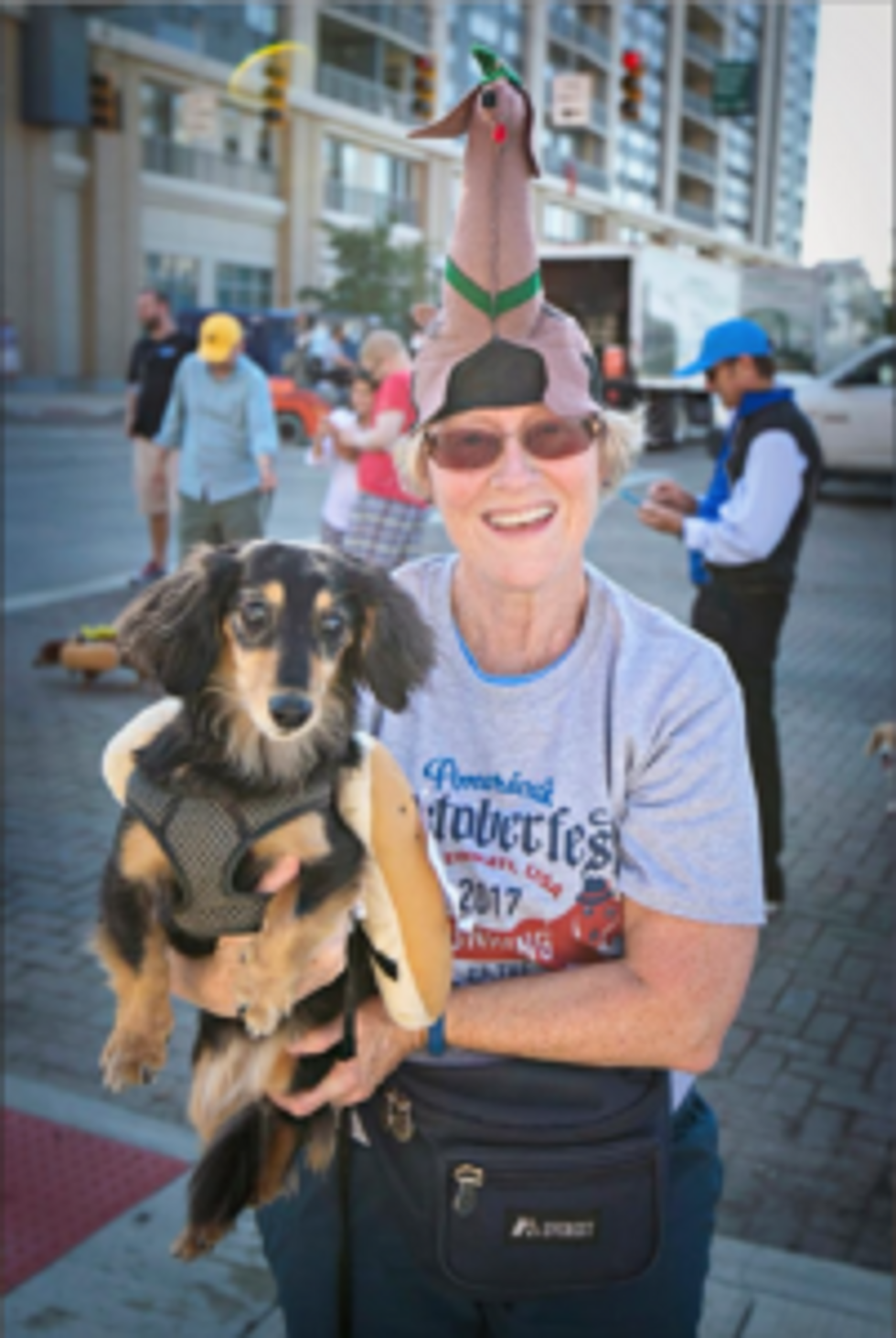 Greta and Mary Ann Ryan at the 2017 Oktoberfest-Zinzinnati. Photo credit: Mary Ann Ryan
Social Media Darling
Two years ago, Ryan began posting pictures of little Greta on Instagram, capturing her nuzzling with family, sporting her favorite outfits, spending time in the kitchen and even spending time in the back of a Penske rental truck.
"Greta has made friends from all over the world," said Ryan, who has been contacted by people from many countries including Australia, Canada, England, Japan, Norway and The Netherlands. "The pet community on Instagram are the nicest people in the world."
When she is not posing for pictures, you can find Greta each October in downtown Cincinnati in the "Running of the Wieners," the kickoff to the annual Oktoberfest-Zinzinnati.
Moving with Pets
Here are a few tips from Penske when traveling with pets.
Before you pick up the truck:
Check with your pet's veterinarian to see if a mild sedative is recommended for the move.
Make sure your pet has enough food and water during the trip
Plan to place your pet up front in the truck cab with you. Use a dog harness or crate your pet properly for the trip.
Put your pet on a leash or in a kennel/cage when outside the truck.
Be sure to have an appropriate ID tag attached to their collar with a current phone number. You might also consider microchip technology that has the full information about your pet placed on a chip under his skin.
During your move:
Do not leave your pet in the truck.
If your pet becomes overheated while traveling, take your pet to an air-conditioned area and place him in a shallow tub of cool water or rub your pet down with cool, wet towels.
If you have to travel a long distance to your new home and run the chance of making an overnight stay at a hotel/motel, plan ahead of time for a pet-friendly establishment.
When you arrive:
Make sure to unpack your pet's belongings as soon as you get there. These items would include bedding, food and water bowls, and toys
This will help your pet adjust as quickly as possible to his new surroundings by having familiar items around.
Penske Truck Rental offers free unlimited miles on all one-way truck rentals, discounts for AAA members, college students and members of the military as well as packing supplies and 24/7 roadside assistance. Are you ready to make a reservation? Visit the Penske Truck Rental website for more information.
By Bernie Mixon