Penske is participating in numerous summer virtual career fairs and on site in Cincinnati, Atlanta and Philadelphia to recruit active duty, veterans, guard/reservists and military spouses.Recruiters are seeking to hire for U.S. jobs such as technicians/mechanics, vehicle maintenance supervisors/managers, drivers, sales and customer service.
Penske Truck Rental marked the start of the Memorial Day weekend by recommitting itself to supporting Paralyzed Veterans of America.
Penske will take part in an upcoming hiring and recruiting event exclusively for veterans seeking employment. The event is hosted byVeteran Recruiting. The career fair will take place entirely online June 4 from 1 p.m. to 4 p.m. Eastern. Veterans will have the opportunity to interact online with recruiters from Penske and other participating companies. Interested veterans should enroll at www.veteranrecruiting.com ahead of the event.
Penske Logistics is pleased to announce its continued major sponsorship of the Council of Supply Chain Management Professionals and its Annual Global Conference.
Future leaders play a critical role in any organization. This is why it's important to grow and cultivate current employees into future leaders. One way to do this is to encourage employees to get involved in programs that benefit the community at large.
It's that time of year again when you get to vote for your favorite third-party logistics provider inInbound Logistics magazine's 3PL Excellence Survey. Show your support for Penske Logistics by voting online today! Click to vote! The results of this year's survey will be presented in the July 2014 issue of Inbound Logistics magazine.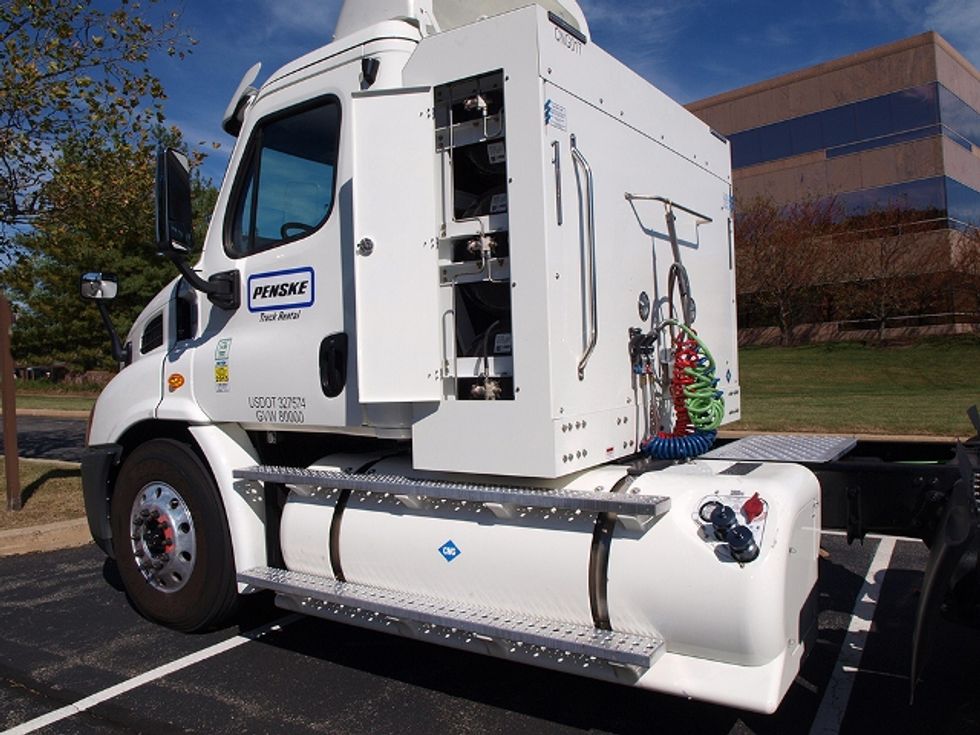 Penske Truck Rental has 85 compressed natural gas (CNG) Freightliner Cascadia tractors available for commercial rental use in select markets. These day cab tractors are equipped with Cummins Westport 12-liter engines. CNG tractors from Penske are currently in-stock and ready to rent in select markets including: Southern California, Northern California, Phoenix, Denver, Salt Lake City, Dallas-Fort Worth, Atlanta and Baltimore.
"An increasing number of customers have expressed a desire to evaluate natural gas vehicles to see if they make sense as part of their overall fleet strategy," stated Don Mikes, senior vice president – rental.
Penske Truck Leasing announced today at the Alternative Clean Energy (ACT) Expo that it was awarded grants totaling $525,000 from the Mobile Source Air Pollution Reduction Review Committee (MSRC) in Diamond, Bar, California. The grants will help offset the company's costs to modify its existing locations in Southern California and enable it to provide maintenance services on trucks with engines that run on natural gas.
Penske is participating in theVeteran Recruiting Services Virtual Career Fair Friday, May 9. The event is open to active duty, veterans, guard/reservists and military spouses.
Penske is seeking qualified diesel technicians throughout May at the following schools: Universal Technical Institute (UTI), Lincoln College of Technology, Vatterott College, WyoTech and University of Northwestern Ohio (UNOH).
Penske Truck Rental will be an exhibitor at theNational Relocation Conference hosted by the Worldwide ERC, the workforce mobility association. It will take place May 7-9, at the Hyatt Regency Orlando in Orlando, Florida.
Loading posts...