For the second consecutive year, Penske Logistics held its Premier Driver Recognition Program, honoring 15 of its safest, professional truck drivers and inducting them into the company's Driver Wall of Fame.
This year's honorees made up the second Penske Diamond Class, which celebrates drivers who have achieved 20 consecutive years of safe driving.
The Penske Logistics Premier Driver Recognition Program features three Classes receiving annual recognition for consecutive safe driving without an accident: Diamond (20 years), Platinum (15 years) and Gold (10 years). The newly established Platinum and Gold Classes were honored earlier this year.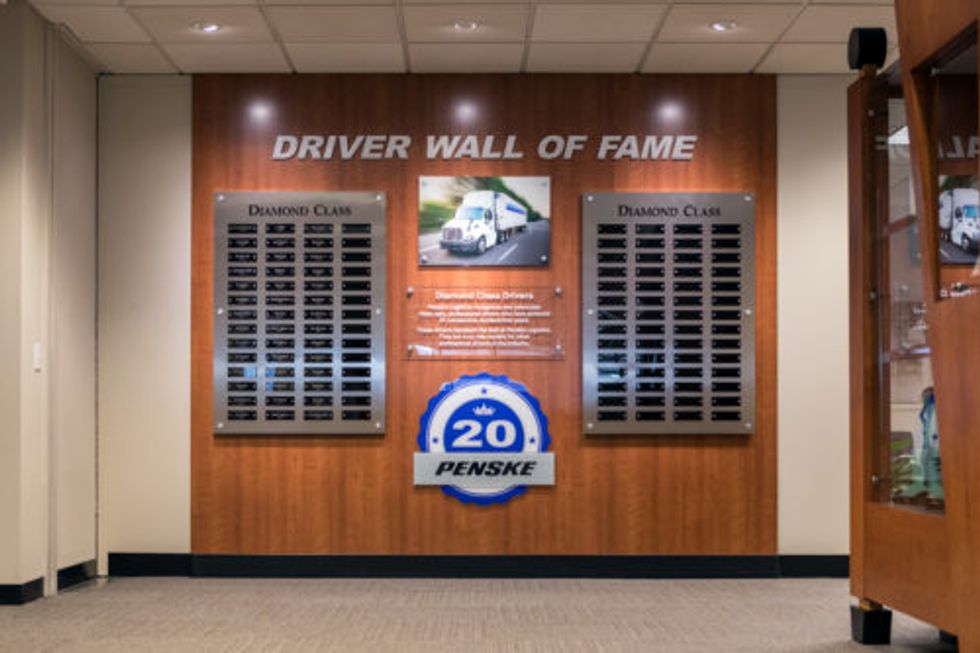 Penske Logistics added 15 new drivers to its Driver Wall of Fame as a tribute to their extraordinary safety achievements. Click on image to enlarge.
To recognize this year's Diamond Class, the drivers – along with their families and supervisors – were invited to a recognition ceremony to celebrate their accomplishments in Reading, Pennsylvania – the location of Penske's corporate headquarters. The two-day event included a tour of Penske's 24/7 roadside assistance center, a photo opportunity with Penske Logistics President Marc Althen and a chance for the drivers to see their names inscribed on the Driver Wall of Fame to tribute their extraordinary achievement.
2018 Diamond Class drivers Gary McMichael from Kansas and Brett Coward from Ontario, Canada, took plenty of photos of their plaques on the wall. When asked how they felt seeing their names cemented into Penske history, they couldn't help but smile and stand with admiration.
"It's a special feeling when you are recognized doing something you love to do," said McMichael.
"Penske has a strong safety culture that makes me feel valuable and secure that any concerns I might have won't be ignored," Coward said. "I'm proud to join the other drivers and will continue to strive for the best."
The festivities later concluded with a cocktail reception and dinner with company leadership, followed by a recognition ceremony at the DoubleTree By Hilton Hotel Reading. Prior to eating, the drivers gathered for a group photo in their new, custom-fitted blazers. When the drivers arrived to their tables for the reception, personalized watches were waiting for them at their seats.
At the podium, Marc Althen, Jeff Stoicheff, senior vice president of human resources, and Paul Ott, senior vice president of financial administration, addressed the attendees.
"Our professional truck drivers play a pivotal role in Penske Logistics' success," Althen said. "You have helped the company maintain our standing as one of the industry leaders in supply chain management. It is an honor to recognize each of you this evening."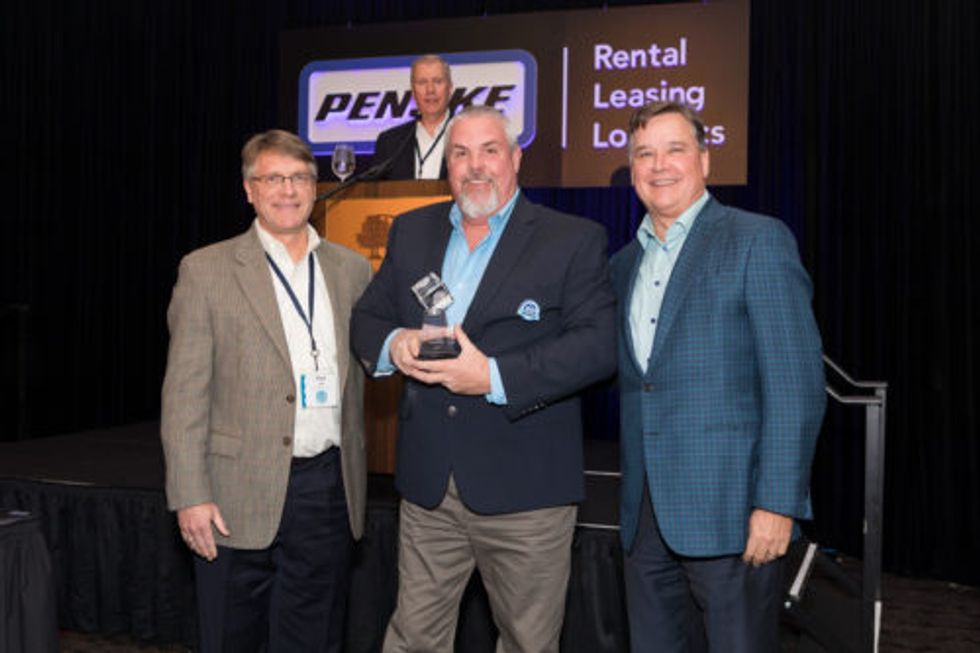 Driver Brian Ellison (middle) accepting his award with Paul Ott (left) and Marc Althen (right). Click on image to enlarge.
After their speeches, Stoicheff called each honoree to the front of the room to receive their trophy and pose for one last photo with Althen and Ott. An event that began with admiration, honor and appreciation for these more than a dozen drivers, ended the same way.
"As our Diamond Class, you represent Penske's elite professional truck drivers – having driven 20 years without an accident," said Stoicheff. "The drivers in this room are exceptional industry professionals, and we are so very proud of each of you."
Here are the 2018 honorees for 20 years of consecutive safe driving:
Harold Chapman, Ontario, Canada
Brett Coward, Ontario, Canada
Brian Ellison, Arkansas
David Evans Jr., New Jersey
Larry Goetz, Ontario, Canada
Butch Grigsby, Arkansas
Jake Martens, Ontario, Canada
Steve Martineau, Ontario, Canada
Glenn McCartney, Ontario, Canada
Randy McKee, Arkansas
Gary McMichael, Kansas
Dave Nagy, Ontario, Canada
David Swan, Ontario, Canada
Earl Taylor, Florida
Dave Wojciechowski, New Jersey
Pictured (front row, left to right): Randy McKee, Butch Grigsby, David Evans Jr., David Swan, Larry Goetz and Glen McCartney. Back row, left to right: Earl Taylor, Gary McMichael, Brian Ellison, Dave Wojciechowski, Brett Coward and Harold Chapman.
Not Pictured: Jake Martens, Steve Martineau and Dave Nagy.
Interested in a driving career with Penske? Visitgopenske.com/driversfor employment opportunities. The company offers competitive wages and a wide range ofbenefits. Penske is an Equal Opportunity Employer.
By Chris Abruzzo