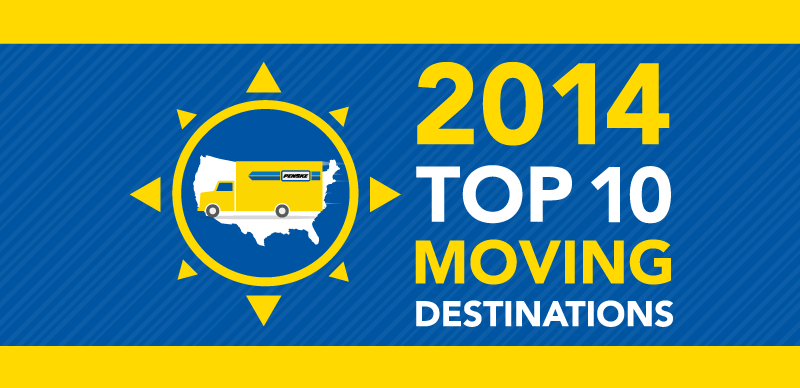 America is on the move, folks, and it may not be where you would expect. According to data compiled by Penske Truck Rental, do-it-yourself movers continue to migrate to the warm and sunny areas of the Southeast and Southwest. Over the last five years, Penske Truck Rental's Top 10 Moving Destinations list consistently finds Atlanta at the top. This year is no exception. Where is everyone else going? Read on to find out.
Penske Truck Rental 2014 Top Moving Destinations*
Atlanta (1)
Tampa/Sarasota (2)
Dallas/Fort Worth (3)
Phoenix (5)
Orlando (4)
Seattle (7)
Denver (9)
Houston (6)
Chicago (8)
Las Vegas (10)
* Previous year's ranking noted in parentheses.
"The top half of our list are warm weather locales where our business interests have steadily increased," said Don Mikes, Penske senior vice president of truck rental.
Penske's list is compiled via analysis of its one-way consumer truck rental reservations made via PenskeTruckRental.com, 1-800-GO-PENSKE call center, and its individual truck rental locations.
Penske Truck Rental, a business unit of Penske Truck Leasing, is based in Reading, Pennsylvania. The infographics contain additional local facts and figures.
Penske a leading provider of consumer moving truck rentals and also offers DIY movers a wide range of moving boxes, moving supplies, towing equipment as well as moving discounts, ranging from AAA to military moves. Click here to view additional services and savings.
Penske Truck Rental's 2014 Top Moving Destinations

By Alen Beljin