Recently, Penske was among several companies that were recognized by the U.S. Navy Reserves for their support of Reserve Sailors.
The Navy Employer Recognition Event took place in San Diego, California, beginning on the USS Charleston. Vice Adm. Luke M. McCollum, Chief of the U.S. Navy Reserve and commander, Navy Reserve Force, honored the civilian employers by awarding each of them with a certificate of appreciation for their outstanding support of America's Navy Reserve Sailors.
"We're glad that you are able to attend today's event," McCollum said, according to the U.S. Navy's website. "Navy Reserve Sailors are a vital part of the Navy's Total Force, and the operational support they provide is critical to the continued success of the United States Navy. Employers like you are a key element in the life of every reserve member, and the service each sailor provides to the fleet is achieved in no small part due to your company's patriotism, understanding, and support."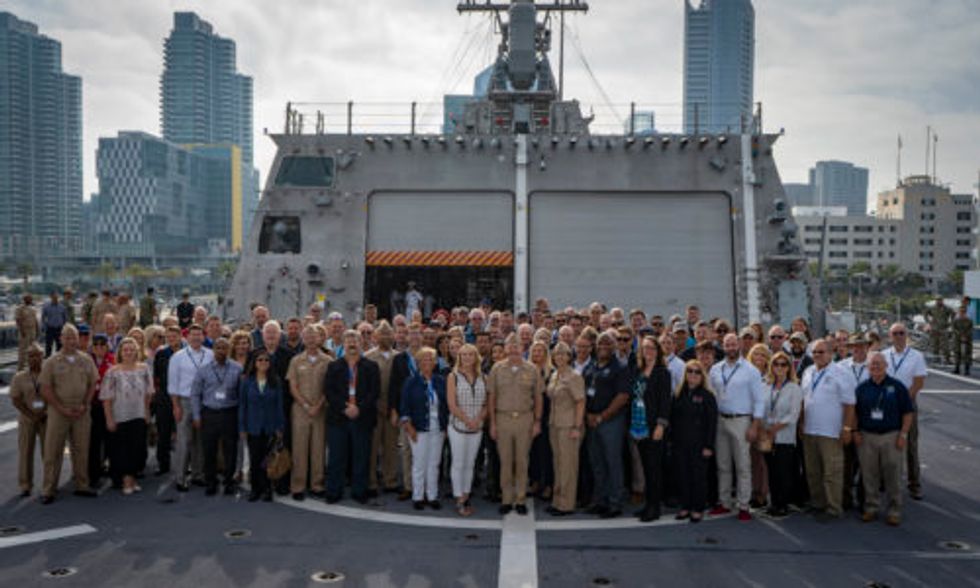 Caption: U.S. Navy Reserves honoring employers for their support.
One of Penske's citizen sailors, Petty Officer Kenneth Berkley, nominated his supervisor, Ryan Ramsey, for the outstanding company support he's received.
"Ken is extremely dedicated to the Navy and to Penske," said Ramsey, an account manager for Penske Logistics. "As a manager, he's the type of guy you know you can count on to get things done. This is his second overseas deployment since 2017. It's a tremendous sacrifice to leave your family, friends and the comforts of home and move around the world. I was always happy to support him in any way I could."
Sean Wilkins, Penske's military recruiting manager, attended the event on behalf of the company.
"It is an honor to receive this certificate and attend this incredible event," said Wilkins (pictured right in top photo). "Penske makes great efforts to recruit veterans and military personnel in the Reserves to join our team. These brave men and women bring many valuable qualities, skills and experience to the workplace, and we are proud to say we have more than 1,500 veterans currently working at Penske."
Penske Truck Leasing and Penske Logistics are 2019 Military-Friendly Employers.
Visit www.gopenske.com/veterans for more information on career opportunities.
By "Move Ahead" Staff