Editor's note: This story is part of our "50 Stories of People Helping People" series. As we celebrate Penske's 50th anniversary in 2019, we are spotlighting associates every Friday who are making a difference in their communities.
The season of giving has been in full swing for Penske associates all over the country. The holidays can remind us of how thankful and fortunate we may be, as well as grant us many opportunities to help others who may need a helping hand.
Over the past few weeks, Penske teams in Florida, California and Oklahoma got involved in their communities through several volunteer efforts.
Fighting Hunger Along Florida's First Coast
Recently, several associates in Jacksonville, Florida, spent their Saturday morning volunteering at the Hunger Fight 6th Annual Thanksgiving Community Outreach Event.
The organization's goal was to package more than 300,000 meals for distribution to local food pantries, mission homes and backpack programs throughout the area.
"We've had the opportunity to get involved with this initiative for a couple years now, and our team really enjoys doing what we can to make a difference," said Will Rock, branch rental manager. "It's always a lot of fun. We know how important it is to help our community, and we're happy to do it."
Rock's team prepared individually sealed meals of brown sugar oatmeal. Other meals being packaged were rice and beans, and mac and cheese. Overall, everyone packaged around 355,000 meals, exceeding their goal.
"Time flew by as we were working," said Rock. "Everyone worked while listening to fun music, like the Macarena."
Supporting Toys For Tots in Southern California
La Mirada, California, associates, as well as those at Penske's western region office, joined in on the holiday giving by holding a collection to support the U.S. Marine Corps Toys For Tots Program. According to the organization's website, the goal of the program is to help bring the joy of Christmas and send a message of hope to America's less fortunate children through the gift of a new toy.
The Penske team accepted donations from associates, and although the collection is currently going on, they have already filled one large box with 14 brand new toys.
"As soon as we heard about this toy drive, we knew we wanted to get involved," said Christine Nguyen, Penske western region executive assistant (pictured right). "We're happy to be a part of this effort that aims to bring joy to children during the holidays."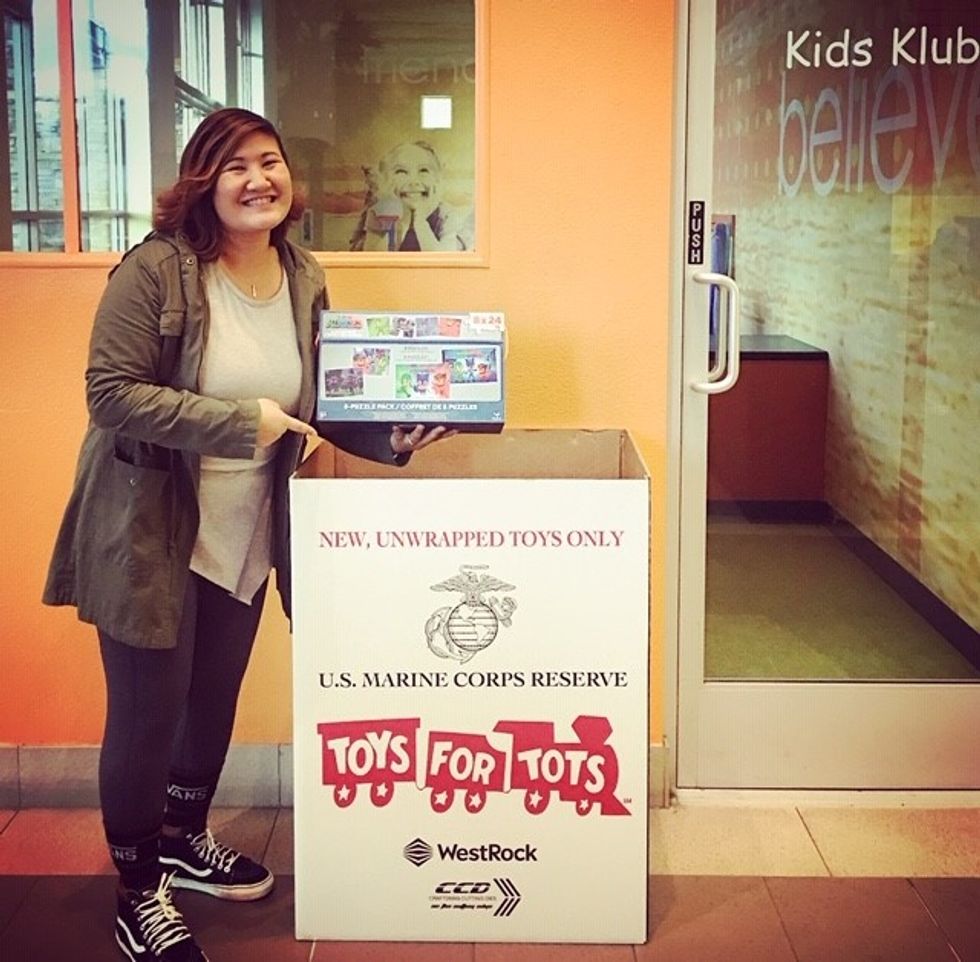 "Giving back to our community through donations means so much to help those in need and contribute to the common good," she added. "Knowing that you are helping others is hugely empowering, and in turn, can make you feel happier and more fulfilled."
Associates Deliver Toys to Children's Hospital
For the third consecutive year, the Oklahoma City district is participating in Operation Elf to deliver toys to children at OU Children's Hospital in Oklahoma City.
Operation Elf is the hospital's year-round fundraiser to collect toys for patients who will be spending Christmas morning in the hospital. This holiday effort is very close to Penske associate Heather Evans' heart.
"Around 13 years ago, my son was admitted to OU Children's Hospital," said Evans. "While we were there, volunteers with Operation Elf came by with a toy cart. Every child that stays at the hospital gets to select a toy from the cart on Christmas. And I had picked out mommy and baby stuffed giraffes for my son, who was three weeks old."
"When my co-workers had heard of my family's story and how much we appreciated Operation Elf, everyone knew this was an organization we wanted to get behind," said Evans.
According to Evans, every associate in the district participates. Last year, the Oklahoma City district collected more than 350 toys for children of all ages. The team hopes they can beat that total this year.
One thing Evans says everyone is looking forward to is their annual gingerbread house contest later this month.
"To participate in the fun, we ask associates to donate toys or money for toys to support Operation Elf," she said. "We have customers and vendors who participate as well by donating toys and serving as judges for the contest."
By Chris Abruzzo