Sabrina Einsla's journey from serving as a U.S. Army Reserve diesel mechanic to training the best techs in the business as a Technical Development Specialist at Penske didn't happen overnight. In fact, it almost didn't happen at all.
"I was not initially interested in this," said Einsla. "I was 18 years old and couldn't decide what to do with my life. I scored high on the mechanical part of the military ASVAB [Armed Services Vocational Aptitude Battery] test, and I joined a maintenance battalion in the service."
Once she was activated, Einsla realized that she had found her calling on the shop floor. "I just gradually fell in love with fixing things that were broken," she said.
After serving in the Reserves for nearly seven years and then working as a government contractor, Einsla relocated with her wife to Austin, Texas in 2011 to search for her next venture. Their criteria? That they live someplace warm.
"I grew up in Northeastern Pennsylvania, and after 30-some years of cold weather I thought, 'I can't do the three feet of snow in the winter anymore'," said Einsla. "In government contracting, I got to live all over the place, including in Texas, and that's when I fell in love with Austin. We said, 'We've got this. Let's do it.'"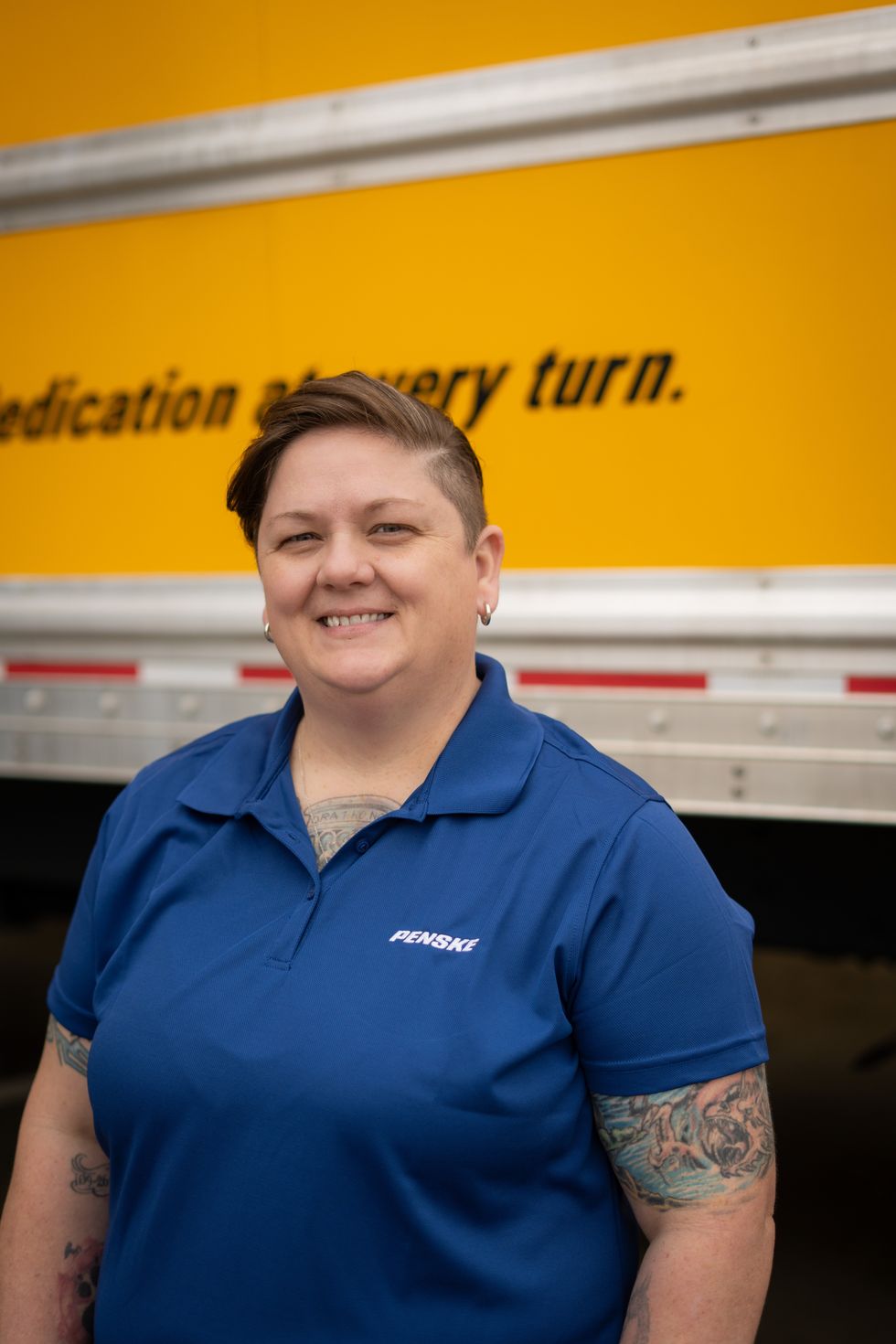 Einsla connected with a mutual friend who worked at Penske, which happened to have an open entry-level Tech III position in the region. Introductions and interviews soon followed. She was hired three weeks later, beginning a career with Penske that has spanned more than 12 years and multiple technician, supervisor, and training roles.
"The biggest thing I love about Penske is the opportunities you're given to move up," said Einsla. "If someone would've told me when I first started that 12 years later I'd be here working with extended reality training, I wouldn't have believed it. But if you put in the hard work and you have patience, you can do anything in this company. And I love that they promote from within."
A commitment to diversity and a belief that organizations are made stronger by it — a central part of Penske's culture — has also made an impression on Einsla.
"I'm a female, I'm a veteran and I'm also gay and Penske really embraces diversity. That is extremely important to me because I want to work for a company where I feel safe, and I feel safe here."
Einsla was struck by how well her military experience prepared her for Penske – and how seamless the transition from the service to her civilian career has been.
"Being in the military makes you feel proud, gives you discipline and also structure," said Einsla. "At Penske, you have that structure you need, and then when you fix a truck, well, there's a lot of pride in a job well done."
The same sense of purpose and dedication that led her from the Army Reserves to Penske, where she trains technicians using some of the most state-of-the-art equipment in the business, still drives Einsla today.
"There's satisfaction in rebuilding something that hasn't been running to get it running smoothly. I finally found a purpose in that," said Einsla. "That led me to Penske. I always tell people that I didn't choose to be a technician, but that it chose me. I'm glad it did."
Penske is always looking for talented individuals to join our team. View our current list of job openings here.
Penske Truck Leasingis a proud supporter of the TechForce Foundation, an organization with a mission to raise awareness among school-age students about career opportunities as professional technicians.