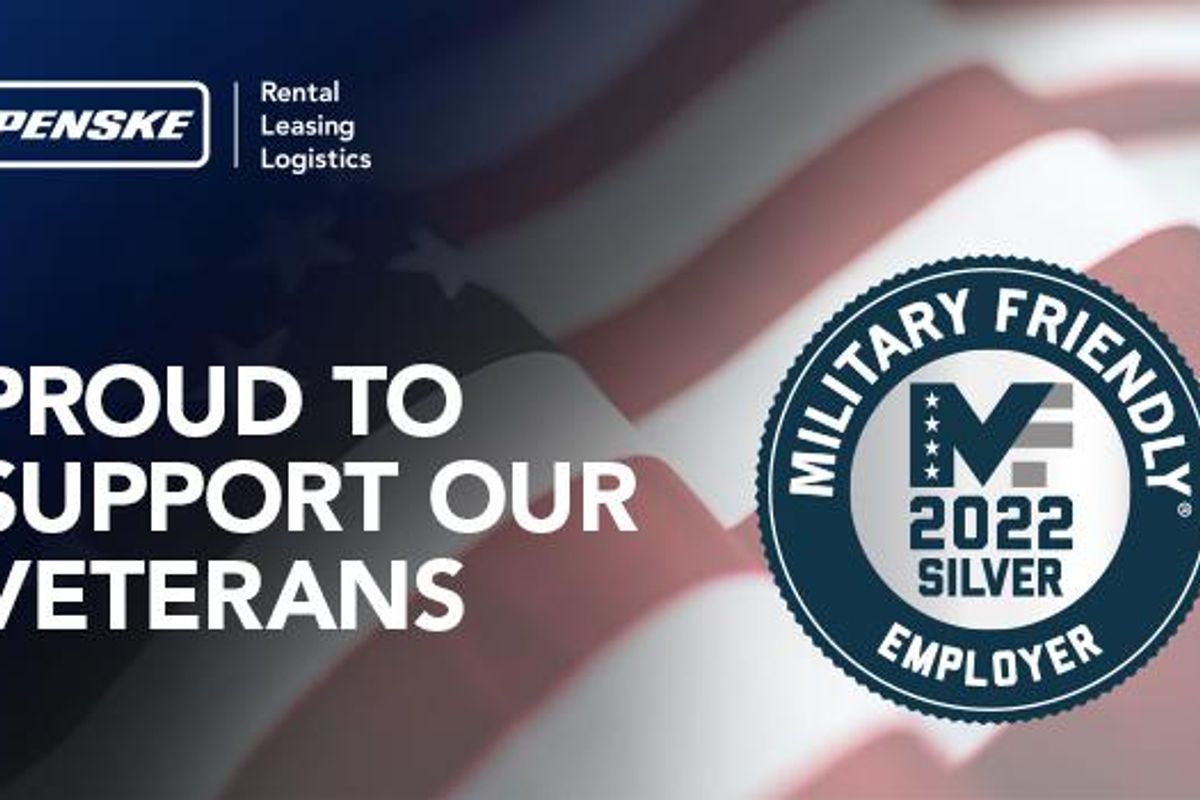 Penske Recognized as a 2022 Military-Friendly Employer
Committed to helping veterans move forward, Penske was recently named a 2022 Military-Friendly Employer. This honor recognizes companies that have remained steadfast in creating employment opportunities for veterans.
---
The list was established by VIQTORY nearly two decades ago. VIQTORY, which publishes G.I. Jobs and Military Spouses magazines, links the military community to civilian opportunities.
Penske is proud to be among 308 employers to earn the Military-Friendly Employer designation. In the past year, veterans represented nearly 9% of all Penske new hires – a testament to Penske's robust support to veterans and veteran organizations.
Since 2003, the Military-Friendly lists have set the standard for organizations to provide the best opportunities for veterans and military spouses.
"Penske is proud and honored to have earned the silver Military-Friendly Designation for 2022," said Nikita Rhodes, vice president for diversity and inclusion at Penske. "This designation is important because it highlights to associates, customers and suppliers that Penske is committed to the military community."
Rhodes continued, "We recognize the hard work, dedication and perseverance that veterans bring to Penske. While these characteristics are important to our organization year-round, they are especially important on Veterans Day. That's why we take time to recognize and thank our veterans for their service and sacrifice. We couldn't be more proud and grateful for the more than 1,700 veterans that we currently employ as part of our Penske family."
Driving Military Recruitment
Penske actively recruits veterans by promoting employment opportunities in military publications, on veterans' job boards, and through exclusive partnerships with military-friendly organizations such as ESGR, G.I. Jobs, RecruitMilitary, Military Officers Association of America, VetCentral, VRS Virtual Veteran Career Fairs, Hirepurpose, Corporate America Supports You, Lucas Group and Bradley-Morris, Inc.
Penske has teamed up with Veteran Recruiting (VR) and other leading employers to support the VetFriendly Jobs Initiative to hire or train 100,000 veterans by 2020.
The company was one of many that joined efforts with VR to support the White House Joining Forces Initiative, which led to the hiring of 170,000 veterans between 2011 and 2016.
Military-Friendly Organization Supporter
In addition to hiring, the company is proud to partner with and support military-friendly organizations, including The Paralyzed Veterans of America's Mission: ABLE campaign and Support Military Families.
Penske Truck Rental, a division of Penske Truck Leasing, joined with Paralyzed Veterans eight years ago to create the #OneWay4PVA campaign, which encourages rental customers to donate $1 to Paralyzed Veterans Mission: ABLE campaign.
The generosity of one-way customers and Penske donations on all one-way moves have resulted in more than $3 million for Paralyzed Veterans.
Penske associates regularly volunteer for organizations that support and honor our troops and veterans, like the Paul R. Gordon Veteran Social Center of Berks County in Reading, Pennsylvania.
In addition, Penske offers discounts on truck rentals for active military members and veterans when reserving one-way truck rentals online.
Both Penske Truck Leasing and Penske Logistics offer a wide range of career opportunities, including truck fleet maintenance technicians, truck drivers, fleet maintenance supervisors, operations management roles, as well as logistics and supply chain operations roles and many others.
Visit https://penske.jobs/veterans/ for more information on career opportunities.
By "Move Ahead" Staff