All companies, big and small, carry different needs when it comes to managing their inventory. With all of today's many warehousing options, one solution is growing in popularity because of its flexible and cost-saving benefits: multi-client warehousing (MCW).
What is Multi-Client Warehousing?
As opposed to a dedicated warehousing or private warehousing option, MCW allows multiple businesses to utilize a single warehouse where they can share resources like space, staff and many others.
"A dedicated building would typically be for one customer, but in a multi-client warehousing environment, you might have half a dozen or more customers, each having a fraction of space to themselves," said Don Klug, vice president of distribution center management for Penske Logistics. "This solution can be a win-win for both the customer and the warehouse operator as resources are shared across the warehouse facility."
What does Multi-Client Warehousing Offer Shippers?
Utilizing shared facilities has many advantages, especially for smaller businesses that don't require large storage spaces. Owning, operating or even having a dedicated facility can drive up unanticipated costs and put a lot of strain on a single company. MCW is one solution that offers a lot of upside.
1. Greater Flexibility
Companies that tend to be smaller, starting up or have products where demand fluctuates tend to favor this solution's short-term contracts, such as on a year-to-year basis. MCW typically does not require long-term commitments from companies. In addition, if a company decides to later increase or decrease the amount of warehousing space to meet their changing business demands, they can do so more easily.
2. Improved Efficiency and Services
When companies operate their own warehouses, they may not have the experience or background needed to take on such a large risk. With MCW, third-party logistics providers bring their expertise to the table and take care of the "dirty work," like using analytics, resources and tools to maximize space management and cut costs.
3. Reduced Risk
As opposed to other storage options, no single company bears all the risks and responsibilities related to real estate, insurance and pensions.
4. Increased Savings
While sharing storage space with other companies, everyone benefits by saving money. No one business is absorbing the entire bill for warehouse labor and operational costs, since it is divided among all of the companies. Businesses avoid paying for unoccupied space, and instead, only have to pay for the space they use – sometimes through a fixed storage charge.
That's not all. MCW usually brings with it "pallet-in-pallet-out" charges for each load that is handled. Much of the value-added services that a company would have in a dedicated warehousing solution is what's typically common in MCW solutions. This may include:
Bulk packing
eCommerce order fulfillment
Returns processing
Cross-docking services
Reverse logistics
And many others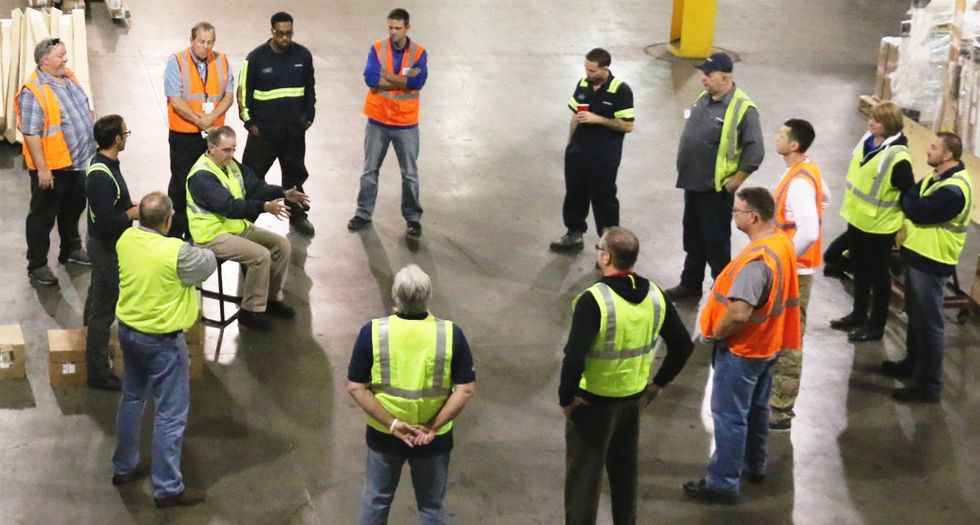 Alleviating Tight Labor Market for Warehouse Workers
Currently, there is a heavy need for warehouse and distribution center workers. One of the many reasons why MCW is such an appealing option for some companies is that they don't have to worry about recruiting staff to operate the facility and instead can put more of their focus and energy on other business operations.
According to a recent article in the Wall Street Journal, the demand for warehouse workers is increasing at a faster rate than the labor supply, which could lead to costs for fulfillment center operations to rise.
Similarly, commercial real-estate brokerage CBRE Group Inc. estimates that a $1 bump in "average hourly wages for a typical warehouse with 500 employees would raise annual labor costs by more than $1 million."
In a recent report, The U.S. Supply Chain Quandary: Finding Enough Workers for an Expanding I&L Sector, CBRE predicts that over the next two years, there will be a base labor need of roughly 452,000 new warehouse workers. To solve the labor supply dilemma, the organization says employers need to consider one of two things:
Attract workers with similar skill sets from other industries
Invest in automation to keep up with consumer demand and increase productivity
"Warehouse workers are in high demand across the industry, and while there may be a lot of associate turnover, it is critical that a third-party logistics (3PL) company has the right tools in place to get the new employees trained quickly," Klug said. "Customers trust and look to 3PLs to handle the logistics and supply chain side of things."
Multi-Client Warehousing Expertise at Penske Logistics
Penske Logistics is a leading provider of warehousing and distribution center management solutions. Today, Penske operates and manages more than 25 million square feet of warehousing space including cross-docks and multi-client warehousing solutions for market-leading companies around the globe. Penske's warehousing customers span a wide variety of vertical industries including: automotive, food and beverage, electronics and technology, appliances, manufacturing and many others.
By Chris Abruzzo