Editor's note: This story is part of our "50 Stories of People Helping People" series. As we celebrate Penske's 50th anniversary in 2019, we are spotlighting associates every Friday who are making a difference in their communities.
Penske associates in Minneapolis, Minnesota, took part in a district-wide initiative recently. The mission? To raise Earth Day awareness in the community and support Penske's environmental efforts.
In addition to working as an assistant district administrator at Penske's Roseville, Minnesota, location, Maggie Nelson also serves as the chairperson for the district's newly formed community engagement group.
The group consists of 11 Penske associates from across the Twin Cities, all of whom work in different departments, such as maintenance, sales, rental and finance.
"Employees will come to each of us with different ideas of how we can get involved in the community," said Nelson. "Up to this point, we've tried to organize one event per month."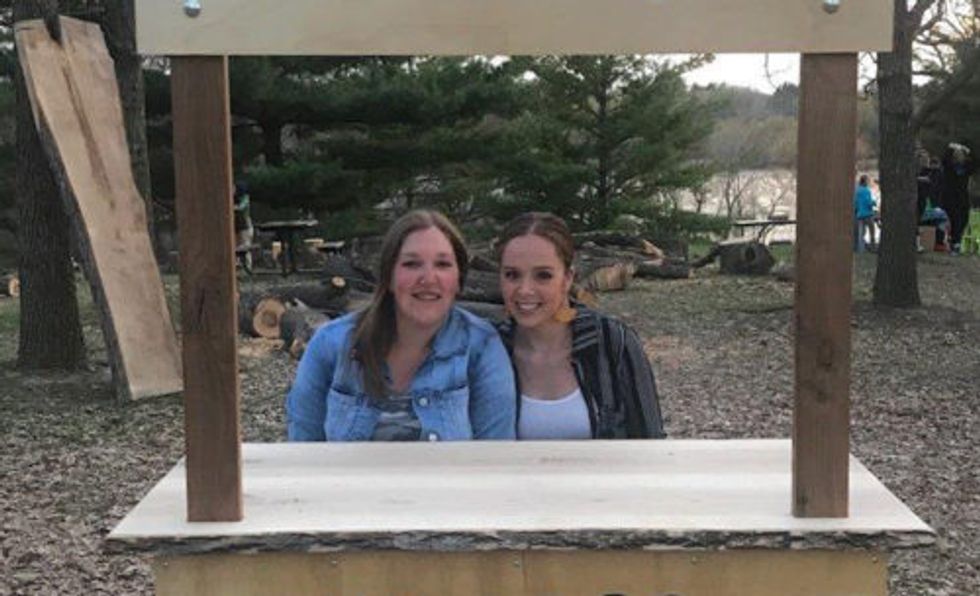 Pictured is Maggie Nelson (left) with her friend.
In April, the team had an idea they really wanted to try. Someone approached Nelson and asked if they could do something pertaining to Earth Day.
The idea instantly won over the team, and they decided to brainstorm what they could do. Many different activities were discussed as to how the team could help the environment, but one that stood out was an idea Nelson thought would be a good initiative.
"I reached out to Penske's environmental compliance department and asked for information on how the company drives efficiency and sustainability for our customers," she said. "The response I got back was amazing. I was not aware of the kind of impact we had."
"One of the things people may not know about Penske is that we recycle over a million gallons of used oil every year," said Chris Hawk, Penske's senior environmental compliance engineer.
Hawk and Mike Costanza, Penske's director of environmental services, informed Nelson of Penske's environmental efforts – information Nelson could use to assemble collateral.
Once she had gathered all of the facts and figures, Nelson was ready to get to work.
"My team and I created flyers with an infographic to hang in our lobbies for customers to see, as well as in the shops and breakrooms for employees to look at," she said. "Our plan was to promote the entire month of April, leading into Earth Day on April 26."
"The infographic served as a great vehicle to show what we're doing as a company to help the environment, which is where everyone calls home. I had a couple customers tell me they didn't know Penske recycled used oil and all the ways they saved energy."
The newfound knowledge across the workplace sparked a great deal of interest among associates to attend the city's Earth Day celebration, organized by the Minneapolis Parks and Rec Board, and partake in the festivities that promoted ways to work toward a cleaner planet.
"We had a blast at the event, and hope that next year we can play a part in spreading the word about Penske's environmental efforts," said Nelson. "Because when we protect the environment, we all benefit."
Penske's Green Efforts
Penske has been a long-time participant in the EPA's SmartWay Transportation partnership, Green Power partnership and WasteWise program.
Since 2004, SmartWay Partners have avoided emitting more than 103 million tons of air pollutants (NOx, PM, and CO2) contributing to cleaner air and healthier citizens, while saving more than 215.4 million barrels of oil and $29.7 billion in fuel costs – equivalent to eliminating the annual energy use of over 14 million homes. More information on SmartWay: www.epa.gov/smartway/.
By Chris Abruzzo