Editor's note: This story is part of our "50 Stories of People Helping People" series. As we celebrate Penske's 50th anniversary in 2019, we are spotlighting associates every Friday who are making a difference in their communities.
The piercing sound of the fire alarm stopped Tommy Lewis cold. Even then, as a rough-and-tumble 7-year-old, Lewis knew it was attached to a desperate plea for help.
The son of a volunteer firefighter, Lewis would accompany his father to fire calls where it was the younger Lewis' job to operate the fire hose outside while his father ran into burning buildings to battle the blaze from within.
More than two decades later, Lewis, from Pikeville, North Carolina, and now a Penske mobile technician, credits those early experiences with shaping his desire to serve as a second-generation volunteer firefighter, now in his 22nd year.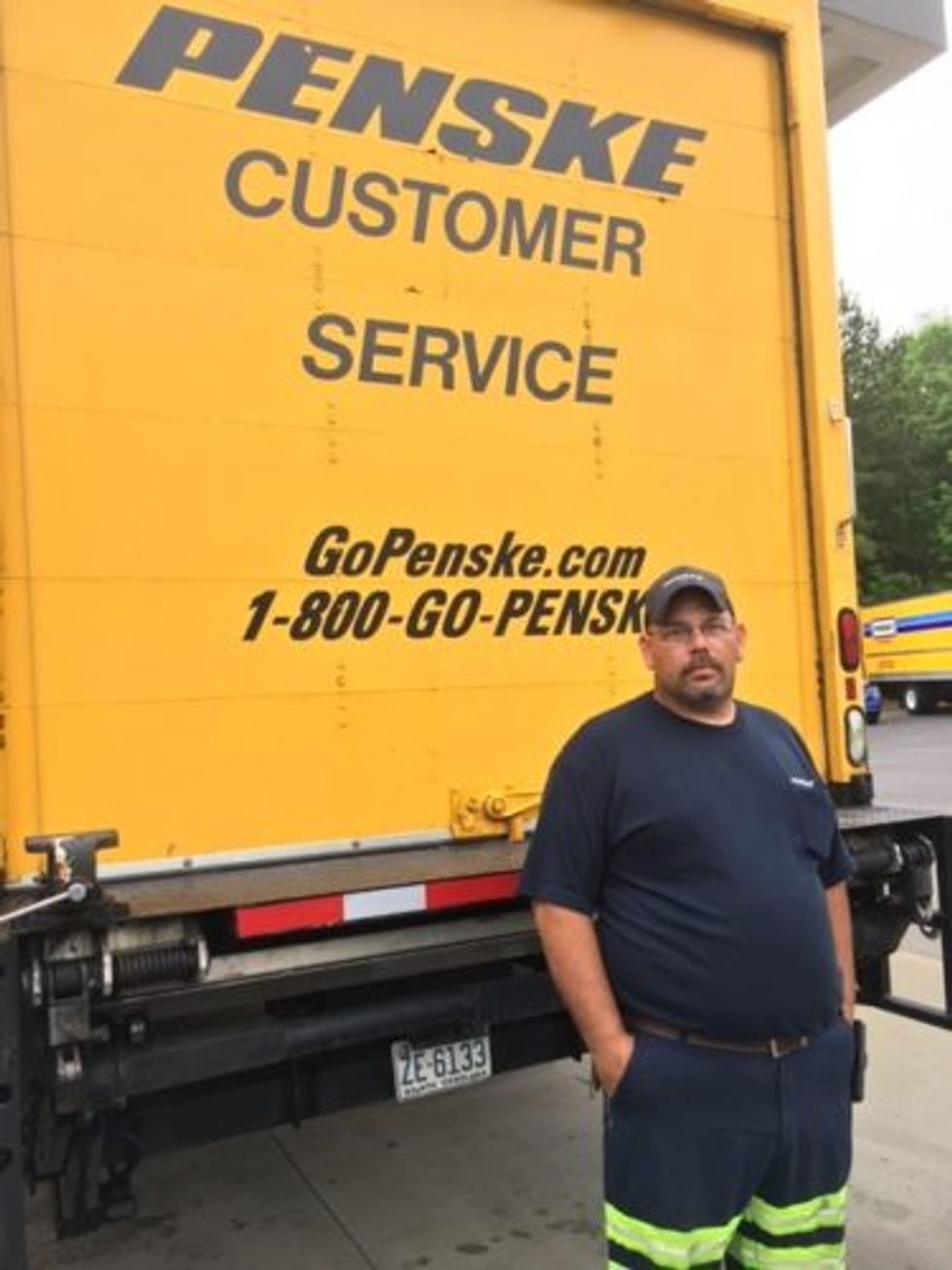 "You are dealing with people when they are at the lowest point in their life. It is their darkest hour when they have to meet us for the most part," said Lewis, who volunteers at the Pikeville-Pleasant Grove Fire Department. "To be able to help someone and try to make that situation better for them – that's what it is all about."
It is that call to serve which will be honored tomorrow as communities large and small pay tribute to the dedication and sacrifice of firefighters during International Firefighters' Day.
The National Fire Protection Association reports that in 2017 there were 1,056,200 career and volunteer firefighters in the U.S. and of that number 682,600 were volunteer firefighters. Nearly half of all volunteer firefighters have a decade or more of active service.
In addition, nearly half of all volunteer firefighters belong to small, rural departments that protect fewer than 2,500 people.
Life in the Firehouse
Some of Lewis' earliest and best memories centered in the firehouse.
"As young'uns, we would go with our parents to fire meetings and training meetings," Lewis said. "The older gentlemen in the fire department would kind of take us under their wing."
That included letting some of the children take part in some training. It was the mentoring that he received from the veteran first-responders that made the most impact on Lewis.
"Some folks had one or two dads; I had the privilege of saying I had about 60 folks who were father figures to me in the fire service," he said. "They helped me through just about every situation I had to deal with in life."
Many of the men had careers outside of their volunteer firefighter roles. Some were preachers, while others were lawyers, law enforcement professionals, and mechanics.
"The biggest thing is it was more playing when we were young'uns, but we were learning about the fire service even at a young age. You were learning how to grow up and become a man and be a decent human being as well," Lewis said. "That was really my big takeaway as a child – and getting to ride on the big red truck with the big flashing light wasn't a bad deal either."
Real-Life Firefighting
That experience would come in handy.
For many years, Lewis' father operated a feed mill in town. Many times while the other volunteer firefighters were at work, a daytime fire call would come in.
"There would be a lot of times we would get a fire call in the middle of the day, and I would be at the mill with Daddy. We would have to close the mill and go to the fire station to get the truck," Lewis said. "And, me and Daddy would run the fire call."
Once when Lewis was seven or eight years old, he and his father responded to a call for a house fire. When they arrived, father and son realized they were the only two firefighters on the scene.
"Daddy got there, set the truck up and he curled the hose up in the front yard," Lewis said. "I was spreading water from the outside of the house, and he went inside the house. It was one of those things you were thrown into back then."
From fighting fires to fundraisers, everyone played a role in the success of the fire department.
"We had our fundraisers and all the young'uns were out there helping to clean and cook chickens and do whatever we could do to raise money for the fire department so they could buy new turnout gear, new fire truck, whatever we needed to do," Lewis said. "It was always a family affair."
Call to Serve
The call to serve only grew stronger as Lewis reached his teens. And, when he turned 16 – the minimum age to join the fire department – Lewis turned to his mother and said it was his time to serve.
"I was still in high school, and I just decided it was time for me to give back," Lewis said. "I joined the fire department, and I have been on a fire department continuously for the last 22 years."
During his time as a volunteer firefighter, Lewis has participated in just about every type of emergency.
"If you can imagine it, I've been tied up in it," he said. "I've been tied up in chemical spills, manufacturing plant explosions, house fires, brush fires, wrecks. You name it."
Lewis' wealth of experience has allowed him to branch into teaching others as a North Carolina Level 2 Fire and Rescue Instructor. The teacher is also a student. He averages 150 hours a year in training to remain current in his firefighting role.
Yet, he has been able to balance his duties as a mobile technician with his work as a volunteer firefighter.
Marvin Lassiter, a fleet maintenance supervisor in Garner, North Carolina, and Lewis' supervisor, said it came as no surprise to him that Lewis has served as a volunteer firefighter.
"He is always willing to help. He's pretty selfless in his decisions to assist other people," Lassiter said. "He is definitely someone who helps other people out of instinct. It is not something he has to think about."
For Lewis, the memories of the families he has helped have been the reasons he has served – and will continue to serve for years to come – as a volunteer firefighter.
"When you do something good for somebody, and you see folks at their lowest point and they genuinely thank you from the bottom of their heart, you can't ask for anything more," Lewis said.
By Bernie Mixon