Located in North Carolina's Triangle region, near Raleigh, the state-of-the-art 12,000 square-foot building was constructed at a cost of $3.3 million. It sits on 8.5 acres and offers full-service truck leasing, consumer and commercial truck rental and contract maintenance services.
Stated John Crockett, senior vice president – Southeast region, Penske: "Strategically this location allows for access to the major entry points in the Raleigh market. Some of our largest customers in the food and newspaper industries are now within close proximity."
The town of Garner was instrumental in ensuring the long-term success of this facility.
"There have been a lot of great days in Garner in the last couple of months," stated Garner mayor Ronnie Williams in his remarks to the grand opening attendees. "We're very pleased to welcome Penske, with their stellar reputation."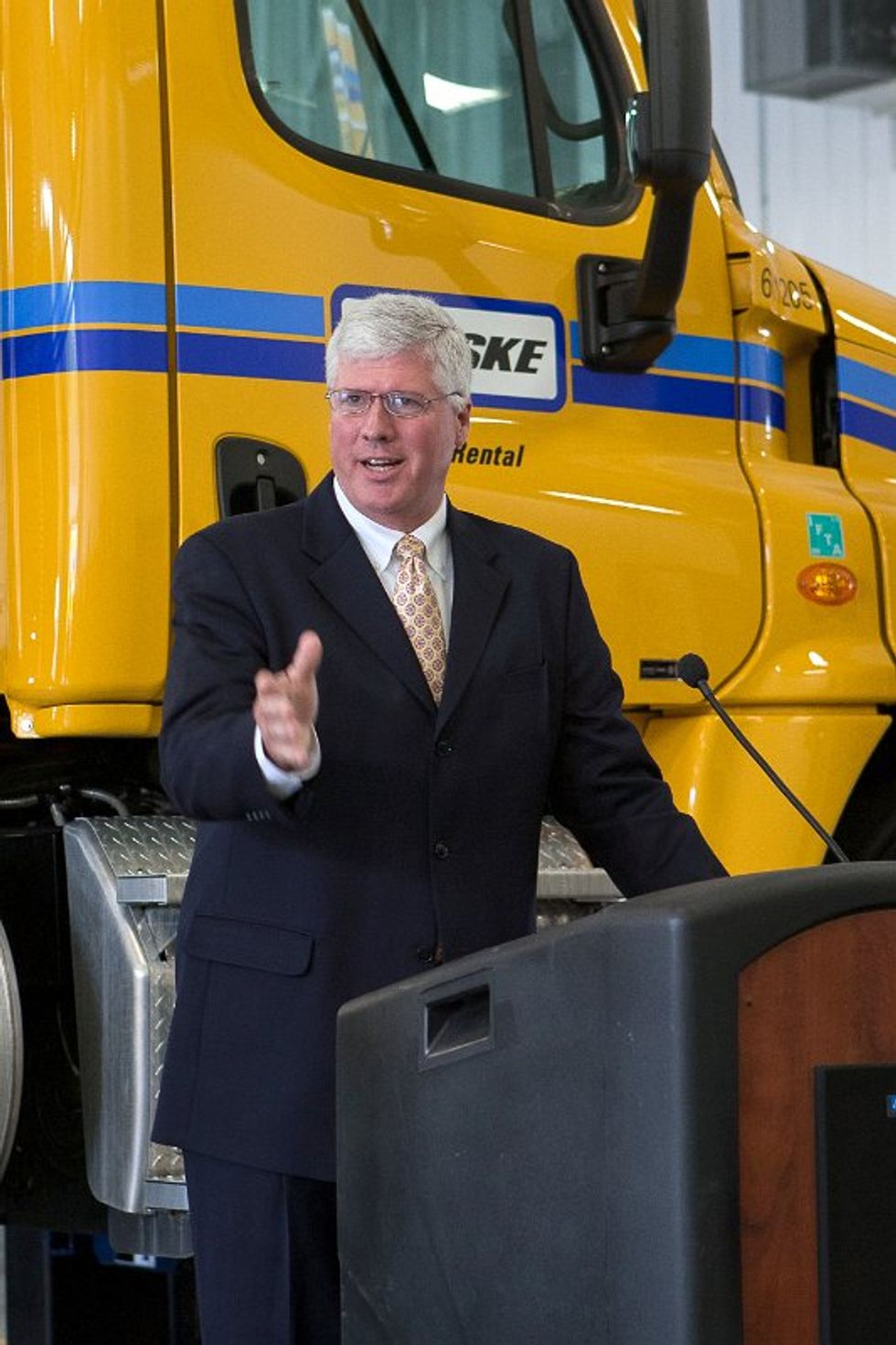 As Chris Anderholm, area vice president – Carolinas, Penske Truck Leasing, stated: "Ideally, business and government should be able to work together, to help remove any barriers. I could not be more positive about the help that the town of Garner has given us, especially economic development director Tony Beasley. Garner is a very business-friendly place."
During his ceremony remarks, Anderholm thanked Sen. Richard Stevens, Sen. Dan Blue and Rep. Deborah Ross, Rep. Darren Jackson and Rep. Rosa Gill for sponsoring key legislation that was quickly enacted by the state legislature and signed by the governor earlier this year, to prevent an expansion of the local Triangle Expressway from possibly running through Penske's facility.
"The town of Garner was strong advocates for both the businesses and residents of Garner when the Turnpike Authority was considering the Red and Pink routes," said Anderholm.
Situated in the Greenfield South Business Park, there are six service bays, a two-lane fuel island and a wash bay. Expected to employ 15 associates initially, the maintenance shop also uses leading-edge wireless technology that enables Penske's service technicians to automatically connect vehicles for service with diagnostic and analytic software.
Photo ID, from left to right (top photo): Garner mayor pro-tem Kathy Behringer, Garner mayor Williams, Garner councilman Buck Kennedy, Anderholm, Penske district manager Mike Cox and Penske branch manager Mike Parker and Garner councilman Ken Marshburn. In the second photo, Anderholm speaks at the ribbon cutting.
Photos courtesy of Michael Lentz of Garner Portraits.
By Alen Beljin, from Garner, N.C.