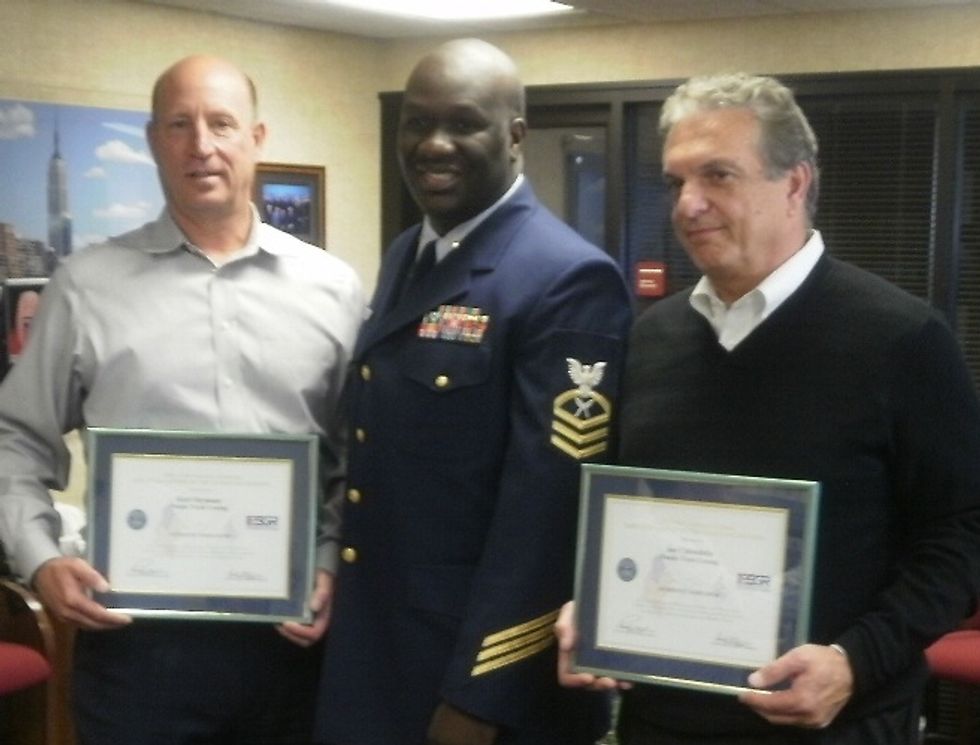 U.S. Military Guard and Reserve Recognizes Penske
Penske received two awards from the Employer Support of the Guard and Reserve (ESGR), an agency of the U.S. Department of Defense, for its support of associates who serve in the military.Chief Leon Troy, Penske's maintenance manager trainee in Burlington, N.J., nominated Penske's Metro New York area and his supervisors Joe Cataudella, area vice president, and Kurt Seymour, area maintenance manager, for their support of his commitment to the U.S. Coast Guard Reserves.
---
Troy has served with the U.S. Coast Guard Reserves for 13 years. He is currently serving 12-18 months at the U.S. Coast Guard Sector Delaware Bay, Philadelphia.
Penske received an Above and Beyond Award and a Patriot Award. According to the ESGR, the Above and Beyond Award is bestowed to companies "who provide exceptional support to their Guard and Reserve employees." The Patriot Award recognizes individual supervisors for their supportive efforts to offer flexible schedules, provide time off prior to and after deployment, care for families and grant leaves of absence, if needed.
In Troy's nomination letter, he said of Penske, "They understood my military obligation and wanted to do whatever was required to allow for an easy transition from work to military service. These were not just words but actions. My family and I have both Penske's support and that of the United States Coast Guard, which is a huge weight off my mind while serving."
Chief Delisa Sliker, ESGR's administrative support, presented the awards to (pictured, from left) Seymour, Troy and Cataudella.
"We are proud to partner and attract talent from the military, including supporting associates who serve in the Reserves," Seymour said. "We will continue to support Leon while serving in the U.S. Coast Guard Reserves and welcome his return in July 2014."
Penske was named to G.I. Jobs magazine Top 100 Military-Friendly Employers® list for its support of active military personnel, reservists and veterans through recruitment and partnerships with military-friendly organizations. Penske signed up for the Vet Friendly Challenge, pledging to join other companies in an effort to hire 50,000 veterans and their spouses by 2018.
Penske has increased its veteran hiring at a rate of approximately 2 percent year over year since 2010. In 2013, almost 13 percent of Penske new-hires were veterans. To search and apply for a career with Penske, visit the company's military careers page.
By Kandace Wertz