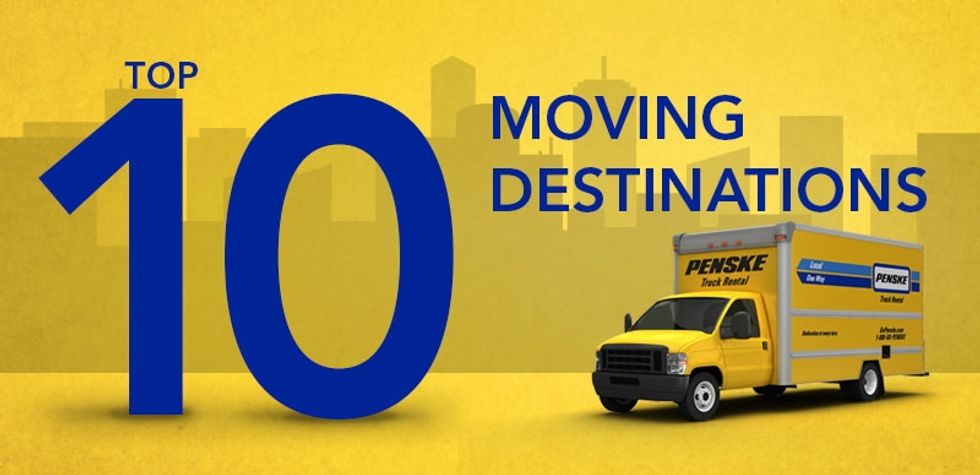 Penske Truck Rental Top 10 Moving Destinations for 2012
It is time once again forPenske Truck Rental's yearly list of top moving destinations within the United States. This is the third straight year the Reading, Pa.,-based company has released the list.
---
The previous year's ranking is noted in parentheses. There are no new entries.
Atlanta (unchanged)
Dallas/Fort Worth (4)
Phoenix (2)
Orlando, Fla. (3)
Chicago (unchanged)
Houston (unchanged)
Denver (unchanged)
Seattle (unchanged)
Charlotte, N.C. (10)
Sarasota, Fla. (9)
Atlanta has topped the list each year Penske has compiled this ranking. The Dallas/Fort Worth area made the jump from fourth to second. Four markets (Chicago, Houston, Denver and Seattle) retained their rankings from 2011.
"This list fits the general geographic shifts of the country's population with our customers being drawn to the Southeast and Southwest regions," stated Don Mikes, Penske senior vice president of rental.
The list is compiled through online consumer truck rental reservations and through call centers. Parameters used to compile this information were based on requests for one-way moves in 2012.
Penske offers do-it-yourself movers a variety of discounts, ranging from AAA to military moves. Click here to view additional savings.
By Alen Beljin