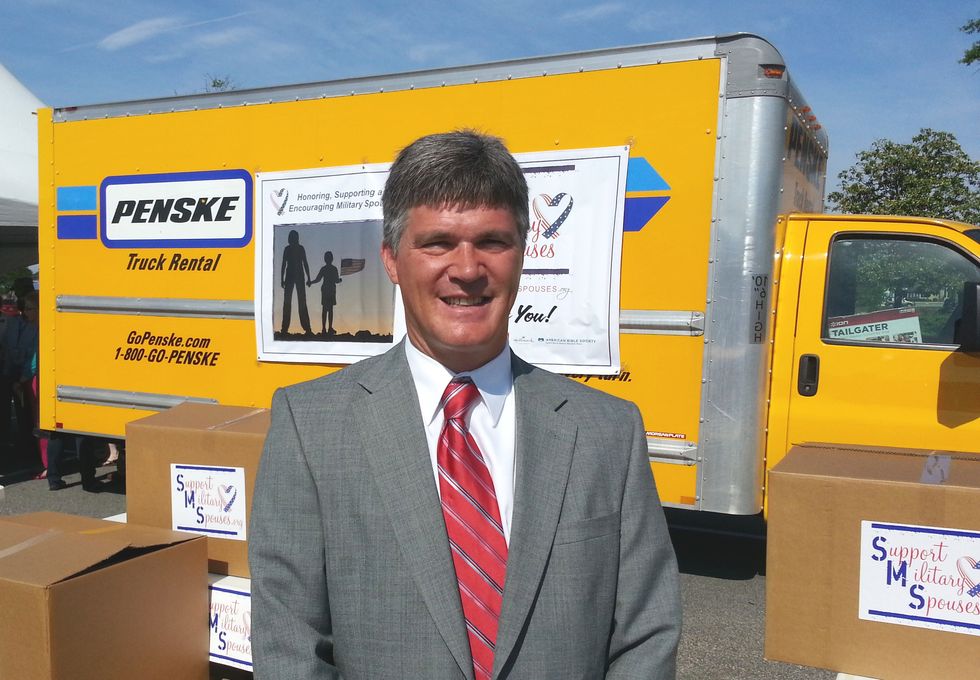 Penske Helps Honor Military Spouses
Penske recently joined Support Military Spouses and dozens of other organizations to honor spouses on Military Spouse Appreciation Day May 9 at the Shoeboxes for Military Spouses event at Cross Creek Mall, Fayetteville, North Carolina. More than 1,200 military spouses received gift boxes filled with thank you letters from children and gifts.
---
"We've been excited to work with this wonderful organization every year," said Mike Parker (pictured right), Penske's district manager in Raleigh, who presented a shoebox gift to Missy Vimoto, wife of Command Sgt. Maj. Isaia T. Vimoto. He specifically recognized the spouses, saying "The sacrifices military spouses make each and every day support our country. Thank you for everything you do."
Dr. Steven Rumley and his wife, Diane, founded Support Military Spouses in Apex, North Carolina, to recognize and applaud the courage of military spouses as they balance the responsibility of family life, care for wounded loved ones, and honor the memory of fallen heroes. Penske Truck Rental was the first business to support the Shoeboxes for Military Spouses program when it began in 2010.
"It's all about the spouses today," Dr. Steven Rumley said. "Thank you for who are and what you do. We couldn't do what we're doing without the help of many, many people across the state and our great nation. We appreciate the support of many businesses."
Military spouses in attendance shared their appreciation for the special recognition.
"Support Military Spouses makes you feel special as a spouse," said Janine Brown, wife of E5 Serg. Jason Brown, of Fort Bragg, Fayetteville, North Carolina. "Sometimes we're put on the back burner."
"It makes you feel really honored that people take time to do caring things for us," added Michelle Chica, wife of E5 Serg. Carlos Chica, of Fort Bragg, North Carolina. "We're just like any other wife, but we do work a little harder every day."
"It's a sacrifice to be a military wife, especially when your husband is gone for months or years," said Rose Soto, wife of Javier Arvelo, E4 Serg., of Fort Bragg, "but it's an honor just the same."
Parker highlighted Penske's recent support of veterans and military spouses:
• In 2013, 14 percent of new hires were veterans.
• In 2013, Penske participated in 20 military career fairs (onsite and virtual) and plan to participate in 20 fairs this year.
• Penske Truck Rental is participating in a fundraiser to benefit the Paralyzed Veterans of America's Mission: ABLE campaign – to ensure that veterans with disabilities get the care, benefits and job opportunities they've earned and deserve. Penske has invited consumer rental customers to donate $1 when they rent one-way truck. The proceeds between Memorial Day 2013 and Memorial Day 2014 totaled more than $400,000.
• Penske has joined other leading employers in the 50,000 Jobs Challenge, a veterans and military spouses hiring campaign organized by Veteran Recruiting Services.
To explore the many post-military career opportunities Penske has to offer within its truck leasing, truck rental, logistics, and used trucks business lines, be sure to stop by our veterans career website.
By Kandace Wertz