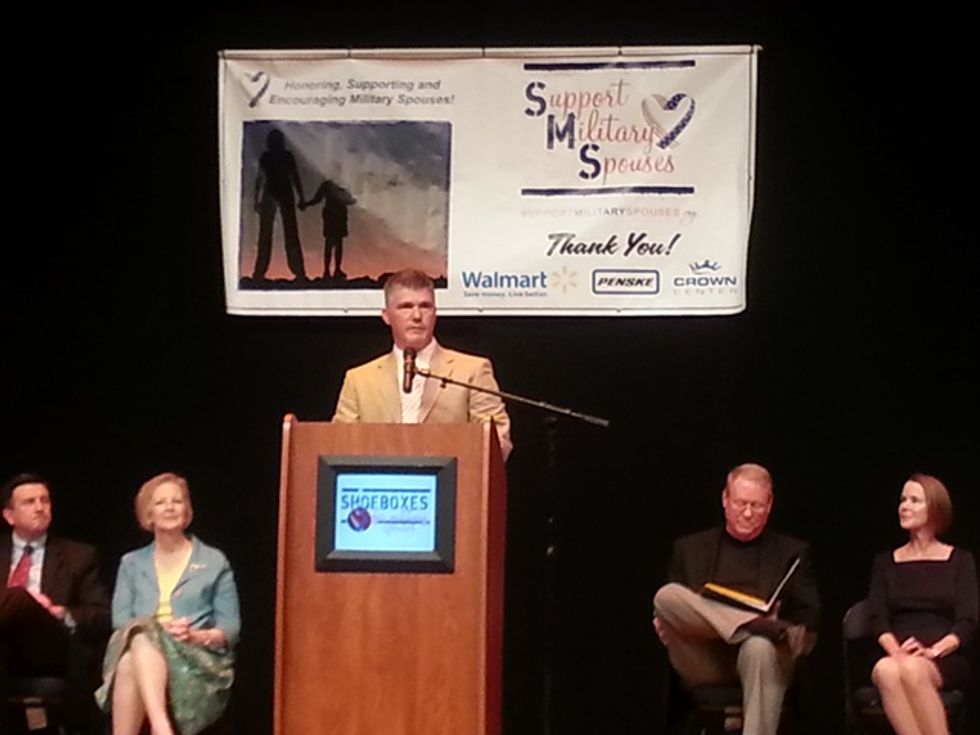 Military Spouses Honored
Penske Truck Rental was one of the sponsors of Support Military Spouses'Shoebox for Military Spouses event May 9 at the Crown Center Arena, Fayetteville, N.C. Other sponsors of the event included Walmart and Chick-fil-A. More than 1,200 military spouses in the Fayetteville area received shoeboxes filled with letters of encouragement written by children and adults, and gift items such as shower gels, lotions, and jewelry.
---
Dr. Steven Rumley and his wife, Diane, founded Support Military Spouses in Apex, N.C., back in 2009 to recognize and applaud the courage of military spouses as they balance the responsibility of family life, care for wounded loved ones, and honor the memory of fallen heroes. Penske Truck Rental was the first business to support the Shoeboxes for Military Spouses program when it began in 2010.
At the May 9 event, Dr. Rumley thanked all the sponsors for helping support their cause.
"We're all here for one reason – to honor military spouses. You are all special," he said. "We couldn't do what we're doing without the help of many, many people across the state and our great nation. We have the support of many businesses. The first people to be called upon was Penske. They've been with us from the very first day and have been with us ever since. We appreciate their support."
Mike Parker, Penske's district manager, shared with attendees the reasons Penske values veterans and military spouses both in and out of the workplace.
"Military personnel and their spouses have tirelessly made commitments to our country, and Penske is proud to join forces with other companies to make a commitment to you in return," Parker said. "Roger Penske has always created winning teams – from the racetrack to the business world – and he has achieved that success by surrounding himself with the right people with the right attitudes. Penske identifies these winning traits in our veterans. They understand everyone's success is important to a team's success."
Penske supports veterans and the military in a variety of ways including: nationwide recruitment and hiring events, partnering with organizations that help veterans, offering discounted truck rentals to veterans and military families, and many others. In 2012, almost 19 percent of Penske's new-hires were veterans. Penske has also joined other leading employers in the 50,000 Jobs Challenge, a veterans and military spouses hiring campaign organized by Veteran Recruiting Services.
By Kandace Wertz