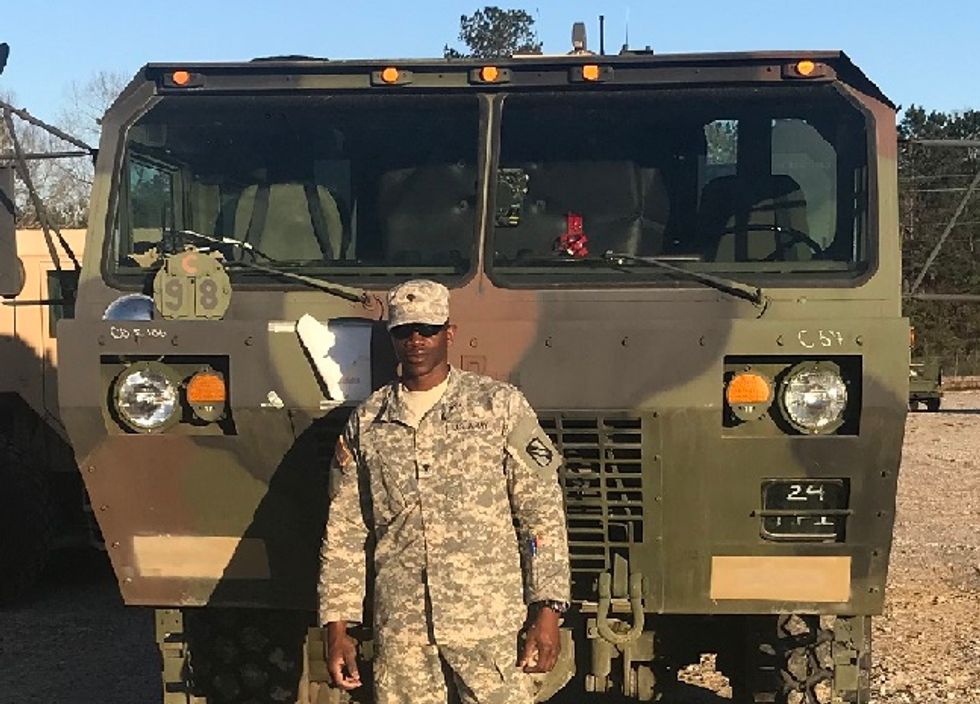 Supporting Our Deployed Associates
As the wind gently whispered outside his barracks, Cornelius J. was unmoved; he was on a new mission.
---
Cornelius, a Penske Truck Leasing maintenance technician and a diesel mechanic in the Mississippi Army National Guard, recently traded civilian life for military fatigues.
It will mark the first time he has been designated for deployment, reporting to an undisclosed location, but it is an assignment he had been waiting a lifetime to accept.
Now in his second enlistment with the Guard, Cornelius said he feels proud to stand among other military veterans - men and women - who have served their country.
"On Veteran's Day, I want to be able to say I have joined some of the greatest people who have made the ultimate sacrifice for this country and to be able to say I am right there with them," said Cornelius, currently on military leave from his Penske position and deep into his military training in Mississippi.
From Motorcycles to Military
Roaring down the track with a motorcycle underneath you, the piercing sound of the bike's engine bounces off the asphalt. It is a feeling like no other and one that grabbed Cornelius' imagination at an early age.
He developed a love for motorcycle drag racing thanks in large measure to his uncle – himself a motorcycle racer. On weekends, his family would gather at the track to watch the races, cheer loved ones and fellowship with other racing families.
"When it came to racing, I took to it pretty hard because we were around it for so long, and it became a part of us," said Cornelius. "Most people take family trips to Hawaii or down to the beach; our family's vacation was to the race track."
As hobbies go, motorcycle racing is costly. If Cornelius wanted to continue, it would mean finding a career that paid enough to support him and his hobby, so he joined the military.
"That was the biggest reason why I joined, to be able to support a hobby that I had really fallen in love with, but then I started to like the military and actually made a career out of it," said Cornelius, who joined in 2009 while still in high school.
It would turn out to be a decision that set into motion a series of events that would ultimately end with him choosing a career as a diesel technician and coming to work for Penske.
"The military helped me choose my profession," he said.
Paving a Path to Penske Technician
One of his first jobs while in the military was as a construction equipment mechanic where he worked on diesel engines, hydraulics and trucks. It sparked his interest in diesel engines, and he wanted to know more.
Cornelius ultimately decided to further his mechanical education at WyoTech, where he enrolled in the diesel training program.
"For a little kid coming out of Carthage, Mississippi – a little town no one heard of – and for me to graduate with honors, that was big for me," he said.
Following graduation, Cornelius returned to Mississippi and started looking for a job.
"Every day for months, I would stay in front of the computer filling out job applications," he said. "This was my life for a while, and it got pretty old quickly, but I continued to do it."
Most open positions he learned about had a minimum two-year experience requirement, something he did not have.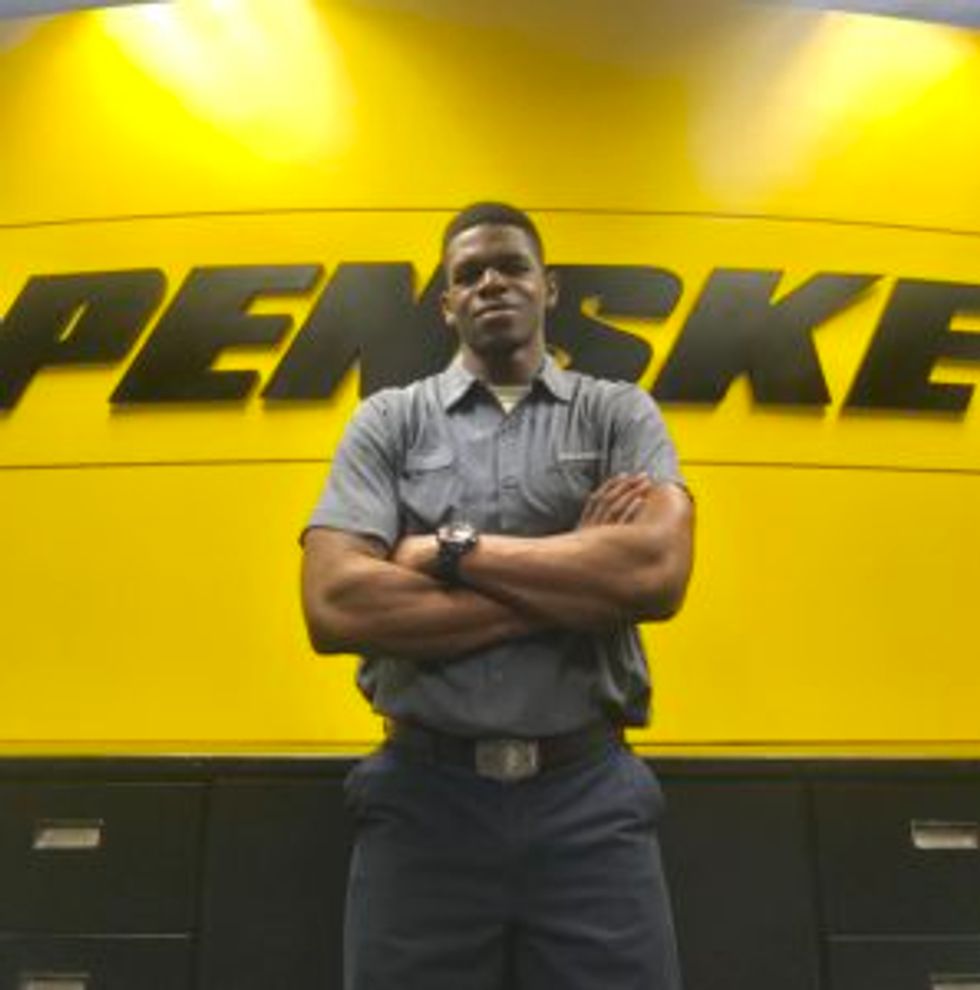 One day, he came across a notice about a maintenance technician position with Penske Truck Leasing.
"When I came across the Penske application, I gave it all I had," Cornelius said. "There was a box at the bottom to put in comments. I wrote, 'If you would give me a chance, I promise you that I will not let you down. All I need is a shot. Just show me the door, and I will walk through it.'"
Cornelius was hired at Penske's Richland, Mississippi, location as a mid-level technician, later earning a promotion to lead diagnostic technician.
"It wasn't an easy road, but all the hard work paid off," he said.
Then one day, Cornelius received a letter in the mail from the military that changed his life again. "I pretty much got a letter telling me that I was going to leave the unit I was in, go to a new unit to start training before being deployed," he said.
His expertise as a diesel technician was sorely needed. That played a role in him being selected for deployment.
It was a dream come true.
During deployment, his unit will be "maintaining equipment and making sure it is ready so they can go out and do what they need to do."
But, what would happen to his job with Penske Truck Leasing?
Penske – A Military-Friendly Employer
In the afterglow of his initial excitement, the questions start to flow: How would his military leave affect his employment status? How would he pay his bills? Would he have a job when he returned?
He was soon put at ease thanks to Penske's military absence policy. Penske values the contributions of both its veterans and active duty military associates.
Both Penske Truck Leasing and Penske Logistics are committed to hiring veterans and have been named 2018 Military-Friendly Employers by Victory Media, the publisher of G.I. Jobs magazine.
In addition, Penske partners and supports military-friendly organizations, including The Paralyzed Veterans of America's Mission: ABLE campaign, Support Military Spouses, and World T.E.A.M. Sports.
For associates who need to be away for training or deployment, Penske takes great care to put them at ease long before they go out on military leave.
"When someone is about to go out on military leave of absence, we want to make sure they have all their answers completely covered before they go out – for them and their families," said Karyn Troxell, director of corporate HR and organizational effectiveness. "Between our Shared Services team, our Benefits team, and our new Leave of Absence and Accommodation team, we want to anticipate those questions and have the answers ready to go.
"We speak with the associate before they go out on leave to provide them with responses about how their benefits and pay will be handled and what their transition back into the workplace will 'look like'" she said. "Once they exit the Penske doors and leave for deployment, the last thing we want them to worry about is how their employment is being handled."
Cornelius said everyone has been so supportive of him since he announced he would be deploying.
"My supervisor and manager have been more than supportive," he said. "I have been getting texts and people checking up on me to see how I am doing. Penske has been very good to me."
Countdown to Deployment
For the past few weeks, Cornelius and the other reservists have been undergoing training at a facility in Mississippi.
Soon they will all transfer to another location for even more training before they set off for a deployment that will last about 400 days.
One big piece of their training was on how to recognize Improvised Explosive Devices (IEDs), the calling card of the enemy. Some of the training includes throwbacks to their time in basic training: how to disassemble a weapon and making sure their equipment is in good working order.
"Even though we are a maintenance brigade, we may be going out on patrol to be a Quick Reaction Force to suppress some enemy fire," Cornelius said. "As far as our training, we have been doing full battle-rattle."
That means wearing bulletproof vests and combat helmets and practicing putting on their gas masks, all dress rehearsals for what they may face when they are in another country.
"All of this is good training. Once you go out there and get going, you will remember all of the training from basic and other training sessions through the years. It becomes muscle memory, so then it gets easy to react," he said. "I think it is a pretty important part of the mission."
While Cornelius is grateful for the opportunity to serve his country, he is – understandably – a little apprehensive at the same time.
"Of course it weighs on you. Reality starts to set in and you get that gut feeling that it is really about to happen," he said. "You don't know what to expect. But I am going over there to make sure my family and friends are safe over here. "
After his deployment is over, Cornelius said he will start living the second phase of his life.
"When I get back – if the Lord says the same – I can start gravitating toward a family. I am really excited for that," he said. "I will get the American dream."
Penske Truck Leasing and Penske Logistics offer a range of career opportunities, including truck fleet maintenance technicians, truck drivers, fleet maintenance supervisors, operations management roles, logistics and supply chain operations roles, and many others.
Visit www.GoPenske.com/careers/veterans for more information on career opportunities.
By Bernie Mixon