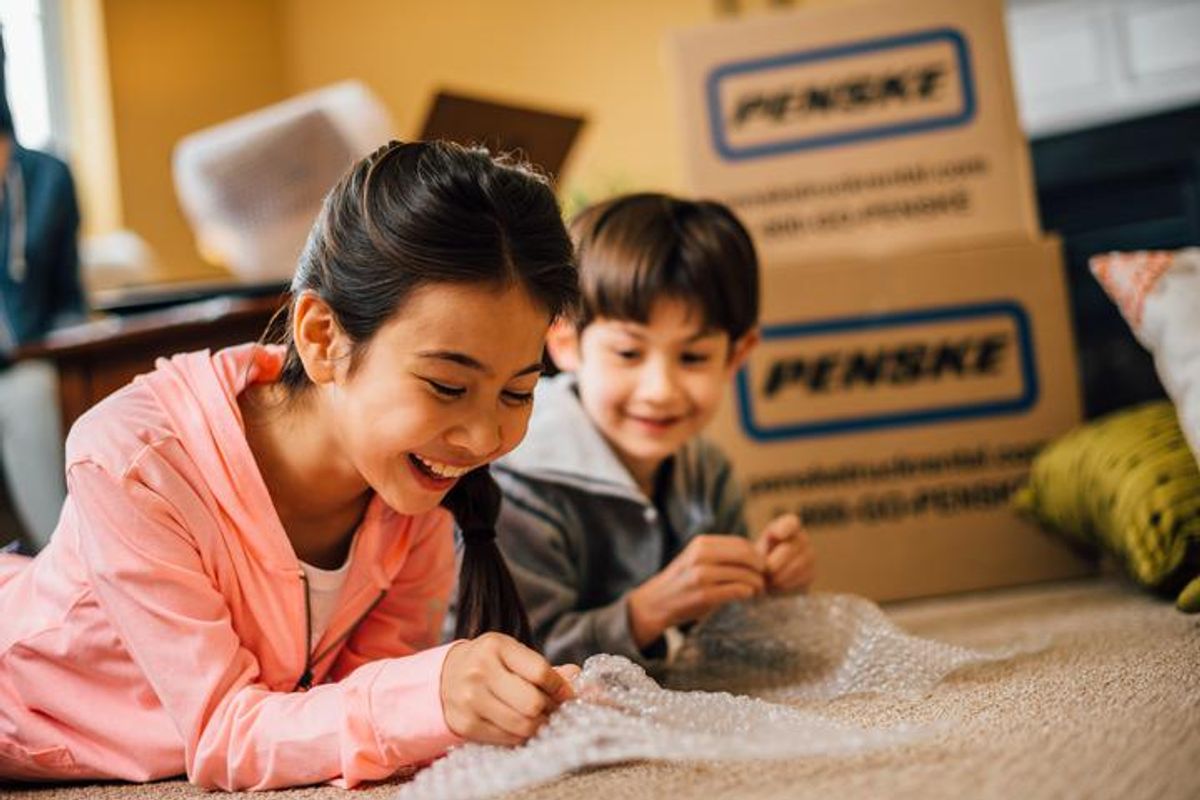 Children and Pets and Moving – Oh My!
Moving with a full house? Embrace the challenge by making it enjoyable for everyone – especially if little ones and furry friends are involved.
---
To ensure a seamless and stress-free move, Penske Truck Rental encourages these tips to prepare your precious cargo for the big day.
Moving With Kids
Children and toddlers may not be able to fully grasp an impending move. Avoid major moving meltdowns by:
Discussing the move – Prepare your children by talking about the move as soon as possible. The way you share this information will depend on age – toddlers may benefit if toys and stories are involved with this discussion.
Planning for a new school – Have recent report cards, transcripts, birth certificates, medical records, etc., readily available to make for an easy transition.
Designing their new space – Show your children pictures of their new room. Let them decide where furniture will go and what the space will look like.
Reading about moving – Utilize external resources – like children's books – to further prepare your little ones. Moving stories for kids include The Berenstain Bears' Moving Day, by Stan and Jan Bernstein and Maybe Yes, Maybe No, Maybe Maybe, by Susan Patron.
Making a memory book – Give your kids a camera or smartphone and let them take pictures of your house, school, friends and other memorable locations. Afterwards, compile all the pictures into a memory book.
Letting them pack a "moving day" box – Let your children pack some of their favorite toys and belongings. This box can occupy them during the drive.
Finding new friends – Research clubs and organizations in the area. If your child is already involved in sports or scouting, reach out to those groups ahead of time to help form new connections.
Moving With Pets
Like children, four-legged friends need to be prepped before a big move. Before hitting the open road, keep your pets safe, calm and comfortable by:
Researching veterinary hospitals and emergency animal care centers in the area – Store these numbers and addresses in your cell phone.
Consulting a vet if your pet suffers from anxiety or motion sickness – Medications may be prescribed to help your furry friend feel better.
Packing a travel bag for your pet – Include water, food, treats, plastic bags, etc,.
Buying new ID tags with your new address – Before the move, add a tag to their collar with your new address and cell phone number. You may want to consider microchip technology – a chip placed under your pet's skin – that stores their personal information.
Stocking up – Keep at least one week's worth of your pet's food and medication on hand.
Making sure your pet is up to date with vaccines – Certain states require a health certificate. Almost all states require a current rabies vaccine. Before embarking on your move, determine what kind of paperwork your pet needs and pack it in their travel bag.
Researching pet-friendly lodging – Traveling long-distance? If you need overnight lodging, make sure the hotel or motel you're staying at is pet-friendly.
Planning a move with children and pets? Penske Truck Rental offers unlimited miles on all one-way truck rentals, discounts for AAA members, college students and members of the military as well as packing supplies and 24/7 roadside assistance. Are you ready to make a reservation? Visit the Penske Truck Rental website for more information.
By Nicole Forktus