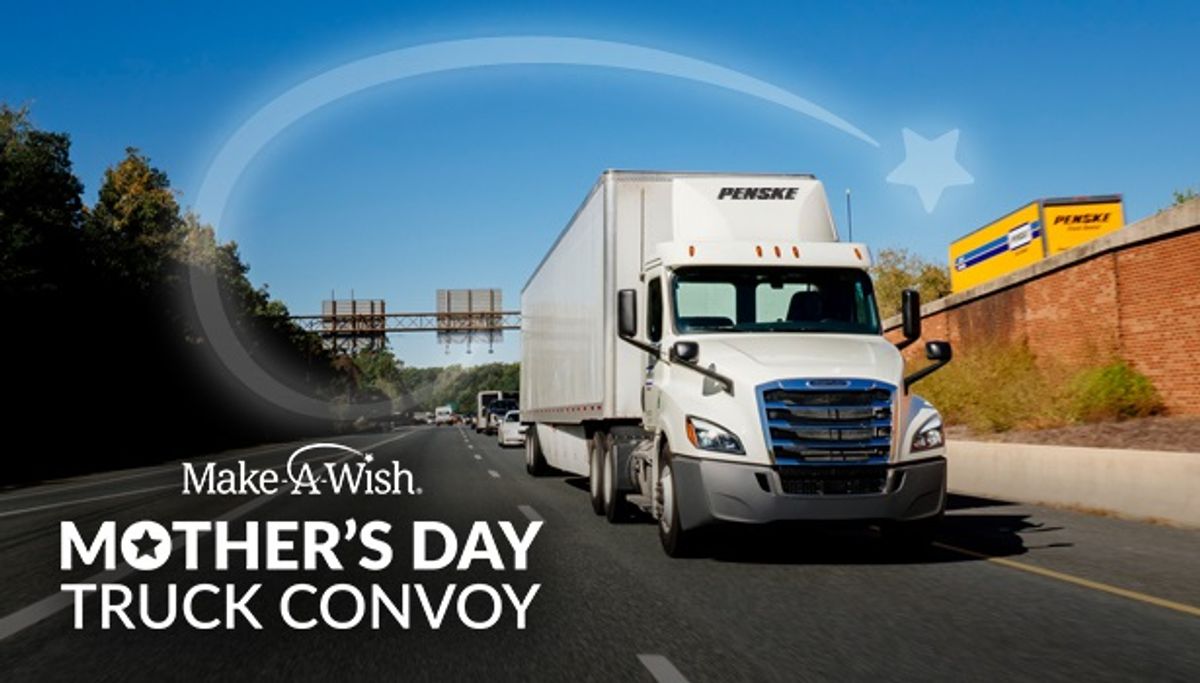 Penske Joins with Mother's Day Convoy to help Grant 50 Wishes
A child's wish to ride in a big rig, granted by truck drivers nearly 30 years ago, created a movement resulting in fulfilled wishes for hundreds of children battling life-threatening illnesses.
---
Each Mother's Day, a 26-mile stretch of Lancaster County, Pennsylvania, is transformed as hundreds of trucks participate in the Mother's Day Truck Convoy, a fundraiser for Make-A-Wish Philadelphia, Delaware & Susquehanna Valley.
Burle Business Park in Lancaster will host the 29th annual Mother's Day Truck Convoy & Family Fun Day on Sunday, May 13, to raise money to help fulfill the wishes of Make-A-Wish children. Penske is proud to serve as the "Official Convoy Trucking Company" for the second year.
Make-A-Wish hopes to raise $500,000 in order to grant 50 wishes to 50 local children.
"There is so much happening that it is easy to lose sight of the urgency that this event represents and that is the need to fund approximately 70 percent of the wishes that happen here in the Susquehanna Valley in Central Pennsylvania," said Ben Lee, regional director of Make-A-Wish Philadelphia, Delaware & Susquehanna Valley.
Since that first wish, the fundraiser has raised more than $7 million, and the convoy has held two different Guinness World Records and is currently the world's longest truck convoy.
More than a Wish
The chapter has granted more than 6,000 wishes since its founding in 1986. Most of the wishes from children fall into four categories: I wish to go, I wish to be, I wish to have or I wish to meet.
"The kinds of wishes we love are wishes that allow a child to see themselves doing what they love, living a life on the other side of this critical illness that is limiting their life so much now," Lee said.
More than just a fun experience for the child and their family, "the wish is necessary and contributes to a child's medical journey," Lee said. "A wish is a part of a child's medical team."
In addition to the convoy, the daylong event also features a carnival, which has a live auction, live entertainment, carnival-style games and food. Admission is free and 100 percent of all purchases goes to Make-A-Wish.
Official Convoy Trucking Company
In addition to participating in the convoy, Penske will provide a truck to assist the organization with preparations in the days leading up to the event.
"Make-A-Wish is a great organization," said Andrew Stevenson, a manager of national retail truck centers at Penske. "It seems only fitting that we partner with Make-A-Wish and be the Official Convoy Trucking Company for this year's convoy."
Last year, Penske helped Make-A-Wish transport its Wish Angel Trailer, when the organization was without a driver to transport the trailer from its New York location to Lancaster in time for the convoy. This year, the trailer will be part of the convoy for the first time.
"Penske has always been there," Lee said. "You are a partner who has used your resources for good, and we thank you for that."
A Force for Good
The event has come a long way from its humble beginnings with 40 professional truck drivers participating that first year. This year more than 500 truck drivers are expected to participate in the convoy.
"We all know that truck drivers are what keeps America running," Lee said. "This is a season where truck drivers are applauded and thanked for the work that they do and for making a difference in the lives of children and their families where a critical illness has almost ruined them."
Truck drivers' participation in the convoy is symbolic of the dedication they have to the plight of children in need.
"Truck drivers are incredibly generous. They are a force for good in the world and that is what we get to see every Mother's Day," Lee said.
For more information on the Mother's Day Truck Convoy & Family Fun Day, visit WishConvoy.org.
By Bernie Mixon