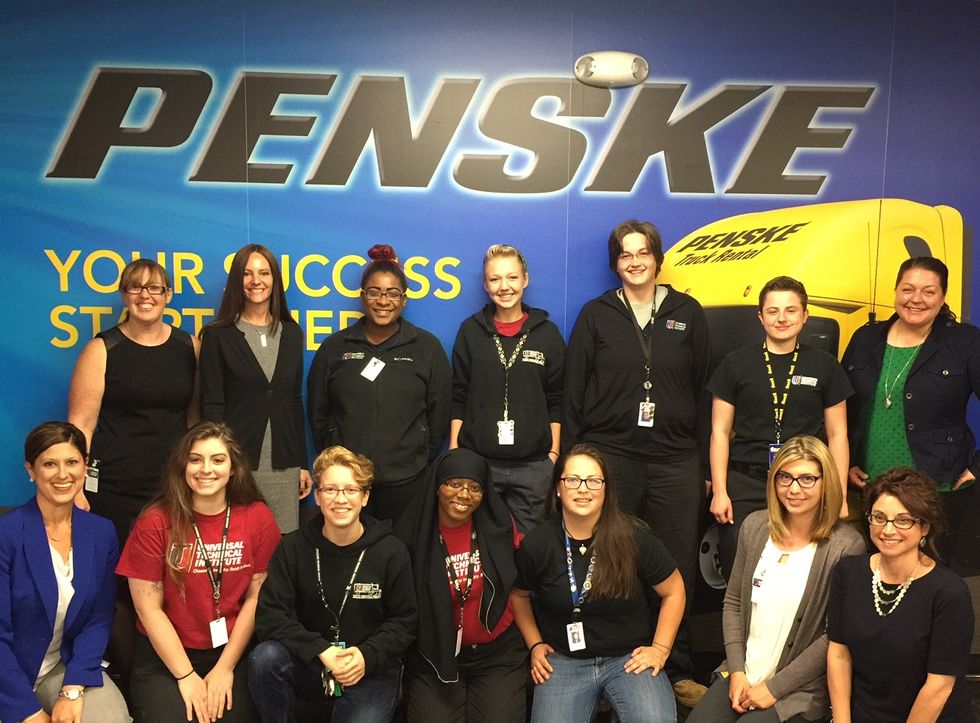 Penske Truck Leasing Encourages Female Truck Technicians to Enter Industry at UTI Exton Event
"Hearing from professional, successful women in the industry brought a new level of education to our students, one that can't be taught in the classroom," explained Jacqui Arcidiacono, employment services director for UTI-Exton.
---
Penske associates held two sessions to inform women of related career choices at UTI's suburban Philadelphia campus.
They discussed best practices for women to promote and empower themselves, and the challenges of working in the transportation industry. The group also conducted question-and-answer sessions.
Penske women panelists possessing field maintenance responsibilities included: Karine Bordges, branch service manager in Central Islip, New York; Alexis Kay-Stiles, branch service manager from Pennsauken, New Jersey; and Maggie Green, a maintenance supervisor in South Kearney, New Jersey.
Green noted: "It was so wonderful to see the passion these young ladies have for their craft and it is exciting to know that Penske is making huge strides to let these young women know there is a place for them in our organization."
When asked for key pieces of advice, Bordges responded: "Walk in with the confidence and the passion to do what you set forth to do." Kay-Styles added: "Be proud of what you can do."
Other company speakers: Holly Gerke, technical training director who works in the company's Reading, Pennsylvania, global headquarters; Sarah Smith, vice president of human resources operations; Carie Seymour, field HR director for the East region; and Jessica Strause, area HR manager for the Mid-Atlantic area.
"We created this event to continue our efforts as a company to hire, develop and retain women at Penske," Seymour stated. "It was great to see these future professionals engage with us."
Click here to learn about career opportunities with Penske.
By Alen Beljin