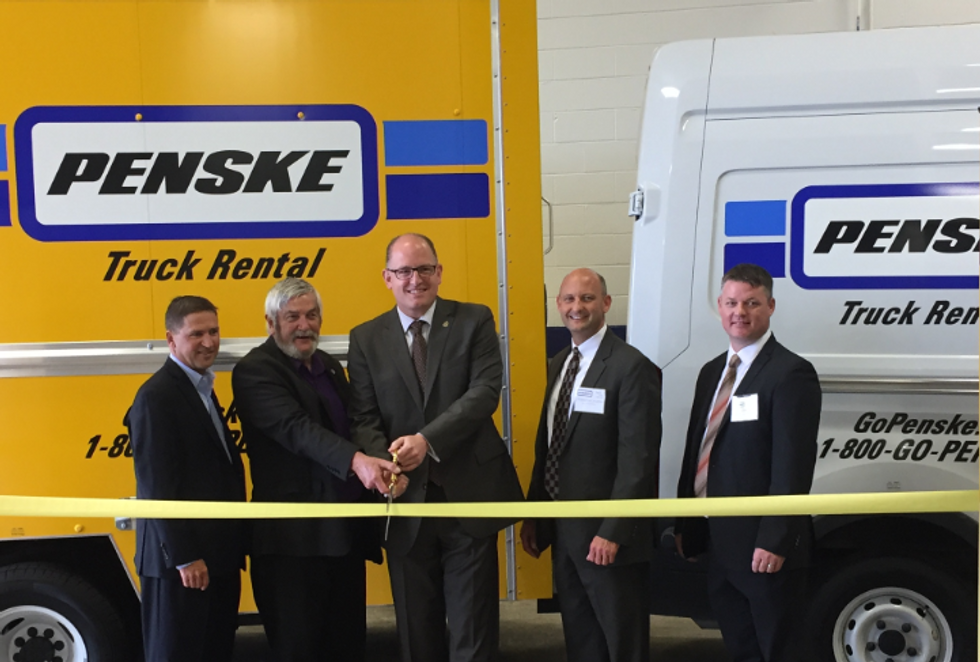 Penske Truck Leasing Opens in Windsor, Ontario
Penske Truck Leasing recently celebrated the opening of a new location in Windsor, Ontario with a grand opening event. Offering full-service truck leasing, consumer and commercial truck rental and contract truck fleet maintenance services, the new operation is located at 4505 Fourth Street.
---
This site contains three service bays and one wash bay in a 10,400-square-foot building on 7.5 acres.
"We have been steadily and strategically increasing our presence in Canada and the Ontario region specifically," explained Dan O'Boyle, senior vice president for Penske's north central region. "Our new location provides customers easy access to the E.C. Row expressway, Huron Church Road and is less than five minutes to the Ambassador Bridge."
"I am pleased to welcome Penske Truck Leasing to the City of Windsor," said Mayor Drew Dilkens. "This confirms once again that our strategic location is one of our greatest strengths. The Penske brand is respected all over the world and I want to thank them for their confidence in the Windsor market."
Stephen MacKenzie, CEO of the WindsorEssex Economic Development Corporation added, "The WindsorEssex Economic Development Corporation (WE EDC) is pleased to welcome Penske Truck Leasing to the Windsor-Essex region. Penske's new strategic location will serve our region well and strengthen the growing transportation and logistics sector in Windsor-Essex. We are happy to have Penske call Windsor-Essex home and will continue to support them in any way that we can."
To contact the truck rental or maintenance departments, please call 519-624-4380.
Participating in the ribbon-cutting ceremony at the new Penske Truck Leasing location in Windsor, Ontario are (from left) Dan O'Boyle, senior vice president for Penske's north central region; Tom Bain, Essex County Warden and Mayor of Lakeshore; Drew Dilkens, Mayor of Windsor; Richard McLaughlin, Penske area vice president; and Keyr O'Hara, Penske district manager.
By "Move Ahead" Staff