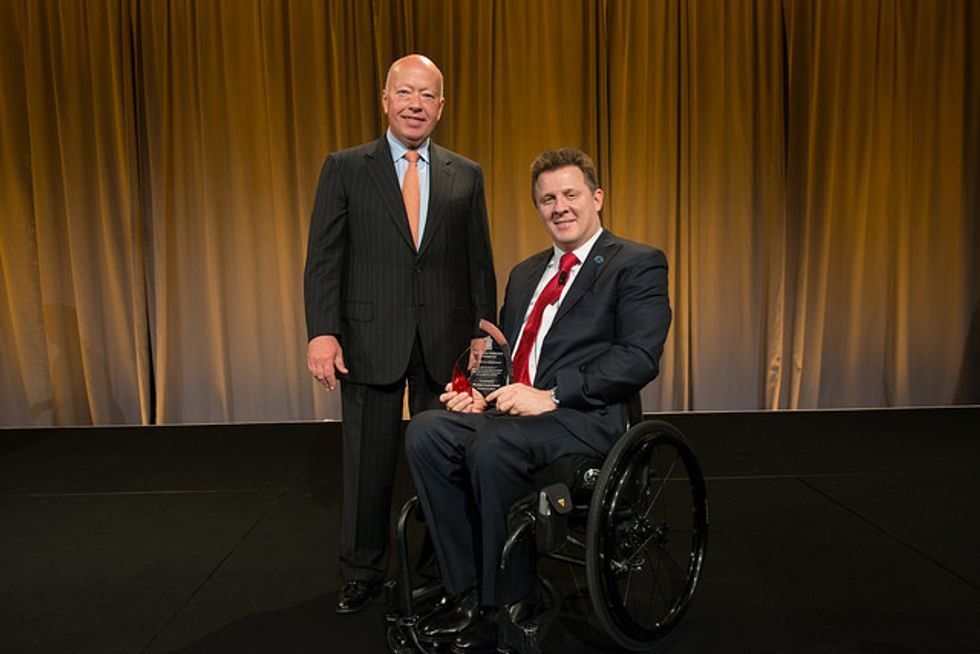 Penske Recognized for Support of Paralyzed Veterans
Penske Truck Leasing President and CEO Brian Hard (l.) with Al Kovach Jr., National President of Paralyzed Veterans of America.
---
Earlier this week, Penske was recognized at the 2015 Mission: ABLE Awards hosted by the Paralyzed Veterans of America.
The annual event, which raised raised $614,000 from corporate supporters, welcomed more than 400 esteemed guests, including Washington dignitaries, distinguished service members, veterans, friends, and supporters of Paralyzed Veterans.
The honored Mission: ABLE Award recipients were: Booz Allen Hamilton, Penske Truck Rental, ManTech International, combat-injured USMC veteran Captain Derek Herrera, The Jeffrey Carlton Charitable Foundation, and Eleanor Smith and Concrete Change.
The Mission: ABLE Awards honor those individuals and organizations who have dedicated themselves to creating an America where our nation's disabled heroes are able to fully live the lives they deserve and access what they need most: health care, benefits and jobs.
"We celebrate this year's honorees and thank them and all of our supporters for their investment in and commitment to our mission," said Al Kovach Jr., national president of Paralyzed Veterans. "Their active and continued partnership is critical to the continued success we have advocating on behalf of our nation's veterans."
CNN Pentagon Correspondent Barbara Starr served as the evening's emcee. The Honorable Robert McDonald, Secretary of Veterans Affairs, gave the evening's keynote address.
"PVA (Paralyzed Veterans) is a great advocate of veterans with spinal cord injuries and diseases—and, by extension, all Americans facing those challenges," said McDonald in his remarks. He added, "When PVA helps advance research, education, and the civil rights of people with disabilities—we are all their beneficiaries."
Penske Truck Rental was recognized with The Achieve: ABLE Award—for its #OneWay4PVA program and its financial support of Paralyzed Veterans' mission to ensure that disabled veterans have access to health care, benefits and jobs.
Penske Truck Leasing President and CEO Brian Hard accepted the award on the company's behalf.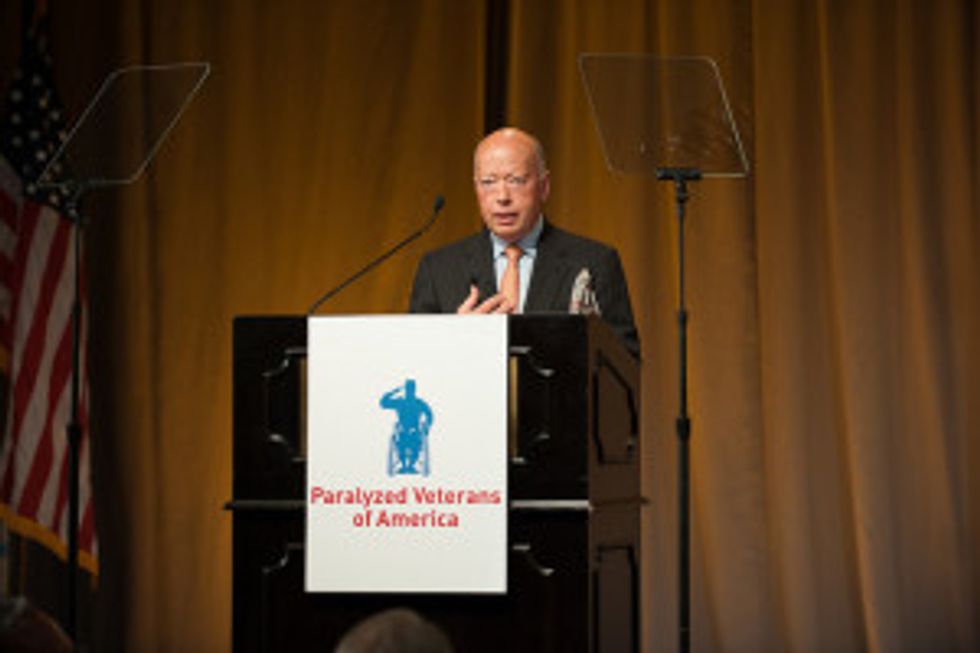 Penske Truck Leasing President and CEO Brian Hard.
In his acceptance speech, Hard recounted feeling compelled to "do something more" to help veterans after meeting with PVA representatives several years ago.
He also expressed sincere appreciation for the service and unstoppable courage and determination shown by the veterans and active military service personnel in attendance.
Hard further noted that the combined efforts of Penske Truck Rental's #OneWay4PVA campaign and a similar initiative from Penske Automotive Group called "Service Matters" were on-track to contribute nearly $2 million to benefit Paralyzed Veterans of America.
In 2013, Penske Truck Rental launched its #OneWay4PVA Mission: ABLE campaign. The program invites one-way rental customers to donate $1.00 when renting a one-way moving truck. Penske then matches each $1.00 donation. Since 2013, the effort has raised $871,222 to benefit Paralyzed Veterans. Penske Truck Rental has also supported the Paralyzed Veterans Golf Open, Mission: ABLE Awards, National Veterans Wheelchair Games, and Paralyzed Veterans Racing through in-kind truck rentals.
To learn more about Paralyzed Veterans of America and its free programs and services for veterans please visit www.pva.org. Watch the video below to be inspired by #unstoppable PVA veterans!
By Randy Ryerson