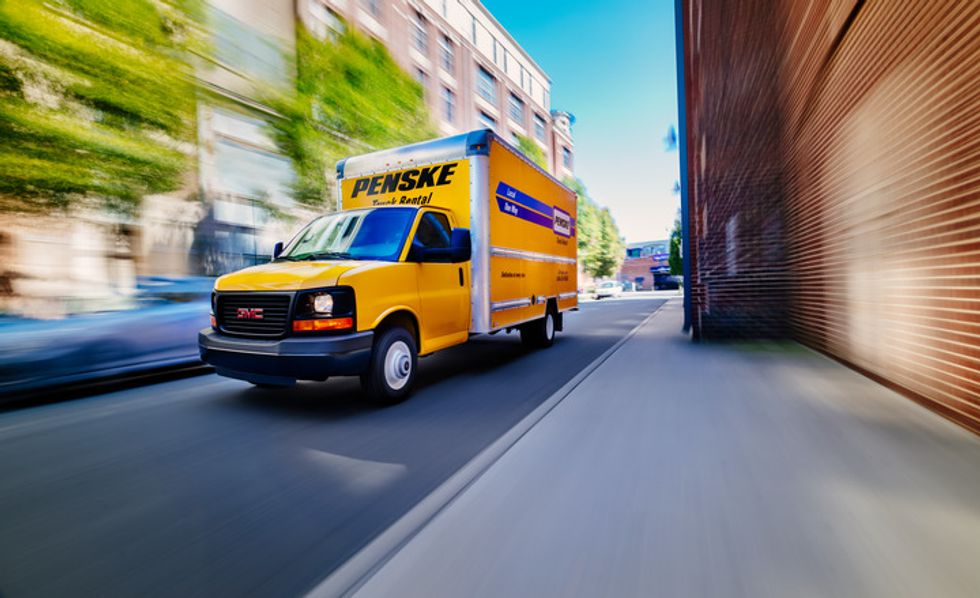 Penske Helps Celebrate Military Spouses for Their Service on the Home Front
For more than 35 years, the nation has paused on Military Spouse Appreciation Day, held on the Friday before Mother's Day, to pay tribute to the service and sacrifice of the nation's military spouses.
---
Since 2010, Support Military Spouses (SMS), a South Carolina-based non-profit, has hosted appreciation care package delivery parties in North and South Carolina to provide gifts and appreciation cards to military wives and husbands.
A delivery party is scheduled for tomorrow at Fort Bragg in Fayetteville, North Carolina, in celebration of Military Spouse Appreciation Day. Each year, Penske has provided a rental truck to help transport the care packages.
"Servicemen and women will tell you that their military spouse has a harder job than they do when it comes to serving our country because the spouses are serving on the home front. And in many cases, they are serving as mom and dad," said Diane Rumley, who co-founded SMS with her husband, Steve.
For many military spouses, the yellow Penske truck has become a symbol of the love and appreciation found inside each care package.
"We couldn't do without the truck," Mrs. Rumley said. "They see the truck coming, and it's like Santa's sleigh. It just does deliveries twice a year."
Serving on the Home Front
A U.S. Chamber of Commerce Foundation report, citing 2015 Department of Defense data, put the number of active duty military spouses at nearly 642,000. The majority of the spouses are women, with nearly half of them raising children, many of whom are 11 years old or younger, according to the report.
In 1984, then-President Ronald Reagan set aside the Friday before Mother's Day as a day to remember the service of military spouses to the nation.
The Rumleys created the non-profit SMS with a goal to provide every U.S. military spouse with an appreciation care package as a way to thank military spouses for their sacrifices.
That first year, in 2010, Mrs. Rumley remembers packing up a Penske van with 35 shoeboxes, filled and donated by caring individuals, and delivering them to Seymour Johnson Air Force Base in Goldsboro, North Carolina.
The shoebox, like today's care package, contained a handwritten note, a simple but meaningful gesture that touches the hearts of the military spouses.
"We honor them with a care package of encouragement as the simplest way to say on behalf of a grateful nation, 'we salute you, and all you do on the home front,'" Mrs. Rumley said.
SMS provides care packages twice a year: on Military Spouse Appreciation Day and at Christmas when the effort extends to children, dubbed by Mrs. Rumley as "the littlest heroes." In December, 1,000 care packages were distributed to children and another 1,000 to military spouses.
Stephen Michaud, assistant rental manager in Conway, South Carolina, said Mrs. Rumley's visits brighten up the room when she comes to pick her Penske rental truck.
"Her smile is as big as her heart," Michaud said. "They are amazing people. It is more than just handing them the keys to the truck; it is being a part of an organization that changes so many lives."
At the end of this year's package delivery parties, SMS will have delivered more than 70,000 care packages to military spouses and their children, Mrs. Rumley said.
Yet, that was all threatened last fall when Hurricane Florence swept through the Carolinas bringing devastating flooding and destruction to many, including SMS.
The warehouse the charity used to store care package gifts and cards from well-wishers earmarked for military families was flooded, forcing Mrs. Rumley and her husband to discard everything.
The gifts were replaced in time for Christmas care package parties. Penske associates penned replacement holiday cards for 1,000 families.
Military-Friendly Company
As Military Spouse Appreciation Day neared, associates wanted to show their appreciation for military spouses and their families. The associates provided 1,300 cards with hand-written well wishes and words of appreciation.
The generosity of Penske's associates is just an example of Penske's longtime support of the military – active duty, veterans and military families.
Both Penske Truck Leasing and Penske Logistics are committed to hiring veterans and have been named 2019 Military-Friendly Employers by Victory Media, the publisher of G.I. Jobs magazine.
In addition, Penske collaborates and supports military-friendly organizations, including The Paralyzed Veterans of America's Mission: ABLE campaign, World T.E.A.M. Sports and Toys for Tots.
To assist with military moves, Penske Truck Rental established a specialized military call center in 2014 to help reduce the stress of do-it-yourself moves for military families.
More than any gifts, the words of love and encouragement mean so much to the military spouses, Mrs. Rumley said.
"Those words mean more to them than what is in the care packages," she said. "You have no idea what it means to those spouses that someone they don't even know took the time to write to them."
For more information about SMS, visit SupportMilitarySpouses.org.
By Bernie Mixon