With plans for a dream wedding in Greece dashed by the coronavirus pandemic, Angelo Efstathopoulos wanted to make the day no less magical for his bride, Lucy.
The couple's childhood friendship blossomed into more on a do-it-yourself move in 2011 from New York to New Orleans, so Angelo thought it be would more than fitting to hold their wedding ceremony inside a white Penske rental truck.
With a friend serving as the officiant and Irvington Woods as the backdrop, the couple recently exchanged vows – and danced for the first time as man and wife – inside the Penske truck, which Angelo decorated himself for the occasion.
"You moved us to new adventures and brought us back together again," Angelo said of his Penske experience. "Now, you will always have a special place in our hearts."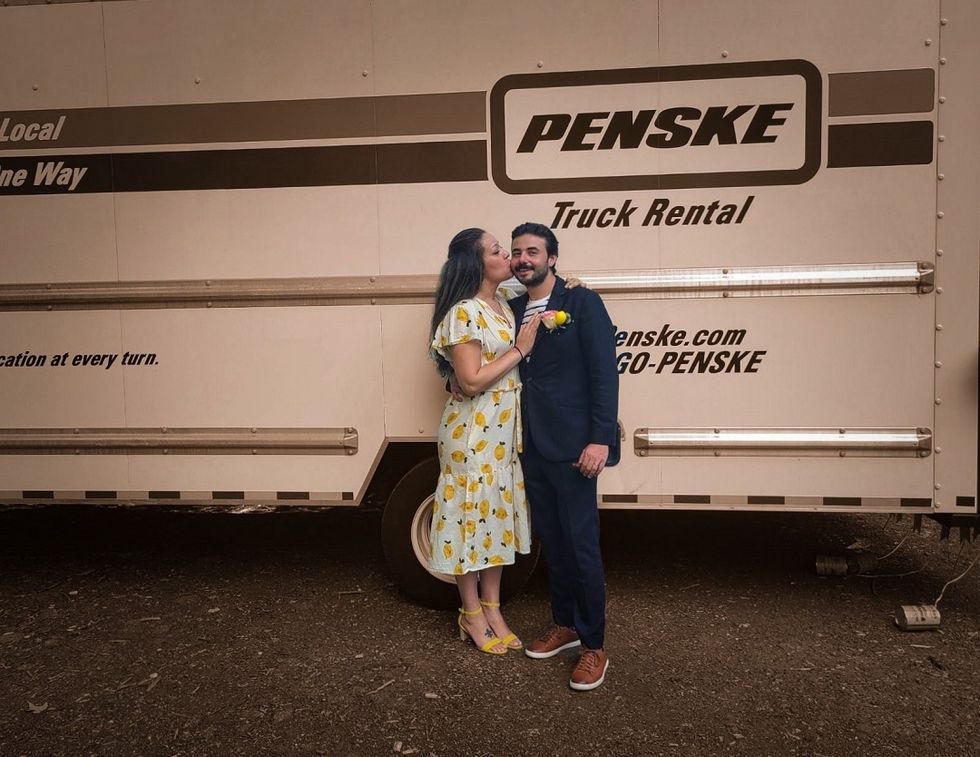 Lifechanging Road Trip

Angelo and Lucy met as teenagers in Astoria, New York, thanks to an introduction by mutual friends, and remained close through early adulthood.
When Lucy decided to relocate to New Orleans to attend school, she asked her friend Angelo to drive the 26-foot yellow Penske rental truck.
"I was reluctant at first and then finally agreed. It was one of those moments that would change the entire course of history," Angelo said. "Say yes, and embark on this exciting adventure, while also helping out a dear friend. 'No' was really not an option."
As is the case with many married couples, Lucy remembers the conversation a little differently. "He said he would do it for $30,000," Lucy said with a laugh. "I said, 'That was not happening. I need you to do it for free.'"
Angelo's experience in construction, particularly driving trucks, would come in handy along the journey as the pair encountered strong storms as they made their way to Louisiana.
"I distinctly remember we were driving through Mississippi. The winds were really high, and the rain was coming down. It was almost like a purple hue in the sky. There was a storm or a tornado coming up, but we kept on trucking through," Angelo said.
At the end of the three-day-trip, the friends discovered they had deeper feelings for one another. A few months later, Lucy decided to return to New York to be closer to Angelo.
"I kept visiting New York, and I just knew I had to move back, and so I asked him to come to New Orleans and drive another Penske truck back," Lucy said. So, once again, they hopped into a 26-foot Penske rental truck and made the trip back to New York.
Charting a Path to Matrimony
Over the next few years together, the pair discovered a shared love of travel. Their Instagram page, "The Adventures of Lu Lu and Lo Lo," is a visual snapshot of their life together. The page is filled with pictures from their travels across the U.S. as well as Greece, Hungary, Mexico and The Netherlands.
After planning most of the trips, Lucy mentioned to Angelo two years ago that he should plan their next trip. That simple request sparked an extraordinary idea.
The pair had discussed marriage off and on but had no real timetable for their engagement. Angelo decided it was time. And, like most romantics, he wanted to make the proposal memorable.
"The trick I had up my sleeve was that I planned a trip to Iceland for Lucy's birthday and we stayed in one of those bubbles out in the woods," Angelo said. "You go and visit three or four waterfalls and grab some lunch, and you end up at night time in that bubble. That was when I proposed to her."
Soon the couple began making wedding plans. They decided to exchange vows on Aug. 22 in Greece in Angelo's father's hometown. "We were always against the typical catering hall idea and wanted something much more personal," Angelo said.
The ceremony was to be in the same chapel where Angelo's parents exchanged vows. The celebration was set to move to a little restaurant owned by Angelo's grandfather, who passed away six years ago.
"Our plan was to go back there, revamp the restaurant – paint it, put in some nice landscaping and lights," Angelo said. "It is in an area that is on top of a mountain so you see the whole city and the lake."
When the coronavirus took hold, the couple's plan for a wedding in Greece fell through. Angelo knew he had to come up with another plan. "It seemed like we were all but deflated with not many options," Angelo said.
Thinking back over their life together, the Penske truck kept coming to mind for Angelo.
"We always used to joke about how 'us' it would be to drive off in a Penske truck on our wedding day," Angelo said. "Then, the idea hit me: Let's get married inside a Penske truck."
Penske Truck Wedding
Just as he had done with his proposal, Angelo kept the Penske truck wedding under wraps, allowing Lucy to think their dream of a fairly-tale wedding was forever lost.
While Lucy made preparations for what she thought would be a wedding via videoconferencing, Angelo had some work to do of his own. His first stop was to a Penske agent location to arrange the truck rental, right down to the color.
"At first, I requested a yellow truck, to match the color of our original truck. Then I switched it to white, all while getting these confused looks," Angelo said. "I had to explain the story to not come off as a little crazy."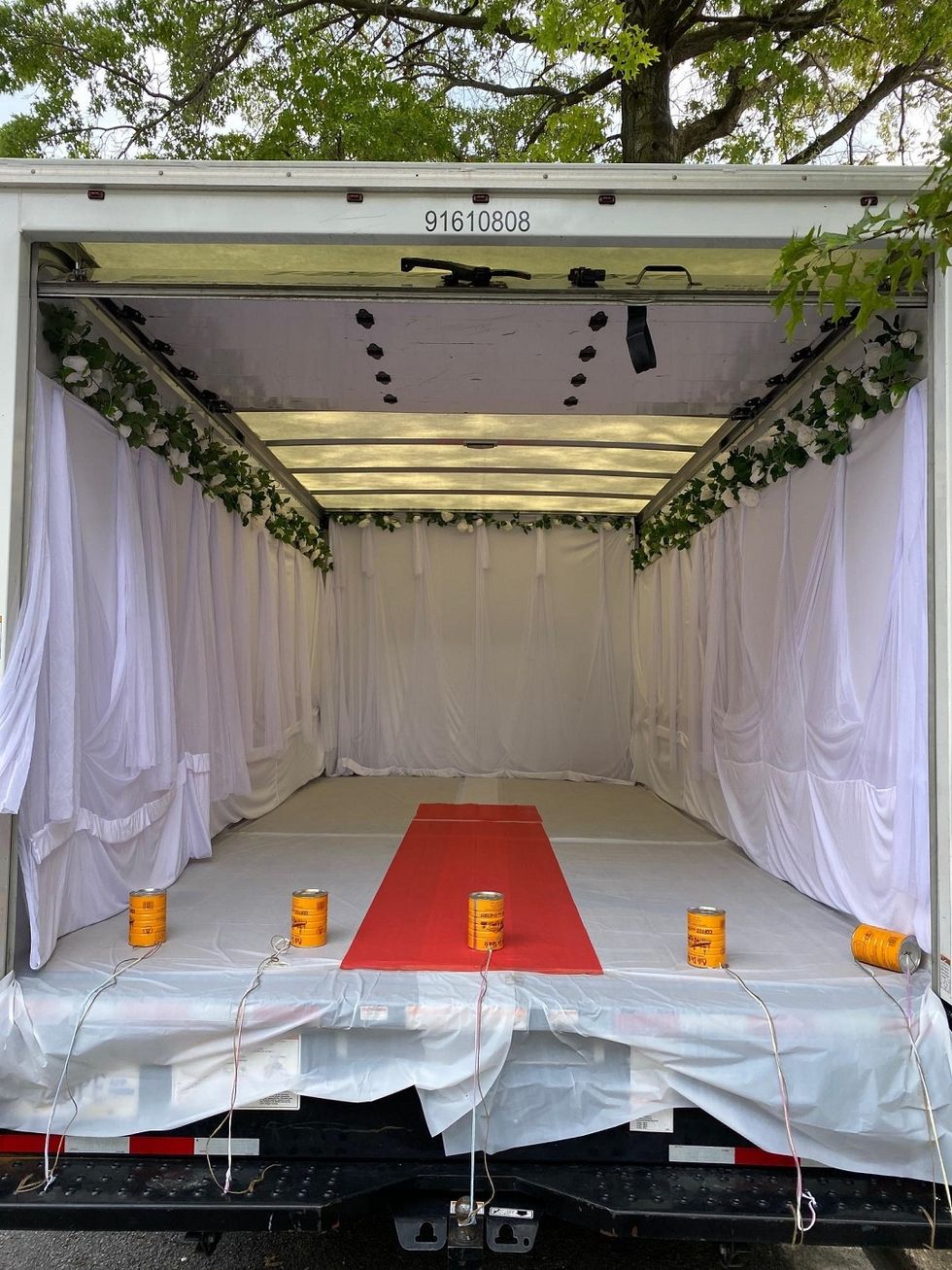 Once he had the truck, Angelo went to work decorating it. On the night before the wedding, Angelo and his best man drove the truck to Westchester, New York, where it remained until a few hours before the wedding.

The next day, Angelo began adding a few special touches to the truck, including attaching a "just married" banner and coffee cans, to the back. "The coffee is the New Orleans coffee we drink every morning," Angelo said, "It was the little personal things that gave charm to it."
Meanwhile, Lucy spent the morning getting ready, surrounded by her friends, still unaware of her groom's wedding plans for her. "She was expecting someone from the state would meet with us on video conference and marry us," Angelo said.
One of Angelo's friends arrived to take Lucy to the wedding location, which was about three minutes away. When she walked over to where Angelo's car was parked, she saw him standing near a Penske truck.
"I didn't understand anything that was happening, but I loved it," Lucy said. "I didn't see any of it coming, and I'm usually good at this. I didn't know anything until I saw the truck, and it was awesome."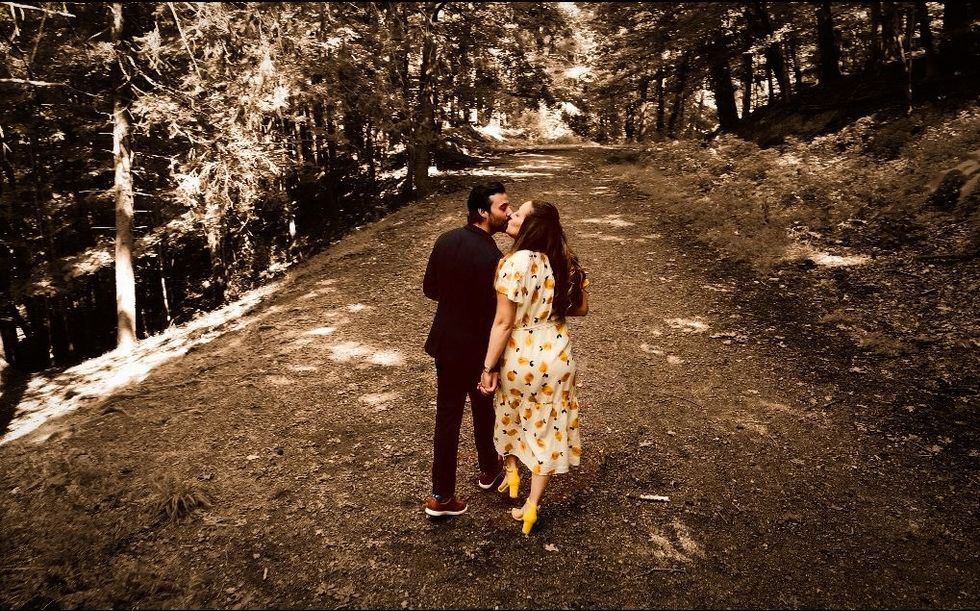 After the happy couple exchanged vows, they danced inside the Penske truck as their wedding song "I've Got you Babe" by Sonny and Cher played in the background.

Although her family was unable to travel from her native Brazil, Lucy was still able to share her happy day with her mother and brother via video conferencing.
Looking back at the obstacles the coronavirus posed to their dream wedding, the couple believes they were destined to be married in a Penske truck.
"I think it was possibly more memorable than our Greece wedding to me," Lucy said. "All the personal touches made it seem like this was meant to be."
By Bernie Mixon