Editor's note: This story is part of our "50 Stories of People Helping People" series. As we celebrate Penske's 50th anniversary in 2019, we are spotlighting associates every Friday who are making a difference in their communities.
Penske associates from the Boston District participated in the Travis Mills Foundation Plane Pull to support injured veterans and their families.
Held June 8 at the Portland International Jetport, Portland, Maine, the plane pull featured corporate-sponsored teams pulling a Boeing 757. The plane weighed 80 tons, which equals to roughly 6,400 pounds of weight being pulled by each team member.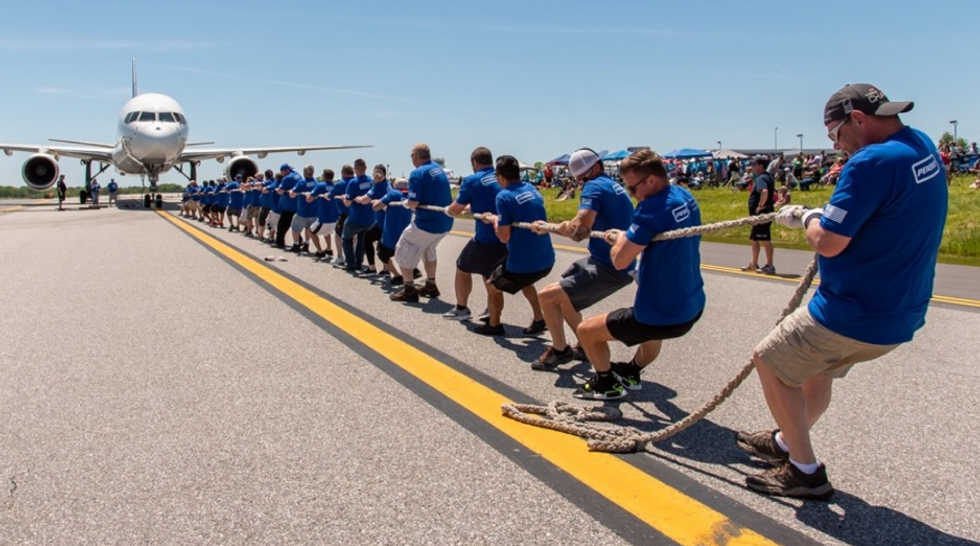 Travis Mills is a veteran quadruple amputee who turned a horrific event into something positive — the Travis Mills Foundation. He travels the world as a motivational speaker and has a New York Times bestselling memoir, "Tough as They Come."
Mills' quote, "Never give up. Never quit," has inspired many, especially the Penske team that participated.
According to the Travis Mills Foundation website, the foundation "supports post 9/11 recalibrated veterans and their families through long-term programs that help these heroic men and women overcome physical obstacles, strengthen their families and provide well-deserved rest and relaxation."
The foundation supports veterans through a retreat located in the Belgrade Lakes Region of Maine. The retreat is an all-inclusive, all-expense paid, barrier-free vacation where they can participate in adaptive activities, bond with other veterans and enjoy rest and relaxation that Maine's outdoors provides.
Some of the 20 adaptive activities offered at the retreat include cycling, hiking, golfing, ice fishing, boating and pottery.
In 2017, the foundation hosted 84 veteran families to the Maine retreat.
Penske Branch Manager Robert Hubbard was the organizer of Penske's involvement in the Travis Mills Foundation Plane Pull.
Hubbard said that getting associates to volunteer was easy — they were all so supportive of the cause.
"Travis is a quad amputee with an incredible attitude," Hubbard said. "His sense of humor and upbeat personality make it an easy event to support."
The event exceeded the original $50,000 goal and in the end raised over $100,000, which is able to support 100 families. Penske associates raised $3,400.
Hubbard said the event was successful.
"I was very excited to be a part of the event. Knowing about Travis, when the opportunity came up to support him and veterans, we were more than happy to help."
Penske's District Manager Chad Hough said that getting the whole Boston District together was a big deal.
"We had people from the south end of our district come up to the very northern part — Portland, Maine, for such a great cause, and it was just cool to have everyone together. Maine is a 'do business with your neighbor; support your neighbor' type of environment. The best part was seeing the community there to support each other," Hough said.
By Emma Creamer, Communications and PR intern