Memorable first impressions form from the most ordinary gestures, like a warm, confident smile and a strong handshake.
Moments of introduction can have a lasting impact extending far beyond their delivery in long-forgotten social settings or business gatherings, so it is important to know how to make the most of them.
Leadership lessons like these were among the advice the Penske Women's Network (PWN) passed on recently to the Girl Scouts of Eastern Pennsylvania (GSEP) during the fourth annual Take the Lead training held at Penske's corporate headquarters in Reading, Pennsylvania.
"From the Girl Scout perspective, everything we do is based on leadership and developing girls who are strong leaders who are confident but also have courage and character. So it is really important to us that we provide that safe environment for them to grow in that way," said Erin Vermeulen, director of girl experience and day camps for GSEP.
Having PWN members deliver these leadership messages is meaningful.
"Penske has been amazing in providing strong women who are able to do that for our girls, really be open and have conversations with them, teach them things they have learned and expose them to new situations that are important for girls to learn," Vermeulen said.
Nearly 70 scouts from young girls to teenagers participated in a half-day of training to prepare for Take the Lead 2018, the organization's annual fundraising event honoring local women leaders, which will be held April 4 in Reading.
This year's honorees are Patricia Giles, foundation associate, Wyomissing Foundation; Dr. Jodi Radosh, co-author of "Shoot, Edit, Share" and an Alvernia University professor; and Jeanne Savage, community volunteer, Freedom Auto Group.
Many of the girls in attendance will have roles during the event introducing the honorees, serving as ushers and greeters, performing in the chorus and capturing the event in photographs and on social media.
While PWN members were more than happy to share their vast experience with the young girl scouts, the women received so much more in return.
"The Girl Scouts bring a great energy that reminds us how important it is to stay connected with our community and stay engaged," said Allison Coffey, marketing campaign manager, who coordinated the event with Melody Kaag, manager of leave and accommodations in the Human Resources department.
During the training PWN members hosted breakout sessions to deliver tips on how to deliver a handshake, photography and social media tips as well as proper table etiquette.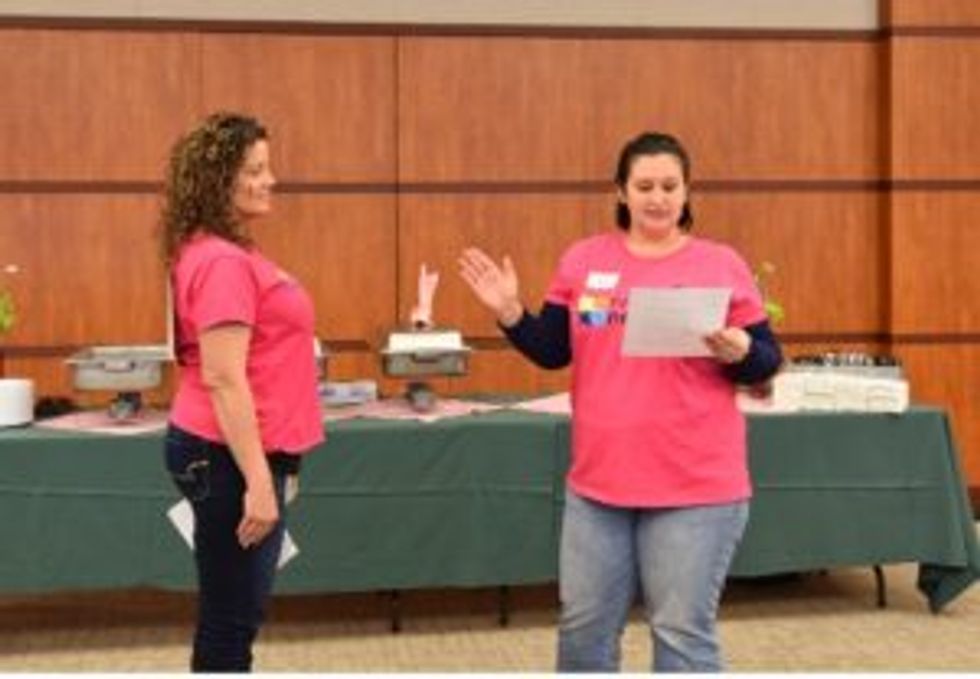 For Elizabeth Reed, a diversity and inclusion specialist in the company's Human Resources department, it was her first year participating in the event. Reed, along with Shannon Pennock, a billing coordinator, worked with the girls on how to deliver a proper handshake.
"Learning the proper way to shake someone's hand is very impactful, especially at a young age," Reed said. "They say practice makes perfect. We want the girls to feel empowered and to be confident with the skills that we are teaching them in preparation for this event."
The skills modeled by PWN volunteers are ones the girls can take with them and use for a lifetime.
"Just having that confidence to be able to stand up in front of these adults and shake their hands and introduce themselves is a huge success for them," said Vermeulen. "It is really about becoming a well-rounded individual and having those skills to move forward."
By Bernie Mixon