Today's commercial vehicles, like those offered by Penske Truck Leasing, are more connected than ever with computer technology monitoring everything from engine performance to fuel efficiency.
Far removed from their wrench-turning past, today's diesel technicians are required to be as comfortable with computer diagnostics as they are with engine components under the hood.
Present will meet future next week at the 2017 SkillsUSA National Leadership and Skills Conference in Louisville, Kentucky, as more than 6,000 students are expected to compete in hands-on competitions in more than 100 trade, technical and leadership fields.
Penske representatives will be there too, serving as judges in the diesel competition and staffing a booth during the SkillsUSA TECHSPO in order to speak with students about technician career opportunities available at Penske.
It is a role that is expected to continue to grow, with the U.S. Bureau of Labor Statistics estimating that by 2022 the transportation industry will need to hire about 67,000 maintenance professionals.
For customer-centric companies like Penske, technicians play a crucial role in their success.
"Our business model as a company is that we provide newer vehicles to the customer and that means modern trucks for our technicians to triage and diagnose," said Gregg Mangione, senior vice president of maintenance for Penske, in a 2016 "Move Ahead" interview. "Our technicians engage with the newest and leading-edge types of issues from a variety of truck manufacturers."
The systems on today's trucks are entirely different than even 10 years ago," Mangione said. "There were 350 diagnostic fault codes on a truck manufactured in 2004. Now, there can be up to 2,000 fault codes coming off of a vehicle.
"It is all about the customer," Mangione said. "As their key partner, our customers' businesses are best supported when Penske-rented and -leased trucks are operating at maximum capacity. We need good men and women who want the satisfaction of fixing a truck and enjoy the challenges of being in this industry."
SkillsUSA is a national partnership of students, teachers and industry representatives and serves middle-school, high-school and college/postsecondary students who are preparing for careers in trade, technical and skilled service occupations, including health occupations.
The annual SkillUSA Championships – the centerpiece of the conference – will be held on June 21 and 22 and feature about 100 hands-on skill and leadership competitions. The event provides employers like Penske with an opportunity to witness the students' expertise first-hand.
"From our standpoint, it establishes Penske as a brand name when reaching out to students. These students are the future of our business. SkillsUSA solidifies our presence as a national employer," said Rick Labadie, a recruiting supervisor for Penske.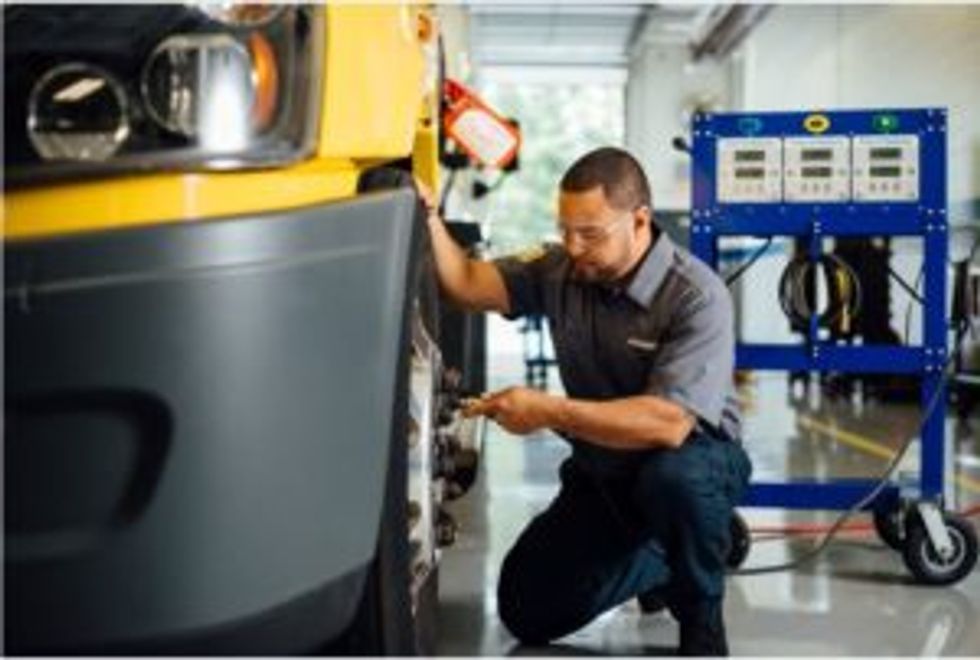 "We attract top-talented individuals from participating schools. It is good for our organization that we create a network with our current technical school partners who are already there and build relationships with new schools," Labadie added. "We are able to meet decision makers and influencers from vocational and technical schools."
Penske will be exhibiting at booth S58/60 and will hold social media drawings for prizes, including an Apple Watch Sport, an iPad or Snap-on toolbox. Social media users must like or follow Penske on Facebook, Twitter and Instagram and then post using the #Penske hashtag.
One new feature this year will be a vending machine filled with prizes and gift cards. Visitors have the chance to win by tweeting on Twitter or posting a selfie on Instagram while at the booth using the #Penske hashtag.
Penske offers customer service representative and technician positions at 700 locations across North America. Visit the Penske technicians page for open positions. Penske offers competitive wages and a wide range of benefits. Penske is an Equal Opportunity Employer.
By Bernie Mixon