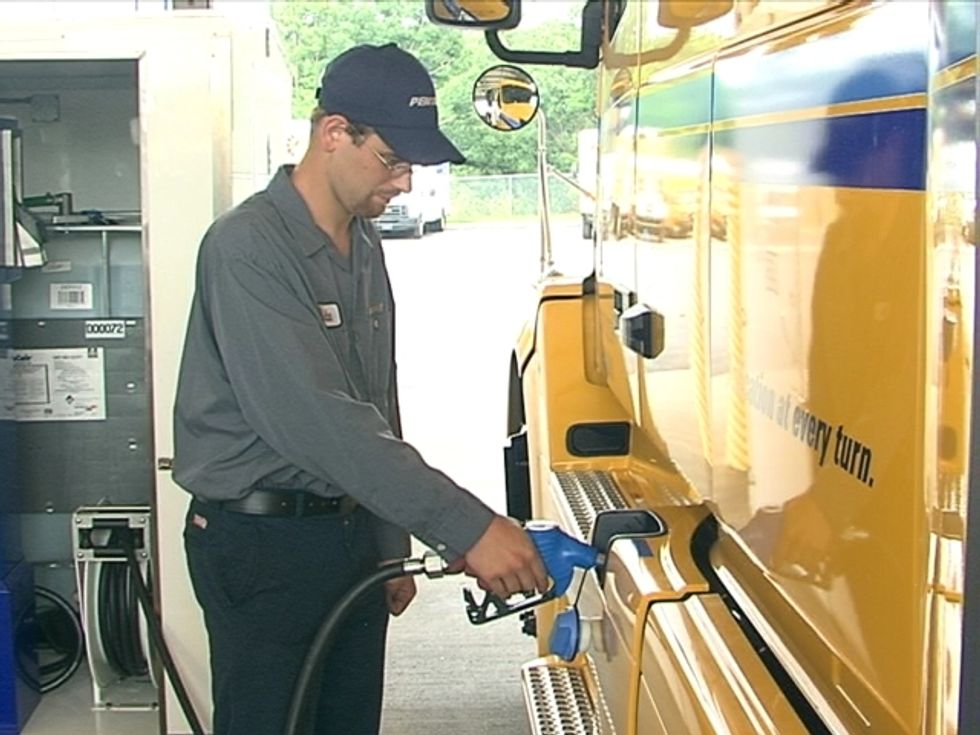 A key but perhaps overlooked component of adapting to U.S. Environmental Protection Agency mandated 2010 emission technology requirements for commercial trucks is the effective use of diesel exhaust fluid (DEF) to support Selective Catalytic Reduction (SCR) technology.
Penske Truck Leasing is prepared to assist lease, contract maintenance and rental customers with their DEF needs when visiting all Penske locations in the United States and Canada.
"There are a number of reasons why we have over 6,000 SCR-equipped trucks in our fleet," explained Mike Hasinec, Penske's vice president of maintenance systems and support. "Not only did we feel it was necessary to keep pace with 2010 engine technology changes, the improvement in fuel economy for our customers was certainly a major driving factor. Additionally, there are a large number of lease units that need to be replaced and we also wanted to refresh our commercial rental fleet as well."
DEF is vital to the operation of 2010 trucks utilizing SCR technology. It works to greatly reduce Oxides of Nitrogen (NOx). Less NOx translates to a truck's exhaust being cleaner and less harmful to the environment.
Engines with 2010 SCR technology have reduced NOx by over 80 percent, and particulate matter by 90 percent, as compared to a 2002 engine. DEF is a non-toxic agent that works to cleanse the NOx chemicals coursing through commercial medium-duty and heavy-duty trucks.
Currently, every Penske location has a supply of 2.5 gallon jugs of DEF in their inventory, and 50 fueling locations have above-ground totes installed on the fuel island.
As Hasinec noted, customers are still adjusting to maintaining DEF tank levels, which did not previously exist on pre-2010 trucks: "there is still a learning curve."
He noted that nearly 60 percent of all customer emergency road calls related to the new SCR technology was in response to those running out of DEF. "Some truck drivers are just not used to checking another gauge," he said. Over 23 percent of related customer calls were those concerned with low DEF dashboard indicators. Hasinec pointed out that DEF "is readily available at larger truck stops."
As the EPA has mandated, drivers that ignore DEF warnings do so at their own peril – if the driver runs too low, or out of DEF, the trucks will be governed at 55 miles per hour. Make a stop and fail to refill under certain conditions, and your truck will not exceed 5 miles per hour.
So far, Penske customers have reported better fuel economy with the use of the new technology in the area of 3 to 5 percent, according to Hasinec.
Through the ExpressLease program, Penske customers can drive new 2010 emissions equipment. Click here to learn more.
By Alen Beljin