Bright, fragrant flowers, the universal symbol of love, will be in abundance today as consumers shower loved ones with bouquets on Valentine's Day.
Heart-shaped holidays, like Valentine's Day, are busy times for the floral industry, which depends on trucking companies, including Penske Logistics and Penske Truck Rental, to help ensure perishables like flowers and candy arrive in top condition.
"Most consumers want their flowers on Valentine's Day, so it is vital that florists have their product on time and of the freshest quality," said Jennifer Sparks, vice president of marketing for the Society of American Florists (SAF), based in Virginia. "Trucking companies and their drivers play a big role in helping to make that happen."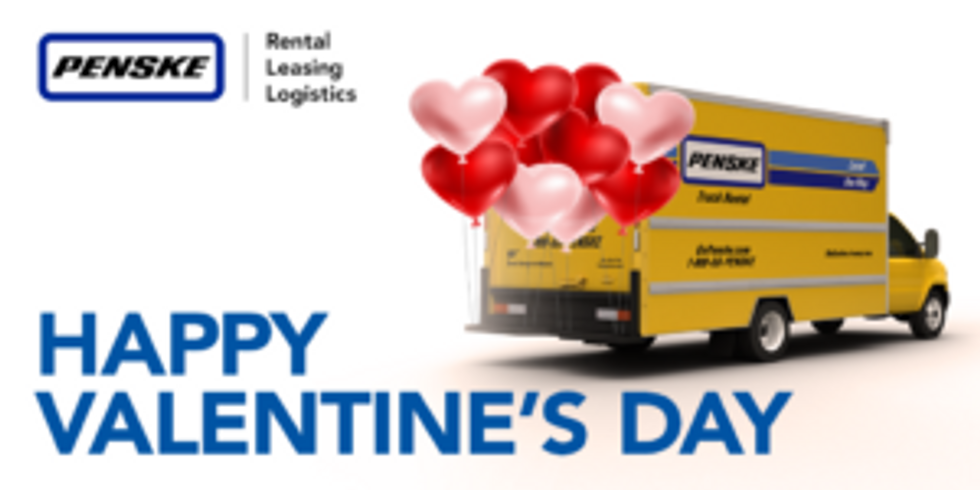 Consumers are expected to spend $19.6 billion on Valentine's Day this year or an average of $143.56 in Valentine's Day gift giving, according to a survey by the National Retail Federation (NRF) and Prosper Insights & Analytics.
"Americans are looking forward to pampering and indulging their loved ones with flowers, candy, dinner and all of the other Valentine's Day stops," NRF President and CEO Matthew Shay said. "With the holidays behind them and the winter months dragging along, consumers are looking for something to celebrate this time of year."
Flower sales alone were projected to reach $2 billion, according to the NRF. Which stands to reason since Valentine's Day is the number one holiday for floral purchases, second only to Christmas and Chanukah in spending, according to the SAF.
In fact, this year, more than 250 million roses were produced to shower on loved ones on Valentine's Day, and roses lead the way in flower purchases, followed by tulips, carnations and lilies, according to the SAF.
Why are flowers synonymous with love? Science may have the answer.
According to a Rutgers University study, "the presence of flowers triggers happy emotions, heightens feelings of life satisfaction and affects social behavior in a positive manner far beyond what is normally believed."
The researchers studied participants' behavioral and emotional responses to receiving flowers, with the results showing flowers are a "natural and healthful moderator of moods."
The study also found that flowers have an immediate impact on happiness, impact moods long-term and make intimate connections.
The science connection extends to deliveries as well.
"Scientific research is overwhelmingly conclusive when it comes to cold chain and longevity of flowers," said Chris Drummond, president of Plaza Flowers in Norristown, Pennsylvania, and SAF's president-elect. "Temperature is the most important factor in the process of getting flowers from the farm to the consumer."
Vase life decreases substantially when the temperature of the freight rises above 35 degrees Fahrenheit, Drummond said.
"Since airplanes are not refrigerated, trucks are the obvious choice for transporting fresh flowers," he said. "Partnering with a reliable trucking company that properly maintains their refrigerated trailers is critical for floral wholesalers and large retailers. "
New technologies allow retailers to monitor the temperature of the freight, and professional drivers who understand the perishable nature of our products are invaluable, Drummond said.
"During the loading and unloading process, flowers can get too cold or too warm. A good driver understands how to monitor the temperature of the trailer and manage the loading and unloading procedure to minimize temperature fluctuations," he said.
Commerce Flowers is among the many florists who have experienced a spike in business leading up to Valentine's Day.
"It's been very busy," said Duke Nomura, treasurer at Commerce Flowers, which has a fleet of its own trucks but rented additional Penske units to meet the need this Valentine's Day. A long-time customer, Nomura said he rents with Penske because of the quality trucks and nice people.
Penske offers a wide variety of rental trucks from large commercial semi-tractors and trailers to small box trucks. Penske encourages retailers and businesses to make reservations by calling its hotline for business rentals, 1-800-PENSKE1. New business truck rental customers can enjoy an additional 20 percent off your first truck or tractor rental.