Editor's note: This story is part of our "50 Stories of People Helping People" series. As we celebrate Penske's 50th anniversary in 2019, we are spotlighting associates every Friday who are making a difference in their communities.
Penske associate Frank Krisak never claimed to be an animal lover, which is why he thought the idea of being around animals, large and small, wasn't in the cards for him.
However, as he looks back at the past 20-plus years, he can't help but acknowledge the irony as he reflects on his time as a volunteer at Misty Meadows Mitey Riders, where he walks alongside horses and their riders on Saturday mornings.
Mitey Riders is a Professional Association of Therapeutic Horsemanship International (PATH Intl.) Premier Accredited Center for therapeutic horseback riding. For 25 years, the organization has offered comprehensive equine therapy sessions to children with disabilities at no cost to their families, according to their website.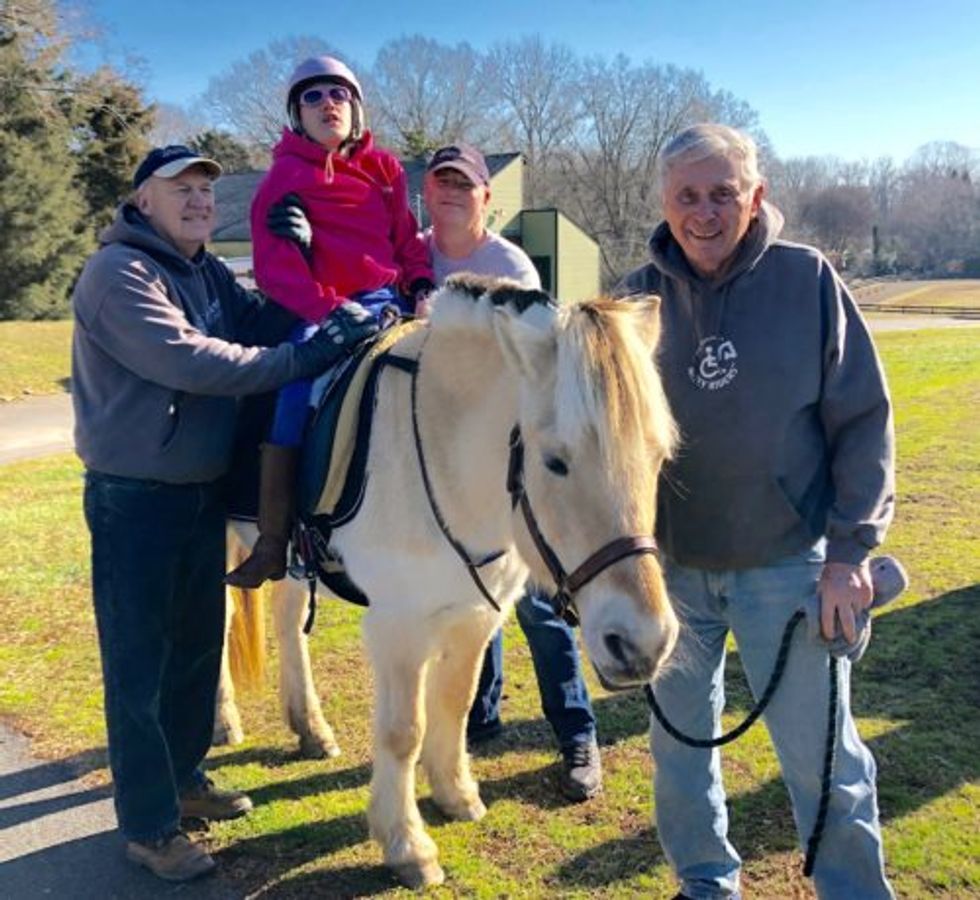 Pictured (from left) are Frank Krisak, Megan Weir, John Weir and Harry Swimmer.
Harry Swimmer and his wife, Marilyn, founded the organization in 1994 outside Charlotte, North Carolina. The couple decided to open up their 83-acre farm, with champion show horses, to children with special needs.
Krisak first heard of Mitey Riders in the mid-'90s, when he met his son's girlfriend's brother, who had spina bifida. The boy told him about Mitey Riders and invited him to the farm to watch him ride horseback. Seeing the huge smile and excitement on the boy's face as he sat on top of the horse was enough for Krisak to decide to become a weekly volunteer.
"I saw how much the riders enjoyed being with the horses and how it made them feel, and I wanted to help with that," he said. "At the time, they were looking for volunteers, and when I met Harry [Swimmer], we bonded, and I haven't stopped showing up since."
Twenty-three years later and Krisak is still assisting Swimmer and his staff on the farm, not to mention he is one of their longest-tenured volunteers.
"Frank has been a good friend to me, personally, and the Mitey Riders," said Swimmer.
When a child is on the horse, three volunteers accompany them: one person leads and controls the horse, and two sidewalkers monitor the rider. Krisak, a sidewalker, says that all the volunteers go through training.
Since Krisak works scheduled sessions, he's gotten to know the riders very well over the years.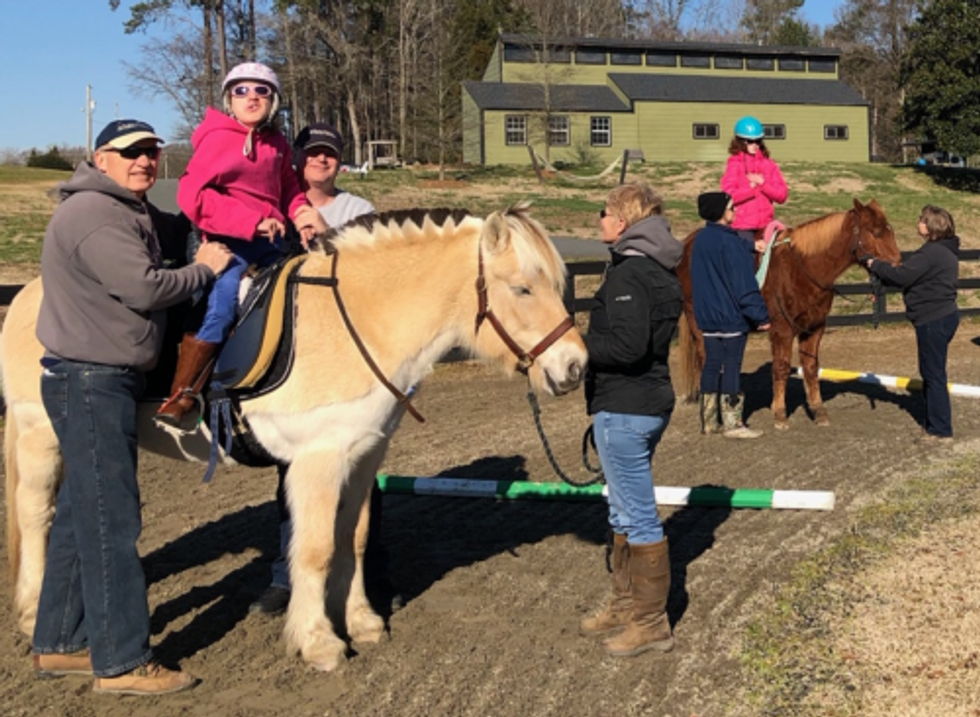 "I still keep in touch with the riders I had on my very first day," Krisak said. "I've had some of my current riders for eight or nine years. I'm seeing them grow up and go to college. It's been a really rewarding experience for me."
When Krisak first showed up 23 years ago, Mitey Riders had around seven riders and less than a dozen volunteers. As of 2018, the organization is supported by more than 200 volunteers and six PATH Intl.-certified instructors to assist more than 75 riders weekly.
And as time's gone on, Krisak's generosity and impact hasn't gone unnoticed. According to those close to him, he is regarded just as highly at work as he is in his community.
"Frank is just a great person," said Chris Anderholm, Penske's area vice president of the Carolinas. "The people who work for him and with him love him, and so do his customers. He's one of those people who really checks all the boxes for a leader at Penske."
After 44 years of working at Penske, currently as a district manager in Charlotte, Krisak has decided to retire in April. And although his career may be coming to an end, one thing he isn't planning on leaving anytime soon is his Saturday morning sessions volunteering on Swimmer's farm. He says that Mitey Riders will remain a big part of the next chapter in his life as it has been in this one.
"I look forward to many more Saturdays on the farm," he said.
By Chris Abruzzo