For many drivers – including Penske's one-way cross-country movers and professional truck drivers – the early morning sky on Wednesday will offer a rare visual treat: a "supermoon" lunar eclipse, turning the moon crimson as it passes through the earth's shadow.
Dubbed by astronomers as the "Super Blue Blood Moon," the second full moon of the month or "blue moon" will appear larger as the moon's orbit takes it close to the earth during the eclipse in a show of celestial special effects not visible for decades.
Those on the U.S. and Canadian West Coast, Alaska and Hawaii will have the best chance of seeing a total lunar eclipse, with the rest of the country having a chance at viewing a partial eclipse.
"When we put all these things together, the fact that this is the second full moon of the month, that there is a lunar eclipse happening at the same time, and it is at near perigee – the closest point to the earth –then it seems to take on more significance," said Derrick H. Pitts, chief astronomer and planetarium programs director, Franklin Institute Science Museum in Philadelphia, Pennsylvania.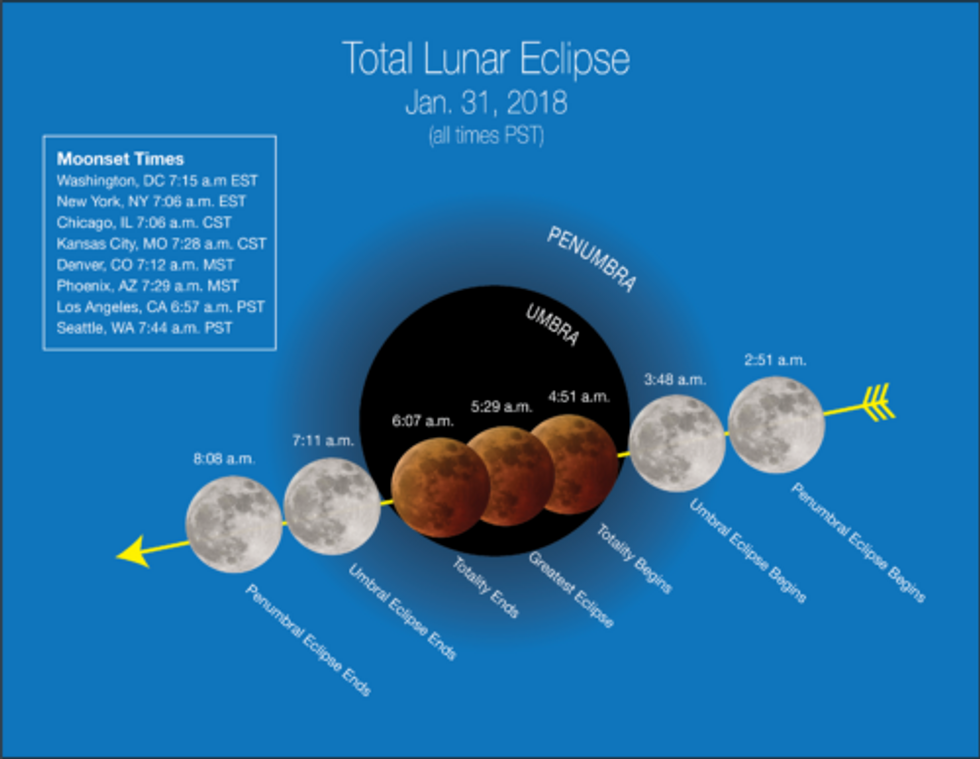 Credit: NASA
The Super Blue Blood Moon is the latest in what NASA calls the "supermoon trilogy." The other two supermoons appeared on Dec. 3 and Jan. 1, adding to the excitement of the lunar eclipse.
"Everyone loves superlatives," Pitts said. "Who doesn't want to see something that is super? No one doesn't like to look at the moon."
The lunar eclipse comes on the heels of last summer's widely viewed solar eclipse, both creating wonder and igniting resurgent interest in astronomy.
Eclipsing Early Interpretations
Yet, it was not so long ago that eclipses – both lunar and solar – were viewed with skepticism as mythical omens.
"Prior to the 16th century, many people did not know what caused solar eclipses. It was historically passed down as being an omen of some kind and people used them in this way," Pitts said. "Lunar eclipses were seen as bad omens more often."
Just being under the gaze of the moon was thought to be problematic, for some.
"Several hundred years ago, maybe 1,500 years ago or more, people thought if you were outside under a full moon or during an eclipse that would cause all kinds of mental problems, and you could be thought of as having some mental difficulties because people didn't know anything about the moon," Pitts said.
Time and scientific research has tempered opinions, but not curiosity.
"Nowadays we have a lot more information at our fingertips," Pitts continued. "Everybody still wants to see this rare event where something happens in the mysterious night sky or the day sky with the big sun."
Unlike a solar eclipse, there are not many restrictions to viewing a lunar eclipse.
"There is no danger, of course, for lunar eclipses; there is no problem at all going out to watch a lunar eclipse because you are just watching a full moon," Pitts said. "It is not a good idea to observe a full moon through a telescope because the light from the moon is so bright. But, basically speaking, there is no problem watching a lunar eclipse."
Major events like eclipses offer the public an opportunity to expand their knowledge about happenings in the sky.
"So what you do with this is you make it a regular practice to go out and observe the evening sky just after sunset on a regular basis," Pitts said. "You'd start to notice patterns of how constellations are changing through the course of the year, the position of planets as they come and go and the moon phasing as it goes through its cycle."
When it comes to this week's lunar eclipse, Pitts has some advice.
"If you are viewing from the East Coast of the U.S., don't expect to see much of an effect of the eclipse," he said. "But, if you are further west you can expect to see more."
Lunar Viewing Prep
Just keep a few safety tips in mind if you plan to drive during the eclipse:
Avoid pulling over to the side of the road to view the eclipse. Drivers may not be able to see you, especially when it is dark.
Exit the roadway and park in a safe area away from traffic to view the eclipse.
If you want to capture the eclipse, do not photograph or video the eclipse while driving.
Are you planning a cross-country move during the lunar eclipse? Are you looking to set the proper "supermoon" mood? Why not create a supermoon music playlist?
Here are a few song titles to get you started:
"Blue Moon Rising," Credence Clearwater Revival
"Fly Me to the Moon," Frank Sinatra
"Man on the Moon," R.E.M.
"Moon River," Frank Sinatra
"Bark at the Moon," Ozzy Osbourne
"Neon Moon," Brooks & Dunn
"Slow Dancing With the Moon," Dolly Parton
If you miss out on this week's lunar eclipse, not to worry. The next eclipse to be visible in the U.S. is set to occur on January 21, 2019.
Penske Truck Rental offers free unlimited miles on all one-way truck rentals, discounts for AAA members, college students and members of the military as well as packing supplies and 24/7 roadside assistance. Are you ready to make a reservation? Visit the Penske Truck Rental website for more information.
By Bernie Mixon