Among the constants in Adrianne Hawthorne's life has been her desire to bring her artistic vision to life in a splash of vibrant colors.
While the graphic designer for Google dreamed of showcasing her art for others to enjoy, it wasn't until she turned a Penske rental truck into a pop-up shop that her dream came true.
Now, the Chicago artist has a boutique of her own that she uses to showcase her work, as well as the work of other artists, to pay it forward and help them live out their artistic dreams.
"It worked out because having the Penske truck showed me that I could do it," Hawthorne said. "The truck fueled my desire to curate a boutique."
Do-It-Yourself Inspiration
Hawthorne had been living in California for a while when she began to long for the Windy City and the familiar places back home. So, she packed up her apartment and made the cross-country move to Chicago.
She was unemployed for a time, and she felt the need to be creative. So, she took on a 100-day project dedicated to creating something each day.
With each piece, she began to amass a body of work, which she decided to show in her apartment. "A bunch of people came and bought the art, and I realized I can be an artist who actually made money," Hawthorne said.
After the success of the apartment art show, Hawthorne and her boyfriend were driving in Chicago when she spotted a yellow Penske truck in traffic. Then the idea came to her: Why not have a pop-up art showing in a Penske rental truck?
"When I told him my idea, he thought I was nuts, but I said, 'Think about it. It's a small space. Most people use rental trucks to move things. How cool and unexpected would it be?" Hawthorne said.
Penske Pop Up
It was different from the craft shows she was participating in to show her art. She called her Penske truck show "PenskePozz," a play on words that had special meaning for her.
Her brand, Ponnopozz was created in 2018 and named after two imaginary friends she had as a child called Ponno and Pozzer.
"I named my business after them as a tribute to my younger and creative self who was not inhibited by anything," she said. "When I got older, I started to worry about what people thought, and I didn't blossom until recently. It's all about going back to your younger creative truth."
With the name for the pop-up fresh in hand, her next step was to make preparations for her art show.
"The trucks are yellow, which is one of my brand colors, and I love that the trucks have that clear roof so the light can come in," Hawthorne said. "It was perfect. I loved it."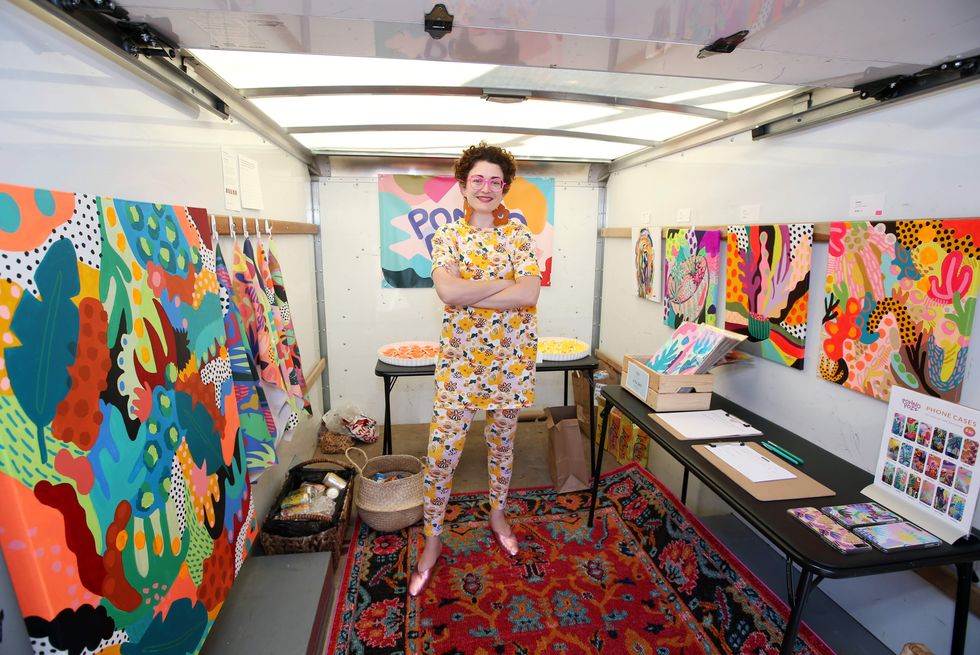 View of the Penske rental truck turned pop-up art show venue.Photo courtesy of Mark Ukena.
After renting the truck from her local Home Depot, Hawthorne drove it home empty, but it did not stay that way for long.
"Basically, I put hooks along the center panel in that truck, and I hung paintings," Hawthorne said. "I put a rug and a folding table in there. I had fabric samples because I do fabric design, and I had my prints for sale in little baskets."
"Some people would actually walk up to the truck and browse the prints without getting in, but a lot of people wanted to get into the truck because you could look at all of the artwork that way," she said.
That experience taught Hawthorne more than the value of her artwork. It stoked her dream to have her own art space.
"It was so much fun to decorate the truck and have my own baby boutique for one day," Hawthorne said. "It was enough to finally push me over the edge and rent a studio. It showed me that I could do it and people would come out for it."
From Pop Up to Ponnopozz
Fresh from the success of the PenskePozz pop up, Hawthorne moved ahead with finding a space for her art boutique. She didn't have to go far.
On the day of the pop up, she noticed a small, 400-square foot basement studio for rent. It was the perfect place for her art.
Hawthorne describes her creative style as colorful maximalism, a mix of mostly bright and some muted colors. "Sometimes I paint abstract forms of plants but in maximalism. It is very detailed with lots of layers. I believe more is more," she said with a laugh.
"I see pallets of color in my head all of the time, so I try to paint those. When you are an abstract artist, you don't have to paint a person or something, you can paint the colors and shapes," Hawthorne said. "Color is what inspires me always."
She opened her Ponnopozz boutique in November 2019 – just a few months after the Penske pop-up show. "I always thought curating a boutique would be fun because you would be in total control of what you want someone to experience," Hawthorne said.
Hawthorne's boutique is awash with bright, cheerful colors. In addition to her own work, Hawthorne also carries work from a local business or artist.
"I love to focus on female-owned or black-owned businesses. I have candles in here, soap and mugs and tea and purses, and things I didn't actually make," Hawthorne said. "They are from people I met doing shows and other people I came across. I didn't want it to be a store with just my work in it. I wanted to showcase other artists and other makers as well."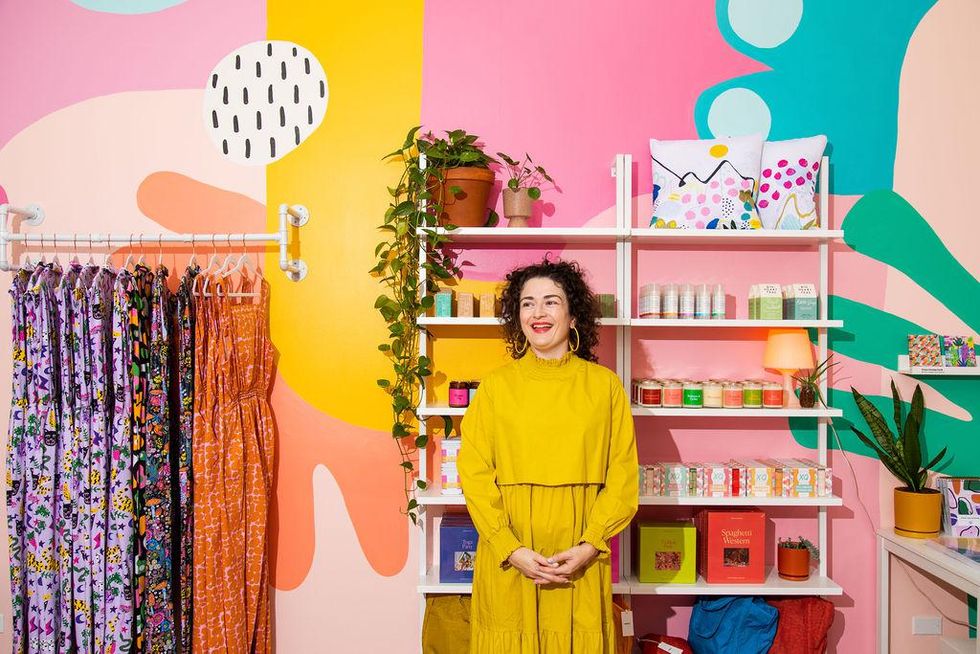 Hawthorne pictured inside her current location.Photo courtesy of Amy Lynn Straub.
Recently, she moved into a larger location across the street from her first boutique and where she parked the Penske truck for her pop-up.
As Hawthorne reminisced about her journey, she credited Penske's role in making her dream of owning her own art boutique come true.
"Having nice trucks with roofs that allow light to come through and allowing for uses in ways other than just moving boxes, it gave me my canvas," Hawthorne said.
By Bernie Mixon