The current state of the trucking industry is putting shippers across the country in a bind – leaving them with fluctuating rates for freight transportation and a shortage of drivers. Several factors have driven high demand for trucks, including the hurricane relief efforts in Florida and Texas, severe winter storms, higher holiday freight volumes, new driver regulations for electronic logging devices (ELDs) and an overall increase in economic activity.
The spot market's freight volume or the amount of trucks that were hired on short notice, in November increased nearly 40 percent compared to what it was in November 2016, according to a recent story in Commercial Carrier Journal.
Industry analysts noted in the Wall Street Journal predict contract rates may rise up to 10 percent in 2018 with shippers looking to lock-in capacity, and they're not the only ones who think so.
According to a January 3, 2018, post on FTR Freight Intelligence's news website:
Truck capacity is expected to be tapped out by early spring 2018, according to data tracked by research firm FTR Transportation Intelligence, and it could tighten sooner if freight demand grows faster than expected or a major winter storm develops.
"The hurricanes highlighted the lack of extra [truck] capacity available in the system," noted Eric Starks, FTR's chairman and CEO, in a statement, which was followed by what he called "continued strong freight conditions" in the third and fourth quarters this year.
"Shippers are really feeling the pinch right now and there is fear that the ELD [electronic logging device] mandate will impact capacity in the spring," Starks stressed. "We have essentially hit the 100 percent capacity mark; there is little if any excess truck capacity."
He said trucking freight rates, in both the spot and contract segments, have been increasing for shippers, which is an "immediate reflection" of the tight truck capacity situation.
That's not all.
The impact of higher freight rates and the recent "bomb cyclone" winter storm are also being felt by food shippers in the supply chain according to a Jan. 8 article in The Packer, which covers the fresh fruit and vegetable industry.
In addition to escalating prices, driver and truck shortages often lead to delivery delays for shippers, especially with other potential winter storms looming.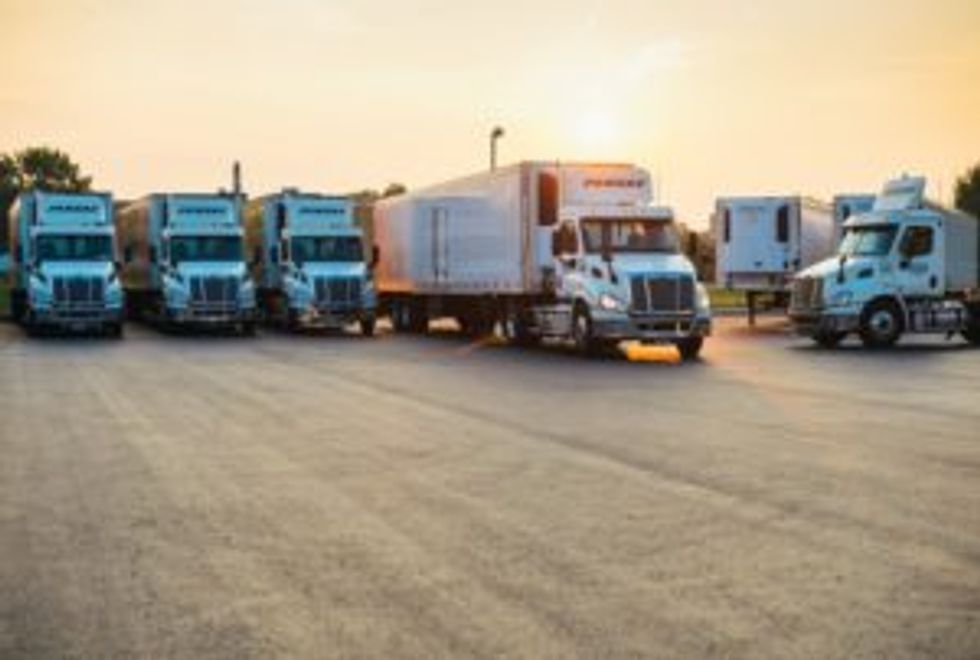 Shippers are increasingly moving toward third-party logistics providers (3PLs) and dedicated transportation solutions as a way to navigate this unstable and tight freight market to sure up costs and capacity. Dedicated contract carriage arrangements lock in rates and capacity for shippers regardless of any turbulence in freight markets.
As the Council of Supply Chain Management Professionals' most recent State of Logistics Report lays out, utilizing major dedicated transportation carriers, such as Penske Logistics, offers shippers not only dedicated capacity and rates, but also incomparable technological resources like advanced transportation management and freight tracking systems.
Penske Logistics' Andy Moses, senior vice president of global products, points out what separates Penske's dedicated transportation solutions from the rest of the pack.
"Beyond our own 4,600 safe, professional drivers, we also have contracts with more than 6,000 motor carriers in our network, which enables Penske to assemble multiple sources of capacity as needed for our customers," Moses said.
According to recent data, shipments in truckload volumes rose 11.7 percent. Truckload transportation recently set a record of more than 970,000 total shipments for the quarter, according to Transport Topics.
"Our shipper customers can rest easy knowing they have a specific number of loads covered by Penske Logistics dedicated transportation, regardless of what happens broadly in the market," said Moses.
So, when the market is experiencing roller-coaster swings, shippers can look to and rely on Penske Logistics for the most cost-effective and dependable dedicated transportation solutions.
By Chris Abruzzo
*** Editor's Note: Story updated Jan 9. to include reference to The Packer.***