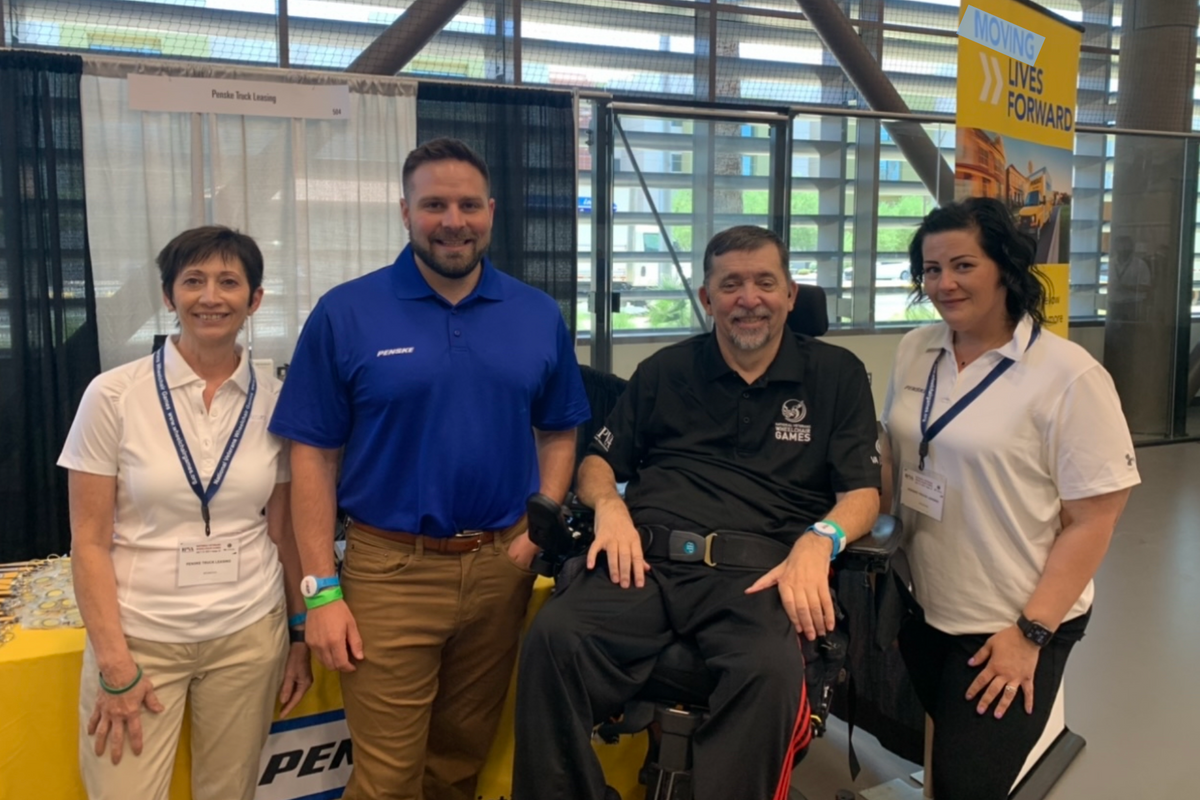 Penske Supports PVA National Veterans Wheelchair Games
Athletes from across the country are meeting in Arizona this week for the 2022 Paralyzed Veterans of America (PVA) National Veterans Wheelchair Games, which features competition in more than 20 sports.
Penske is a proud supporter of the Wheelchair Games and donated trucks to assist organizers with their transportation and logistical needs for the event.
---
Hosted by the Department of Veterans Affairs and PVA, the 41st Wheelchair Games, the largest annual wheelchair sports event for military veterans, opened on Thursday in Tempe and continues through Tuesday, July 12.
"We are proud to support our veterans who have given so much to us," said Kevin Kleckner, director of national consumer sales and programs for Penske Truck Leasing.
Penske donated four trucks and two flatbeds to support the transportation needs for the event.
"To have a partner that is willing to say, 'we will give you whatever you need in trucking and logistics,' that is huge for us, and we couldn't be more thankful," said Jennifer Purser, senior associate director of sports and recreation for the PVA.
A Legacy of Adaptive Sports
Launched by the Department of Veterans Affairs in 1981, the first Wheelchair Games had seven events and 77 athletes. PVA joined with the VA in 1985 to help expand the event and provide an opportunity for more veterans to participate.
The Wheelchair Games is open to all U.S. veterans with spinal cord injuries, amputations, multiple sclerosis or other central neurological conditions who require a wheelchair for athletic competition.
"Part of the reason why we came on, other than it was a great sporting event, was to help increase the population of wheelchair veterans who participate in the games," Purser said. "Now we have over 500 veterans who participate."
This year's games will feature a mix of 22 events contested over six days and offer a mix of virtual and on-site events. Some of the sports include adaptive fitness, adaptive e-sports, basketball, disc golf, powerlifting, softball, table tennis and team badminton.
While the games are at heart a professional sporting event, the impact is far-reaching for the participants.
"Whether you are a novice or an experienced veteran, you are continuously building your support system and meeting other people who have similar injuries and similar challenges," Purser said. "Our veterans come out of the games with friends for life and people they can count on beyond the wheelchair games."
"That camaraderie is important, and you see it when you get to the games. It is like a family reunion. People miss each other. They know each other's stories. They know each other's families," she said. "They've spent time outside of the games. All of that goes back to supporting the rehabilitation piece and that healthy, productive lifestyle."
Driving the Penske and PVA Partnership
For nearly a decade, Penske has been a proud supporter of the PVA and its work on behalf of paralyzed military veterans.
Penske Truck Rental joined with the PVA nine years ago to create the #OneWay4PVA campaign, which encourages rental customers to donate $1 to Paralyzed Veterans' Mission: ABLE campaign.
In April, Penske Truck Leasing was honored with the PVA's Partner of the Year Award in recognition of the company's ongoing support. The award was presented at the PVA 75th Anniversary Gala held at the Indianapolis Motor Speedway.
"Penske has been a great partner to PVA Sports and the Wheelchair Games," Purser said. "To have Penske come in and support what we are doing, it's huge. It allows us to take that funding and move it to purchasing equipment, jerseys or other support that needs to go into the games."
For Penske's Kleckner, the company's support provided to the PVA is another step in deepening the strong bond between the two organizations to honor the service and sacrifice of paralyzed veterans on behalf of the nation.
"These people have become our friends," Kleckner said of the PVA. "There is a deep emotional connection, and we want to serve that friendship's evolution."
By Bernie Mixon