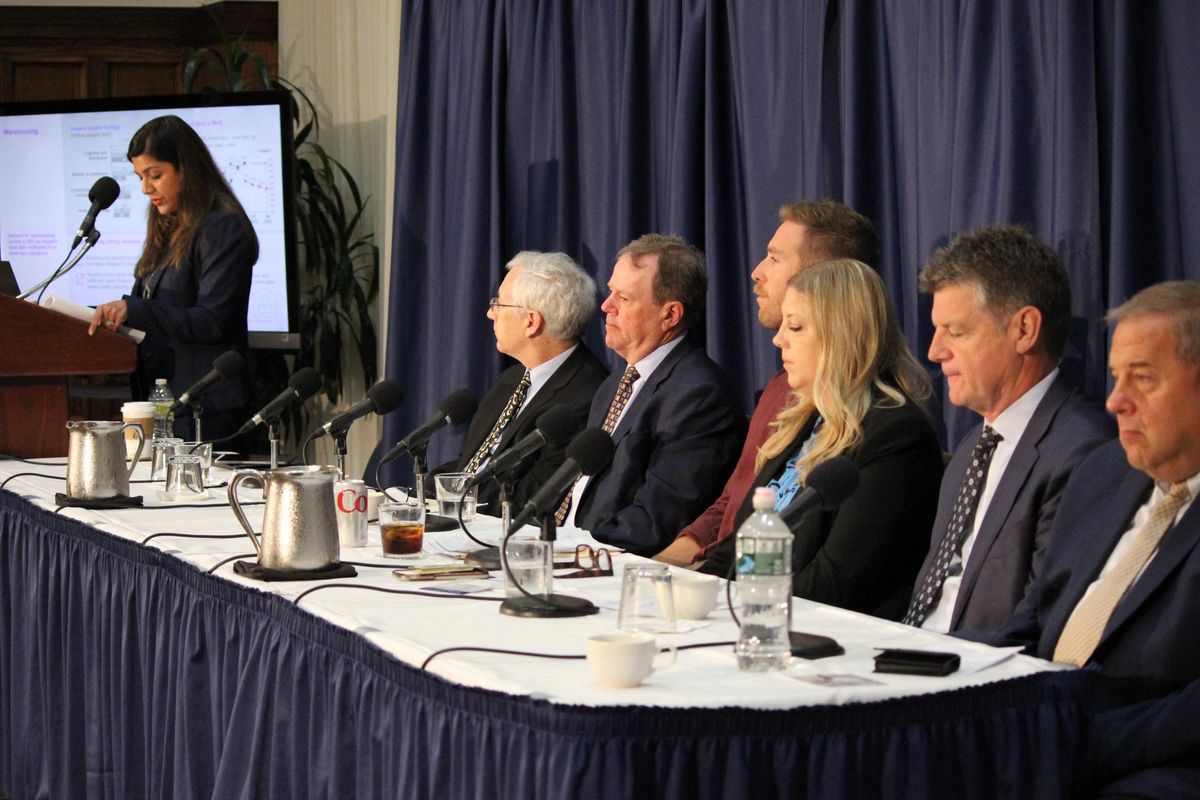 Penske Logistics Presents: Third-Party Logistics Providers Helped Companies Navigate Supply Chain Challenges
Surging demand, tight capacity, supply chain disruptions and inflation kept intense pressures on the entire logistics sector throughout 2021, and 2022 seems to be offering little respite as uncertainties linger. Shippers are increasingly seeking the assistance of third-party logistics providers in navigating supply chain complexity, service disruptions and surging customer demands.
---
The State of Logistics Report was introduced today at the National Press Club in Washington, D.C. The publication is produced annually for the Council of Supply Chain Management Professionals (CSCMP) by global consulting firm Kearney and presented by Penske Logistics.

"I think the pandemic made shippers realize that, in general, it is important to have more than one tool in your tool kit and more than one arrow in your quiver. I don't think they will move away from that," said Balika Sonthalia, a partner with the global strategic management consulting firm Kearney and lead author of the 33rd Annual State of Logistics Report.
According to the report, the role of 3PLs is becoming more valuable as the economy adapts to the continued growth of e-commerce, reshoring and nearshoring, and the push to improve supply chain resilience through diversified supply options.
"We have seen an incredible amount of resiliency among private truck fleets and dedicated contract carriage truck fleets," said Andy Moses, senior vice president of sales and solutions, Penske Logistics. "Demand has been up sharply year-over-year, and these fleets continue to manage the complexities they face in the trucking supply chain including headwinds caused by shortages of parts, equipment, drivers and most recently rising fuel costs."
Overall Logistics Costs
United States business logistics costs in 2021 rose 22.4% to $1.85 trillion, or 8% of 2021's $23 trillion GDP. Turbulent circumstances and increasing cost pressures have affected all major logistical sectors, Sonthalia noted.
Transportation costs—driven by increases in all modes and nodes—were up by 21.7%. Road freight, the most significant segment of U.S. logistics expenditure, rose in 2021, growing by 23.4% to $831 billion. To ensure service levels, shippers increasingly turned to private and dedicated fleets and had to pay more for their drivers and the trucks, driving captive fleet costs up 39.3%.
Rail costs in the U.S. were up 18.8% overall, but network speeds and service levels worsened due to the same disruptions seen by other modes, including port congestion, chassis shortages and tight labor markets. U.S. water shipment costs surged 23.6%, with ocean carriers earning more profit in 2021 than in the previous 20 years combined.
Shippers made major moves to obtain more air capacity as ocean capacity proved insufficient. Air cargo volumes rose by 18.7% and air freight costs increased by 19.2%, as demand continued to exceed supply throughout the year.
Business inventories dropped to near historic lows, but the costs to store, handle and finance those inventories spiked, increasing by 25.9%. "The inventory sales ratio was the lowest ever, but the cost went high because labor and warehousing increased," Sonthalia said.
Warehouse rents rose by 9.5% in 2021, nearly twice as fast as in 2020. Warehouse square footage under construction grew by 54% year-over-year, and according to JLL Industrial Outlook, leased square footage increased by 29%.
Continued E-Commerce Growth
The explosive growth of last-mile delivery volumes continued, and e-commerce grew by 10 percent to $871 billion—13% of all U.S. retail sales. "As e-commerce grows, there is an impact on parcels, motor carriers and warehousing," Sonthalia said. "If e-commerce is growing, you hold inventory in other locations because you're trying to create more optionality in the network."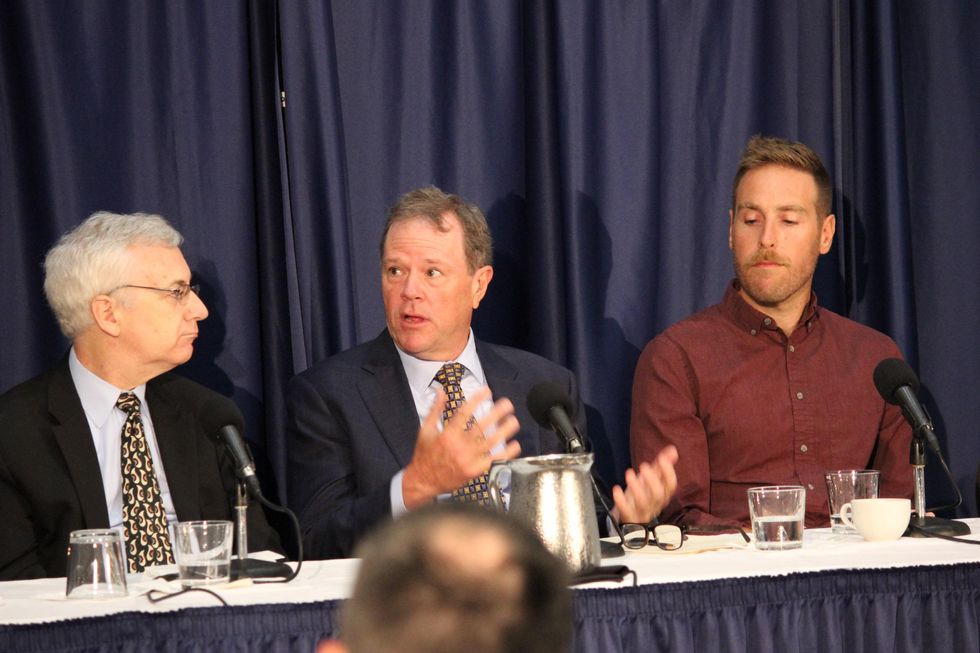 Penske Logistics senior sales leader Andy Moses (center) was a panelist for this year's presentation of the CSCMP State of Logistics Report, presented by Penske. The event took place at the National Press Club in Washington, D.C.
The parcel sector grew by 15.6% in 2021 and turned in the highest five-year compound annual growth rate (CAGR) of any of the cost components, at 11.4%. There is evidence that e-commerce growth has begun slowing a bit as shoppers return to stores but only in certain categories, Sonthalia explained.
A Move to Multi-Shoring, Increased Visibility
Companies are looking at solutions to help mitigate disruptions and uncertainty. Multi-shoring efforts are poised to accelerate, requiring more significant optionality as companies coordinate a more complex array of transit modes and facilities. The impacts of re- and nearshoring will become visible by 2025, according to the report.
Demand for increased visibility across logistics segments and geographies is also expected to increase, and logistics providers need to harness the right technologies to meet rising expectations for resilience.
"COVID created a surge in the need to be resilient. Long-term resiliency has to come from a structural change that provides increased visibility," Sonthalia said, adding that there has been massive investment in technologies, such as control towers, that increase visibility and enhance the ability to adapt to unexpected demands and events.
For the logistics industry to "get back in sync" and return to a more balanced long-term growth trajectory, it will need to invest in the ideas and capabilities that will make it more resilient, Sonthalia said.
The Path Forward
Several challenges remain for logistics providers and shippers. Concerns over inflation, Russia's invasion of Ukraine and the economy could all shape the year ahead. Plus, COVID-related supply chain disruptions aren't expected to decline until the end of 2023, according to the report.
Sonthalia said 3PLs provide a sense of certainty to shippers in times of difficulty. Those who have forged strategic relationships with customers will be the most likely to succeed, especially if the economy faces challenges. "If a recession hits, all shippers will start looking at third-party expenses, which includes 3PLs," she said, adding that 3PLs will have to demonstrate their value.
By "Move Ahead" Staff