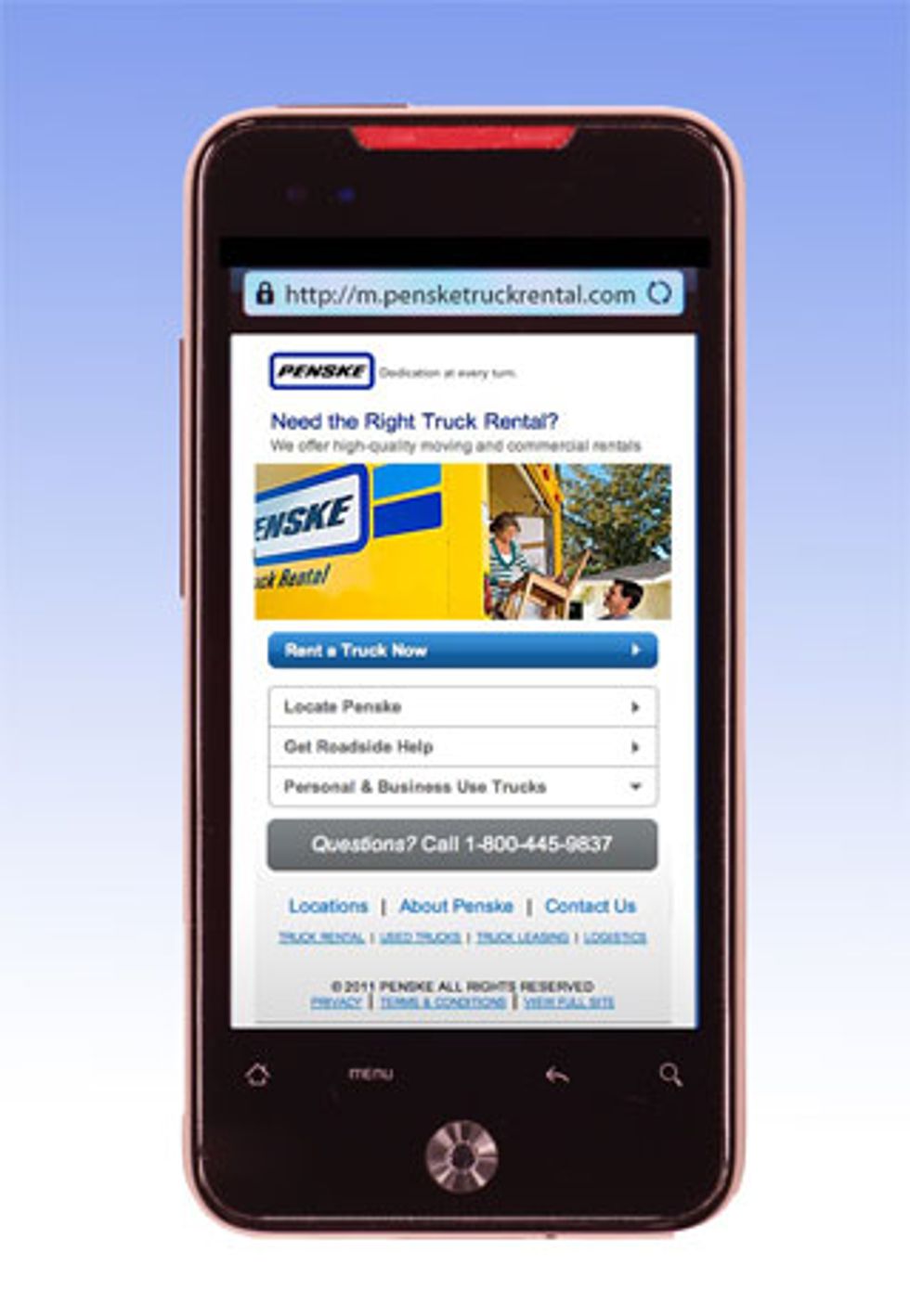 PenskeTruckRental.com Named Best Mobile Site
Penske Truck Rental has been accorded a 2012 MobileWebAward in the transportation category for its mobile website. It is the first year the Web Marketing Association has handed out this international honor.
---
In a news release, WMA president William Rice stated: "the goal of the MobileWebAwards is to both recognize the people and organizations responsible for developing some of the most effective mobile websites and mobile apps on the Internet."
Award criteria included creativity, impact, design, content, interactivity, ease of use and use of the medium.
In July 2011, Penske Truck Rental debuted a mobile version of its site, http://www.pensketruckrental.com/, which is accessible via nearly any smartphone.* The award-winning design created larger navigational items, simple icons and minimal text.
"I would like to congratulate the company's marketing and IT departments for winning this award," said Don Mikes, senior vice president of rental for Penske Truck Leasing. "Implementing a strong mobile website has allowed us to be more competitive in the consumer truck rental marketplace."
"We are truly humbled and honored to receive the transportation's industry's inaugural MobileWebAward," stated Brandie Searle, director – interactive solutions for Penske. "This is our company's first full moving season with a mobile version of http://www.pensketruckrental.com/. It has paid dividends for the company, resulting in a significant increase in reservations."
Penske utilized Acquity Group to complete the application design and front-end development.
Penske Truck Rental is a service of Penske Truck Leasing, providing do-it-yourself movers with clean, well-maintained and reliable trucks as well as moving equipment, packing supplies and accessories. Penske also provides a host of discounts and incentives.
*The site is supported on iPhones, Android phones and Blackberry 6.0 phones.
By Alen Beljin