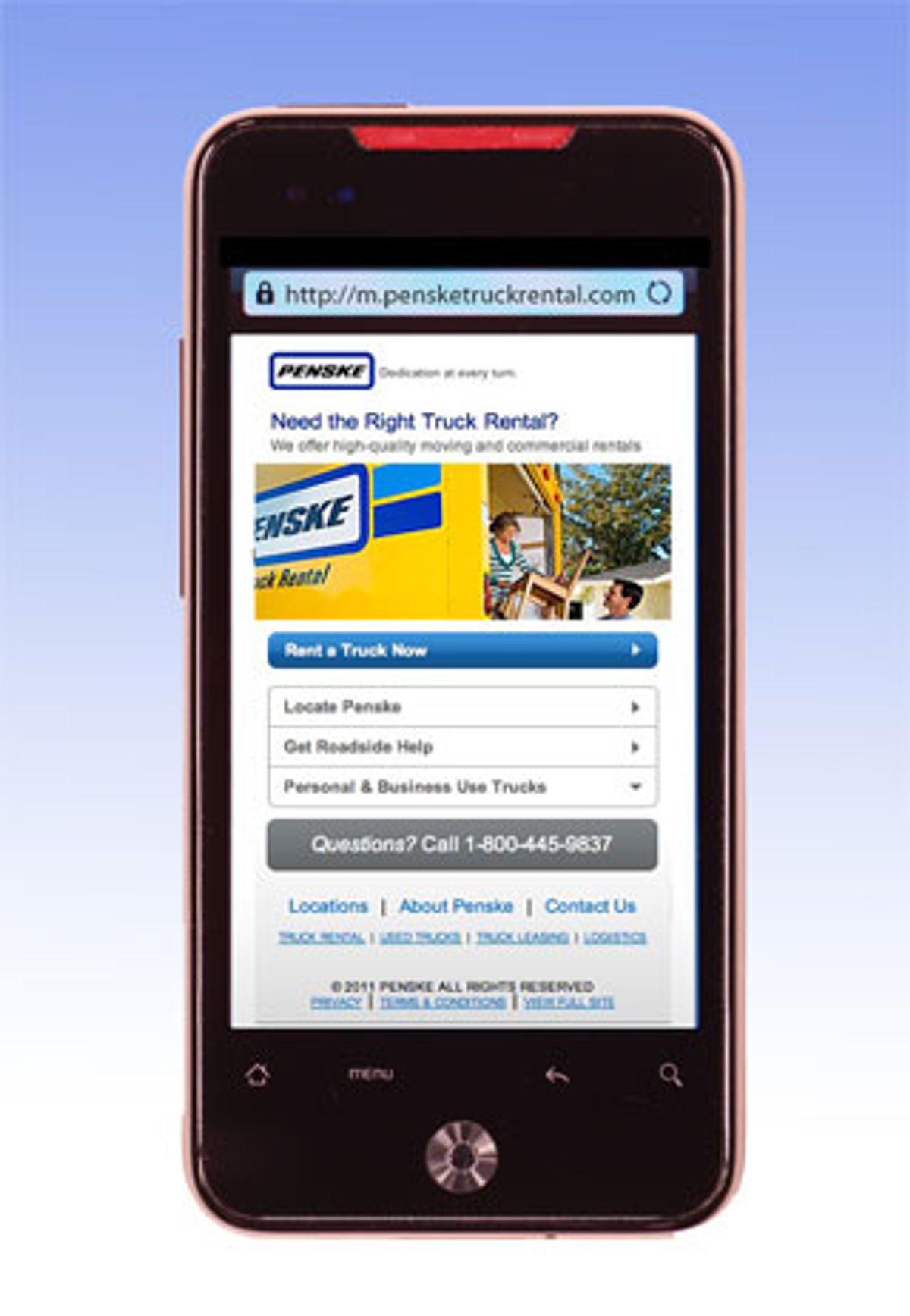 Penske's New Mobile Site Makes Truck Rental Easy
In an effort to make consumer truck rentals an easier on-the-go process, Penske Truck Rental has introduced a mobile version of its site,http://www.pensketruckrental.com/, which is accessible via nearly any smartphone.*
---
"We have decided to introduce a mobile version to keep pace with the consumer market," explained Ann Walsh, Penske's vice president of interactive marketing.
"We elected to go mobile so that our customers can easily make a reservation through their phones, and to streamline the process," she said. "As an industry leader, we're the only consumer truck rental company with a truly optimized experience for the mobile user."
Penske customized the design to include larger navigational items, simple icons and minimal text.
"The number of mobile visitors to our consumer truck rental website has tripled in the last year," stated Brandie Searle, director – interactive marketing, Penske.
According to a May 19 MediaPost.com article by Mark Walsh, mobile device sales were up by almost 20 percent to about 428 million units during Q1 2011 (as compared to Q1 2010), according to data supplied by Gartner. Smartphones accounted for nearly 24 percent of that total.
Penske contracted with Acquity Group to complete the experience design and front-end development.
Tom Nawara, Acquity vice president of digital strategy and design stated: "Mobile is rapidly moving from an experimental nice-to-have option, to required table stakes for customer engagement. The release of this mobile optimized site shows that Penske is constantly assessing the industry landscape and the needs of its customers."
Penske Truck Rental is a service of Penske Truck Leasing. With one of the newest fleets, Penske Truck Rental provides do-it-yourself movers with clean, well-maintained and reliable trucks as well as moving equipment, packing supplies and accessories. Penske also provides a host of discounts and incentives.
*The site is supported on iPhones, Android phones and Blackberry 6.0 phones.
By Alen Beljin