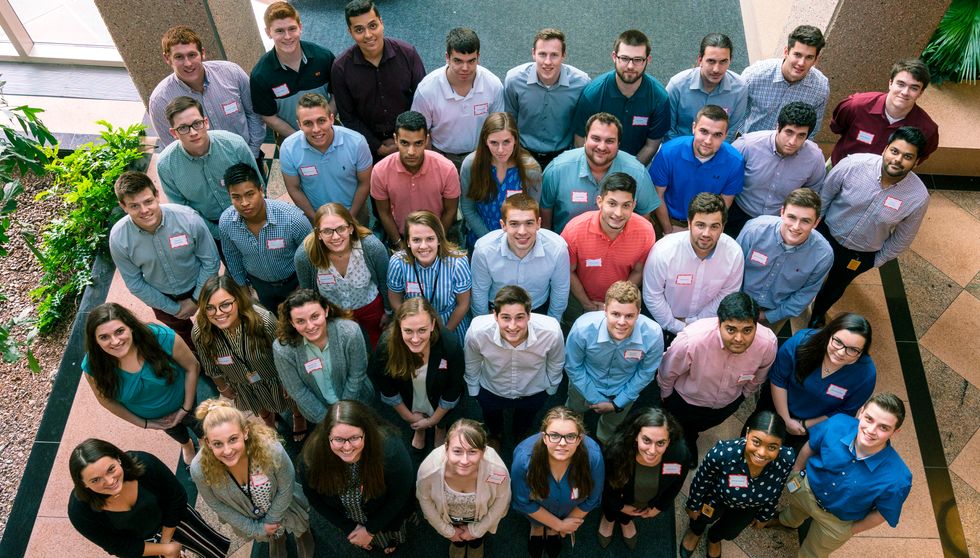 Penske's Intern Program Can Move Your Education Forward
Around this time of year, thousands of college students across the country are beginning their summer internships in their field of study, hoping to jumpstart their careers and gain professional real-world and hands-on experience.
---
More than 40 undergraduates – the biggest internship class ever for Penske – will be doing just that as part of the company's Summer Internship Program at its corporate headquarters in Green Hills, Pennsylvania, and Beachwood, Ohio. Interns have the opportunity to shadow experienced associates and participate in networking, volunteering and team building events with other interns.
"The 12-week program is an excellent way to provide students with hands-on experience in their field of study and provide ideas on potential career paths," said Gabrielle Williamson, human resources area manager. "From the start, interns get fully immersed into the department's day-to-day operations, meet company leaders and receive a project related to their field of study."
Interns are assigned to work in the following departments at Penske:
Environmental
Finance
Fleet Management
Fuel and Facility Services
HR
Insurance Risk Management
IT and MIS
Legal
Marketing
Operational Excellence
Real Estate
Rental
Safety
Sales
Sourcing
Vehicle Remarketing
Vehicle Supply and Planning
Additionally, interns can participate in a number of professional learning and development classes to sharpen their communication and networking skills – something that Mackenzie Hintenach, an intern in Penske's marketing department, is taking full advantage of.
"These sessions have taught me how to be a contributing member to my team," said Hintenach, a graphic design major who will begin her senior year at West Chester University in the fall. "What I find the most rewarding is that these lessons can be applied to other areas of my life."
While the program gives students more experience to put on their resumes, it also serves as a powerful recruiting tool for the company. Departments consider its high-performing interns for available full-time and part-time positions as the summer comes to a close.
"Our interns are viewed as a pipeline for current or future openings, depending on where the intern is in their schooling," said Ashley Bilinski, human resources representative for Penske. "Last year, half of our intern class was offered extended internships, and one was promoted to a non-intern role."
When it came time to choose where she wanted to intern for the summer, Hintenach said it was an easy decision: Penske's marketing department. She interned there last summer and wanted to come back because she really admired what the program had to offer.
"I chose Penske's internship program because it's very hands-on," said Hintenach. "So far, I've been able to see some of my contributions come to fruition, like design posters and social media graphics for various events. They treat me like another member of the team."
Furthermore, the program allows Penske to build relationships with various universities and serves as a great vehicle to increase brand recognition. The program draws students from all over the globe. The 40-plus students who make up this summer's internship class were selected from the following schools:
United States
Canada
China
Students must meet certain requirements in order to qualify for Penske's Summer Internship Program, including:
Being a full-time college student pursuing a bachelor's degree (some internships require specific areas of study)
Having a GPA of 3.0 or higher
Entering junior or senior year
Completion of some core curriculum classes is preferred
Interested in gaining real-world experience through an internship at Penske? Visit Penske's careers website to see a list of available internships.
By Chris Abruzzo