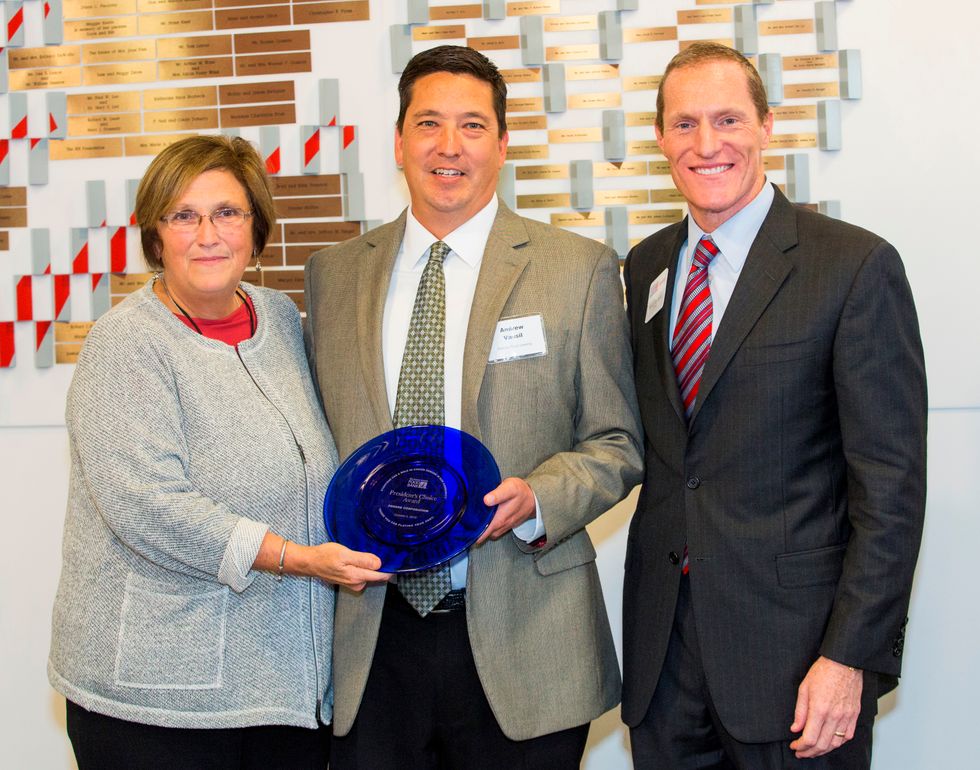 Penske Receives President's Award from Greater Boston Food Bank
Catherine D'Amato, GBFB president and CEO; Andrew Vassil, area vice president at Penske; and Woody Bradford, GBFB chairman of the board
---
Penske Truck Leasing in Medford, Massachusetts, recently received the first-ever President's Choice Award from the Greater Boston Food Bank (GBFB) for going above and beyond to bring tremendous value to the organization.
The GBFB presented Penske with the award at its annual Partner Appreciation Day event to recognize local businesses for supporting the largest hunger-relief organization in New England.
"The Penske team in Medford, Massachusetts, has continued to go above and beyond for GBFB, and they play a huge role in our fleet's excellent on-time delivery and pick-up record," said Frank Gorman, GBFB's director of transportation and logistics, who nominated Penske for the award. "Plus, their team volunteered at GBFB. It is partners like Penske that were essential to allowing us to distribute over 54 million pounds of healthy food last year safely and efficiently throughout eastern Massachusetts. Penske is critical in helping us achieve our mission to 'End Hunger Here.'"
Andrew Vassil, Penske's area vice president in the Northeast, accepted the award on Penske's behalf. "We are humbled to receive the award and be viewed as such an important partner to the GBFB," he said. "We are honored to work closely with an organization that is making such a positive impact in New England."
The GBFB distributes more than 54 million pounds of food and provides healthy meals to nearly 545,000 annually. The organization aims to provide at least one meal a day to every person in need in eastern Massachusetts.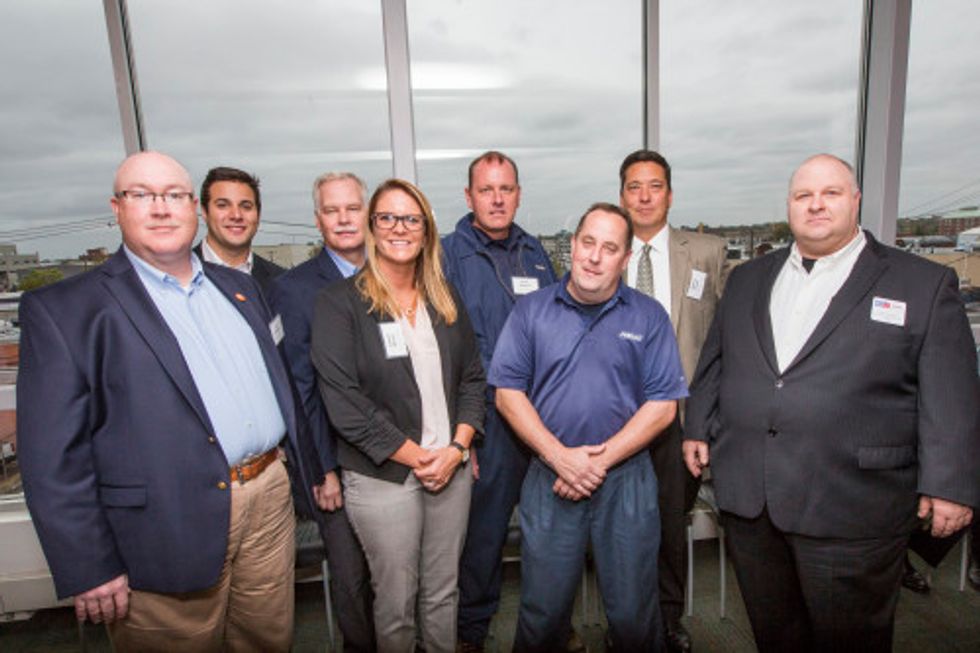 Penske associates (L-R) Jim Drackley, safety specialist; Joe Koch, rental manager; Scott Vanseth, district operations manager; Colleen Weaver, branch manager; Brent Mugford, maintenance supervisor; D.J. Murphy, branch service manager; and Andrew Vassil, area vice president; and Frank Gorman, GBFB director of transportation and logistics
For the past four years, Penske associates have volunteered quarterly to sort food at the GBFB's site distribution center. Associates also have assisted the GBFB with special projects, including the Boston Bike Safety Program and relief programs for those impacted by Hurricane Sandy.
"Part of the Penske brand is to help move lives and businesses forward," said Art Vallely, executive vice president at Penske. "We're proud of our associates in the Boston area who generously volunteer their time to make sure no one in the community goes to bed hungry."
The GBFB is part of Feeding America, a nationwide network of food banks fighting hunger. The organization has been a Penske customer since 2005. Penske provides full-service leasing and contract maintenance on the organization's fleet of trucks, tractors and trailers throughout New England.
Penske provides annual onsite safety meetings for GBFB truck drivers. Penske also helped GBFB create a driver incentive program.
In 2013, Penske received the "Volunteer of the Year" award from GBFB.
By Kandace Wertz